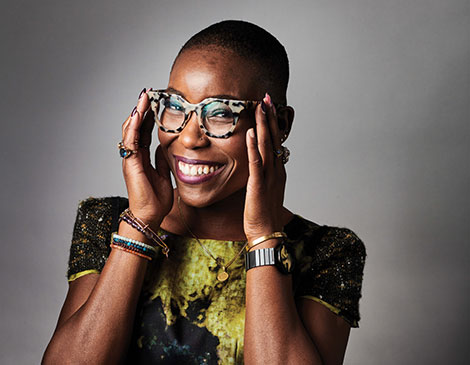 Nwaka Onwusa, Rock & Roll Hall of Fame, Director of Curatorial Affairs, 33
Cali native Nwaka Onwusa has only been the Rock & Roll Hall of Fame's director of curatorial affairs for a year, but she's already a pro. Spending 10 years at Los Angeles' Grammy Museum, curated exhibits on Taylor Swift, Tupac Shakur and everyone in between. Now, she's making music history accessible and engaging for all Rock Hall visitors. Read More >>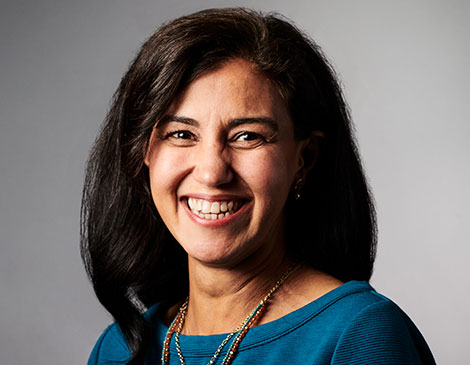 Madhu Sharma, International Institute of Akron, Executive Director, 48
Before moving to Akron, Madhu Sharma spent 20 years representing undocumented workers, refugees and asylum seekers in California. Today, she's a go-to resource and support system for communities facing U.S. Immigration & Customs Enforcement raids and the threat of deportation in Ohio, as well as a welcoming face for Akron's only refugee resettlement community. Read More >>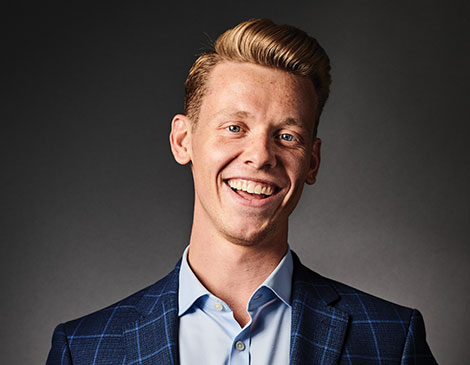 Austin Love, 3NewsReporter, 27
Austin Love has no qualms about getting up at 1:30 a.m. for work. The 3News morning reporter has made a career of being on-the-go, covering everything from sports to snowstorms. Since moving to The Land in April 2018, he's cultivated deep affection for his adopted hometown. Read More >>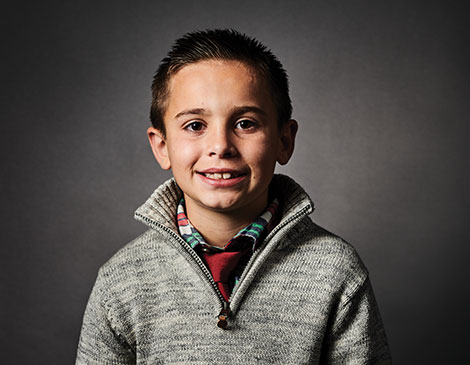 Brady Snakovsky, Brady's K9 Fund Founder, 10
Brady Snakovsky, a Strongsville fourth-grader, is the creator of Brady's K9 Fund, a nonprofit dedicated to providing bulletproof vests for police dogs. To date, Brady's K9 Fund has received more than $150,000 in donations and helped vest 143 canines, with about 60 more currently on the waitlist. Read More >>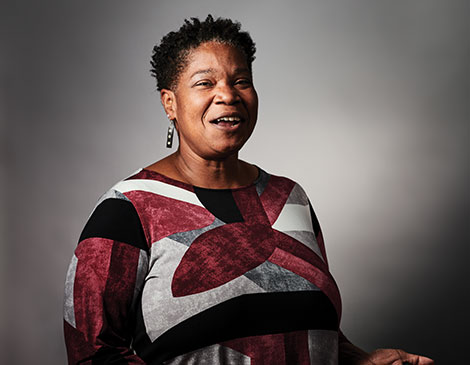 Phyllis Harris, LGBT Community Center of Greater Cleveland, Executive Director, 54
Phyllis Harris inspires Cleveland's LGBTQ community to live out loud by providing health and wellness services, counseling, family support services, youth programming and more at the LGBT Community Center of Greater Cleveland. Last year, she shined new light on the community by opening a state-of-the-art two-story center in the Gordon Square Arts District. Read More >>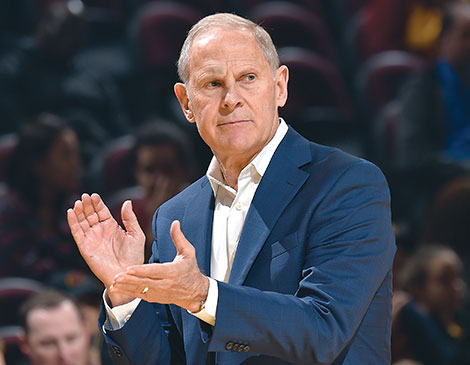 John Beilein, Cleveland Cavaliers Head Coach, 66
John Beilein, the longtime college basketball coach, knows a thing or two about working with promising basketball players. For 12 seasons, the new Cleveland Cavaliers head coach led the University of Michigan basketball team back to relevance with a 278-150 record, including two trips to the NCAA national title game. Read More >>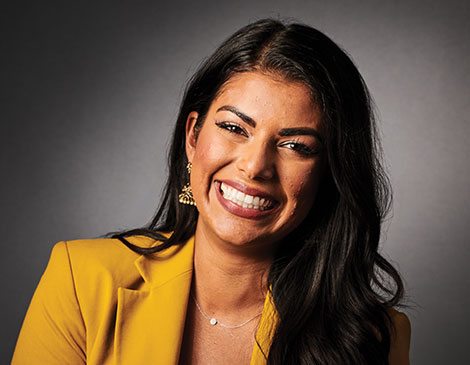 Homa Bash, News 5 Cleveland, Reporter and Anchor, 32
Homa Bash began working as a night reporter for News 5 Cleveland in 2014 before relocating to Dallas, eventually returning to Cleveland in 2017. Now as a reporter and weekend morning anchor, the India-born, Emmy Award-winning journalist has covered some of Cleveland's biggest stories. In 2016, Bash reported on the Cavs' NBA Championship and the Republican National Convention, but her most memorable story came elsewhere. Read More >>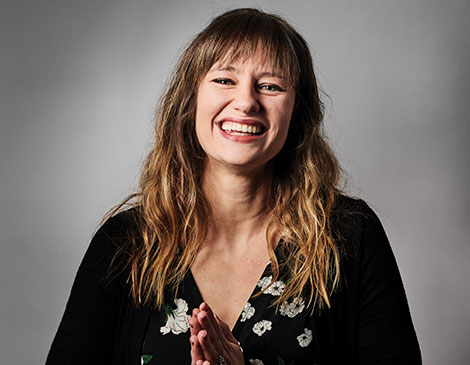 Lisa Quine, Lettering Artist and Muralist, 29
Lisa Quine has left you letters all over the city. From the serif points of her "Dream Big" mural in Gordon Square to the curling yellow "Come Together" sprawled across the side of South Euclid's House of Swing, the Mentor lettering artist has scrawled her bright script on murals, storefronts, galleries and more. Since launching her creative consulting business in 2017, Quine's racked up more than 37,000 Instagram followers and expanded her reach to clients such as Louis Vuitton and Target. Read More >>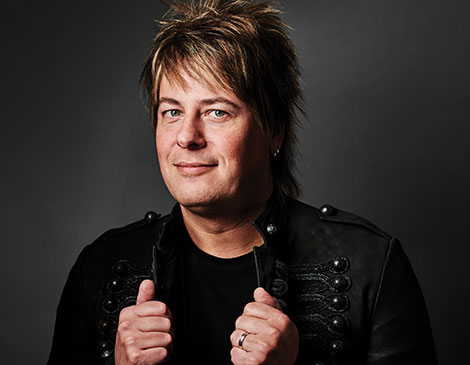 Paul Sidoti, Musician, 48
Paul Sidoti has developed quite the reputation since 2007, touring as the lead guitarist and vocalist for Taylor Swift. Last year, the Cleveland native performed alongside Swift during the Reputation Stadium Tour, the highest grossing tour in U.S. history. He's also a frequent contributor to Cleveland cover band The Breakfast Club. Read More >>




Felton Thomas Jr., Cleveland Public Library, Executive Director and CEO, 53
Over the last 11 years, Thomas presided over the Cleveland Public Library. Last year, Thomas celebrated the institution's 150th anniversary with a street-wide festival and announced a $100 million makeover of all 27 library branches. Read More >>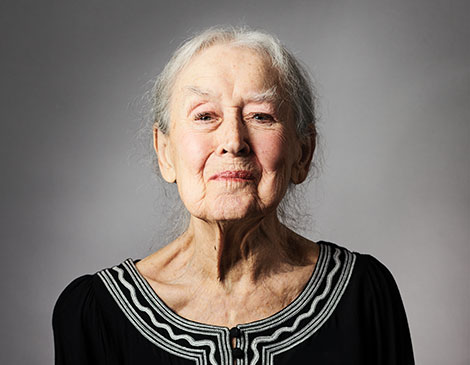 Dorothy Silver, Actress, 90
A local theater legend with more than 70 years of productions under her belt, Dorothy Silver's performed on small stages and big screens, appearing in films such as Love & Other Drugs and The Shawshank Redemption. The Cleveland Arts Prize winner starred in and directed plays solo and alongside her late husband Reuben. Read More >>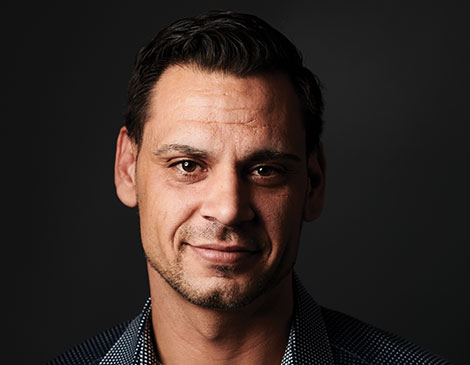 Tony Correa, B. Riley Sober House Founder, 37
Creating a haven for an oft-marginalized population, Tony Correa is the founder of B. Riley Sober House — one of only two sober living facilities in the country catering specifically to the LGBTQ community. Read More >>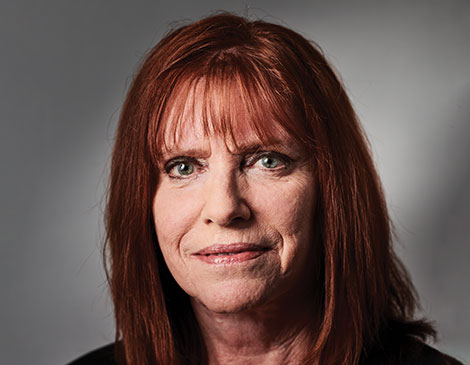 Denise Gula Weller, Hearts of Patriots Co-Founder, 70
Denise Gula Weller might never slow down. The Ohio Dance Theatre founder kickstarted Hearts of Patriots last year. Since then, the foundation has helped more than 500 veterans and their caregivers by providing them resources and bringing awareness to PTSD and traumatic brain injuries. Read More >>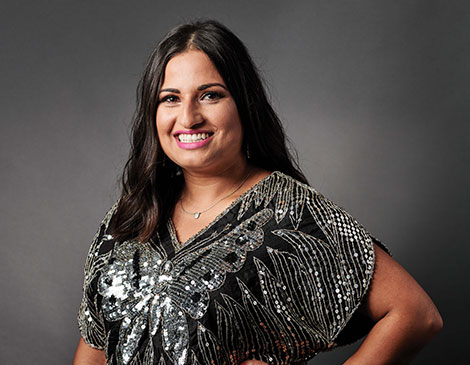 Dina Younis, Blogger, 35
Dina Younis knows a thing or two about turning over a new leaf. Since starting her lifestyle blog, Dina's Days, in 2009 with tips, tricks and advice for making the most out of thrift store finds, she's gained more than 16,000 followers on Instagram and was named one of Buzzfeed's top 21 thrifting bloggers in 2016. Last year, she launched Allow Us To Rethriftrodeuce Ourselves, a thrifting podcast. Read More >>




Pheobe Robinson, Entertainer, 35
Everything's Trash, But It's Okay, or so author-comedian-actress Robinson declared in the title of her second bestselling essay collection in 2018. On film, stage and print, she's built a career venting with and galvanizing audiences in the same quip-laced breath. Her Comedy Central talk show debuts this year. Read More >>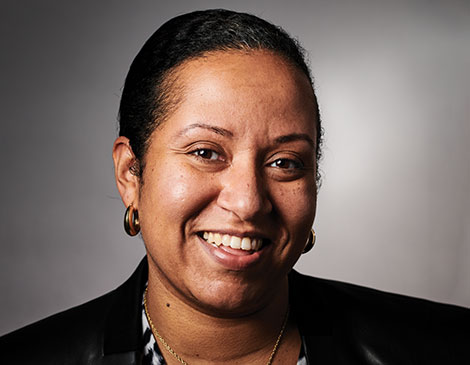 India Birdsong, Greater Cleveland Regional Transit Authority CEO, 38
On just her second day on the job, the new RTA leader met with Rapid riders as they bustled through Tower City. It's an early example of how the organization's first female CEO plans to listen to customers as she looks for ways to improve RTA's relationship with the community and update the transit system's infrastructure. Read More >>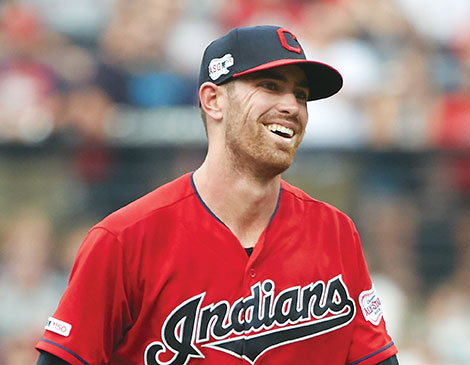 Shane Bieber, Cleveland Indians Pitcher, 24
Shane Bieber is in the middle of his own Cinderella story. He went from a University of California, Santa Barbara walk-on role to the Indians fourth-round draft pick in 2016, but his most recent claim to fame came when he snatched MVP at the 2019 All-Star Game in Cleveland. Now, Bieber, who admits "playing with a little chip on your shoulder never hurts," is focused on writing the next chapter of his story: bringing a World Series trophy to Northeast Ohio. Read More >>




Jeremy Umansky, Larder Delicatessen and Bakery, Chef and Owner, 36
Around these parts, Jeremy Umansky is known as the foraging, fermenting, James Beard Award-nominated chef and owner behind Larder Delicatessen and Bakery in Ohio City. More broadly, though, he's recognized as a leading expert in a little-known fungus called koji, used in soy sauce, sake and other dishes. Read More >>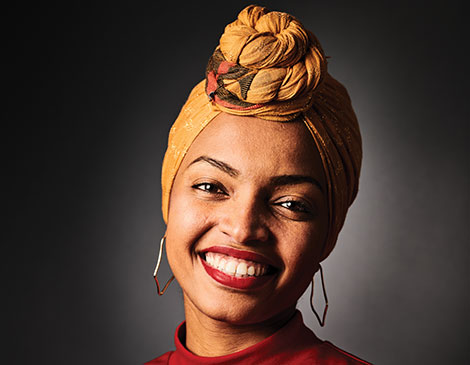 Malaz Elgemiabby, Designer, 32
The Sudanese-born Elgemiabby has a well-trained eye for structure. Appointed the Designer in Residence for Cleveland Foundation Creative Fusion 2019, her acclaimed recent design of Ohio City's Riverview Welcome Center featured an installation of 250 portraits of individuals who live and work near Irishtown Bend. Read More >>




Ezri, Hip-Hop Artist, 23
The Cleveland rapper formerly known as Ezzy blew up hip-hop's corners of the internet in 2015 with his acrobatic, emotional and motivational five-minute freestyle on Shade 45's Sway In The Morning. Since then, Ezri Walker has signed a record deal with Nas' label Mass Appeal, headlined the Flats' Brite Winter music festival and parlayed his magnetism into a successful acting career with a role on Empire. Read More >>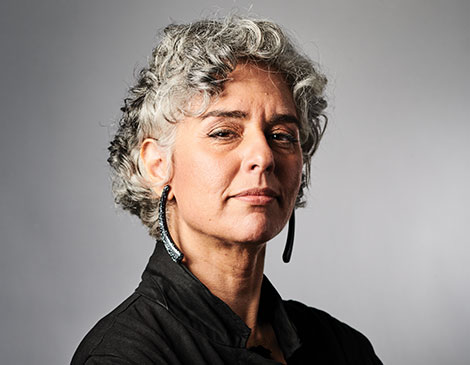 Andrea Simakis, The Plain Dealer Reporter, 52
A longtime Plain Dealer reporter, theater critic and columnist, Simakis teamed up with colleague Rachel Dissell to write "Case Closed," last year's most ambitious, impactful piece of local journalism. The pair told the story of Sandi Fedor, who felt compelled to investigate her own rape case after Cleveland police stopped. Read More >>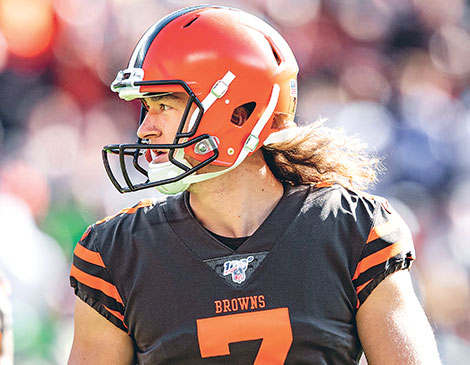 Jamie Gillan, Cleveland Browns Punter, 22
If the Scottish Hammer wasn't slamming punts for the Cleveland Browns, the Inverness-native would be knocking heads on a professional rugby pitch. The undrafted lefty with hair like a Braveheart extra displayed his leg strength by popping three footballs during a pre-draft workout. He proved he wasn't a fluke when he earned AFC Special Teams Player of the Month for September. Read More >>




Basheer Jones, Cleveland City Councilman, 35
Basheer Jones overcame a significant barrier when he made the jump from grassroots organizing and activism to becoming Cleveland's first Muslim councilman in 2018. He won the Ward 7 seat, representing East Side neighborhoods like Hough and Asiatown, by just 13 votes. Since then, he has endured several recall attempts, led the charge for Cleveland to recognize Indigenous People's Day and called for reforms at the Cuyahoga County jail. Rumor has it he may even be interested in one day running for mayor. Read More >>




Richard Roesch, Horseshoe Champion, 64
Richard Roesch added another championship to Cleveland's trophy case in 2019. With an impressive 15-0 showing, the competitive horseshoe pitcher from Mentor swept his division at the 2019 National Horseshoe Pitching Association World Tournament last summer. Read More >>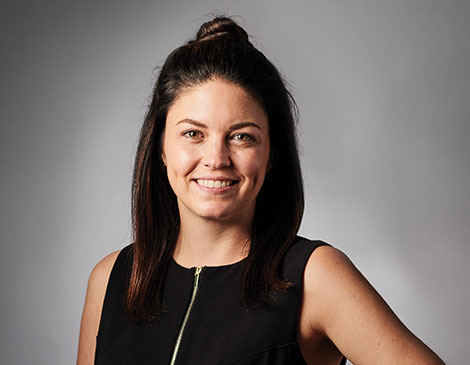 Emily Kennedy, Hedgemon CEO, 30
Emily Kennedy and a group of University of Akron students began researching ways to reduce risk of concussions by studying animals who can withstand shock absorption. Ultimately, Kennedy created a liner for a football helmet that can help prevent concussions using impact-protection technology that utilizes layers of shock absorbers similar to a hedgehog's quills. Read More >>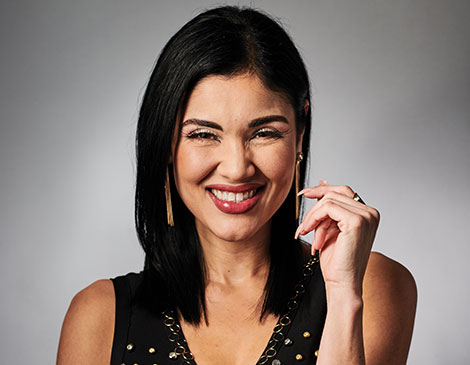 Yasin Cuevas, Project Model Institute CEO, 39
In the field of female empowerment, there seems to be no stopping Yasin Cuevas. After spending three-fourths of her life in the fashion industry, she owns her own modeling company, supports Hispanic high school and post-secondary students through her work with nonprofit Esperanza Inc. and is this year's 2020 Ms. Galaxy Puerto Rico. Read More >>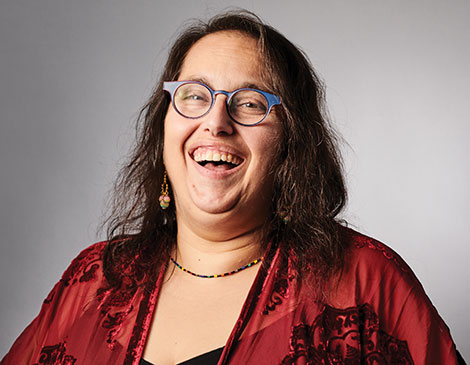 Jodilyn Solomon, Camp Lilac Executive Director, 51
Jodilyn Solomon's Camp Lilac has all the usual trappings (boating, arts and crafts, bonfires), but it's also a place where transgender and gender-diverse youth can be themselves in a much-needed respite from outside life. Read More >>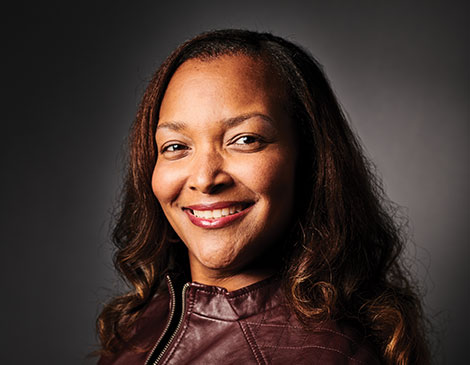 Brandi Davis, I Promise School, Principal, 43
As the founding principal for Lebron James' I Promise School, Davis makes good on her promises by helping at-risk students get a headstart on education with wraparound services. After working for Akron Public Schools for 20 years, she's propelled the upstart academy into its second year by expanding its student body by 71% to 340 students. Read More >>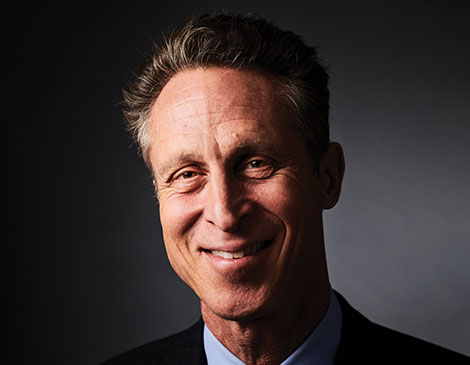 Mark Hyman, Cleveland Clinic Center for Functional Medicine Head of Strategy and Innovation, 60
As the head of strategy and innovation of Cleveland Clinic's Center for Functional Medicine and the founder and director of the UltraWellness Center in Lenox, Massachusetts, Hyman believes that food is both the cause and cure for most chronic diseases. He's been a frequent guest on Good Morning America and The View and his latest book What the Heck Should I Cook? was published in October with more than 100 recipes. Read More >>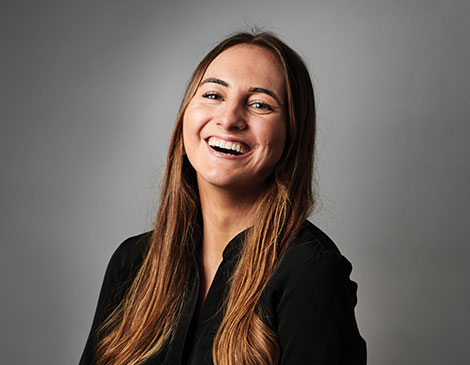 Janey Schafer, Food Photographer and Blogger, 29
Janey Schafer has even the most casual social media user starving for more content. In 2013, she started posting pictures of food dishes she'd made on an Instagram account dubbed @foodsofjane. The Cleveland-based food photographer, recipe master and blogger has since grown her audience to more than 110,000 followers, attracting the likes of celebrities such as Chrissy Teigen and Drew Barrymore. Today, she continues to cook and offer instructional presentations and classes alongside her long-haired dachshund, Basil. Read More >>

Read More: Editor Kim Schneider writes about why January's "Most Interesting People" is one of her favorite packages of the year.