City councilman Kerry McCormack is huddled close to a portable gas-lighted heater behind an enormous stage in the epicenter of the newly renovated Public Square.
Nearby, Mayor Frank Jackson and council president Kevin Kelley are engrossed in conversation, basking in the light from the fire at Cleveland's annual Winterfest. Soon, McCormack will join them onstage to flip the switch on more than 360,000 lights and ring in the holiday season. As he peers out into the bundled and bustling crowd, the empty shells of unused bus stations peek out over covered heads. For the first time in more than 15 years, a small ice rink teeming with children glistens near the foot of the Soldiers' and Sailors' Monument.
"This is what Public Square should be," McCormack says, peering off into the night. "It should be a place for the people. This is the front yard of our city."
At 28, Cleveland's newest and youngest member of council understands the importance of diversity, family values and having a community-based approach to politics. As the representative for Ward 3, McCormack fills the seat of Joe Cimperman, whose 18-year tenure elevated issues of equal rights and global engagement in the civic discourse.
"I want to make sure I maintain his energy levels and his responsiveness and his passion for the community," says McCormack, who now represents Ohio City, Tremont, downtown and parts of Clark-Fulton. "Making sure we're on the edge of progress is really important."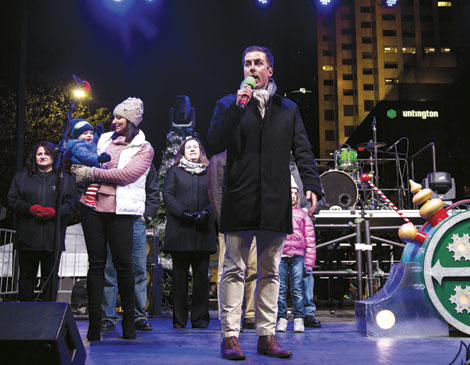 McCormack's segue into public service last April follows a path similar to his father. In 2010, he graduated from Miami University with a bachelor's degree in international relations and jumped right in to co-manage his father Tim McCormack's campaign for Cuyahoga County executive. The elder McCormack, a longtime politician who had previously served in the Ohio House and Senate and as Cuyahoga County auditor and commissioner, eventually lost that race but went on to become an Ohio Court of Appeals judge.
"Sometimes he would develop a reputation of being tough on an issue, whether someone felt it was good or bad," says McCormack. "But it was truly what he believed in."
McCormack then spent two years in Madrid, teaching English to first- and second-graders in the village of Cubas de la Sagra. The opportunity allowed him to travel throughout Europe, northern Africa and Southeast Asia, where he witnessed the Muslim call to prayer ring out across the horizon from a rooftop in Marrakech and spent an afternoon getting lost in the rice patties of Vietnam. Those years are also where he fully defined his sexuality.
When McCormack returned home in 2012, he sat down with his parents at the kitchen table and told them he identified as gay. His mother Valerie, a former Hawken School teacher and executive director of the nonprofit Shoes and Clothes for Kids, laughed and said she had known for a while. His father asked why he had waited until he was 24 to tell them.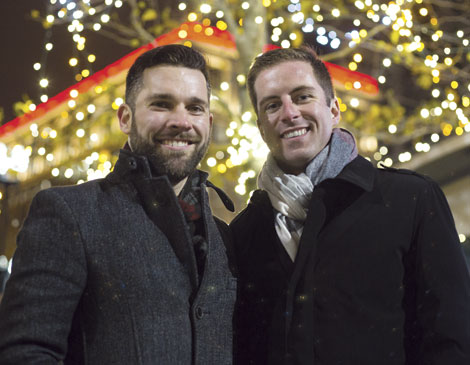 "I'm speaking from a point of privilege, because I had parents who I knew in some form would be receptive to that," acknowledges McCormack, who has been with his partner, Edward Stockhausen, for almost a year. "Being the most productive person and happiest person I can be, I have to be myself and be transparent about who I am."
Still, the first few months of McCormack's entrance into public office was mired with grief. While he maintained a neutral diplomatic stance in council meetings over police reform and a looming minimum wage hike, his mother was struggling behind the scenes to survive a yearlong battle with a brain tumor.
"Work consumes so much of my time, and it should," says McCormack. "But when I wasn't at work or at a community meeting, I was with her."
Three days after his mother died on July 10, City Council passed a nondiscrimination ordinance that increased protections for Cleveland's transgender community — an ordinance McCormack pushed for as Cimperman's successor.
"I'm choosing to channel her energy, her compassion and her intelligence into my life as a way to remember her," says McCormack.
That devotion and passion for his job helped McCormack while working as the director of community affairs for Ohio City Inc. for three years. It was where he implemented neighborhood-wide initiatives to increase quality of life for its residents.
For some, it came by way of a safety audit program where residents were matched dollar-for-dollar up to $250 for safety improvements made on their homes. For the LGBTQ community, it meant an increase in pride and visibility with the distribution of a rainbow flag emblazoned with the neighborhood's sigil as part of a community outreach program.
Like Cimperman before him, he's a champion for the people.
"That quality of life umbrella is critical," says McCormack. "As people invest in our neighborhoods, it's important that people move into our city and that people invest in our
community."
When organizers originally canceled the 28th annual Cleveland Pride parade and festival, McCormack tapped city resources and joined in a grassroots effort led by the LGBT Community Center of Greater Cleveland to host the event on Public Square's lawn.
"Pride is not one group's or one person's thing," he says, looking toward next year's event. "It's a community-based celebration."
While McCormack will face re-election in November, he's focused on continuing the next phase of downtown's residential development. As downtown's population approaches 15,000, big projects are on the horizon, including Stark Enterprise's 48-story, mixed-use nuCLEus development in the Gateway District and the 18-story Beacon apartment tower atop a Euclid Avenue parking garage. Talks of a downtown playground are in its preliminary stages.
"We're hoping that as some of these projects come online downtown, there will be a larger resident base than Ohio City and Tremont combined," he says. "You can retain people in a community for long periods of time when you provide opportunities for families."
A large part of downtown development and building thriving communities revolves around connectivity. No place in the city is that more evident than Public Square, where Superior Avenue's closure has pitted public transit advocates against desires for a unified park.
"I don't know if it needs to be a black-or-white decision," says
McCormack back in Public Square as he looks up at the black streetlights looming over the celebratory Winterfest crowd.
Instead, he proposes a possible bollard system, one that opens Public Square to Greater Cleveland Regional Transit Authority buses during rush hour on weekdays and closes for large-scale events.
"Now that we have this public space," he says, "we have to use it."
At 6:30, McCormack takes to the stage alongside Mayor Jackson, councilman Kelley and others. As McCormack thanks everyone for coming together, he urges the thousands to return throughout the year. In the distance, a 45-foot blue spruce waits to be lit.
"Welcome to the heart of Cleveland," he says. "We'll see you soon."
Points of Interest
Family First: When McCormack's younger brother Dylan was born, he was diagnosed with a rare neurodevelopmental disorder known as Angelman syndrome. For 18 years, the brothers shared a room. "He had trouble walking and he couldn't speak words, but he could communicate. Helping to take care of him helped me understand the importance of resources around disability."
Home Improvements: When McCormack bought his Ohio City home, the millennial vowed not to purchase a television. "I'm not there enough to justify the cost. That opened up my living room to be a conversational space where humans talk to each other."
Down Time: McCormack rarely turns his phone off, but he's able to escape with a quick run through Edgewater Park or a stroll through Monroe Street Cemetery. "When I jog, it helps clear my mind."