John Skrtic has been with the Cleveland Public Library for over 30 years. He now serves as the chief of special projects and collections, which makes him responsible for overseeing the 11 million items in the Library Collection. He holds a master's of library and information science from Kent State University and a master's of public administration from Cleveland State University. Skrtic grew up on East 41st St. in downtown Cleveland and has lived in the city his entire life. He is father of two children and spends his free time archiving the people and places of Cleveland.
RTA Cleveland's Sonni Tables

Regional Transit Authority Conductor Sonni Tables ensured my safe commute to work on April 4. In saying hello to Sonni, I learned that he has worked for the Greater Cleveland RTA for more than 20 years — a most impressive record. I took a photo of Sonni in front of his train to commemorate our meeting.
riderta.com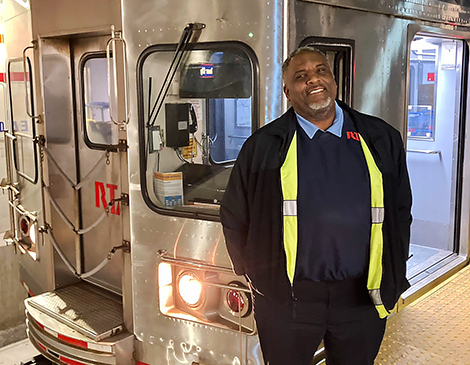 Carol and John's Comic Book Shop
John Shearer and Ben Joines-Mundy are Cleveland's go-to experts for all things comics, always ready to provide excellent advice on the latest releases. Together, they have worked a combined 38 years — 25 for John and 13 for Ben — at Carol and John's Comic Book Store, located in Kamm's Plaza. This premier comic shop, where the inventory is always fresh, has been in business more than 30 years. Owner John Dudas is perpetually doing great things to better the Cleveland community. Stop by to pick up something amazing to read today. 17462 Lorain Ave., Cleveland, cnjcomics.com/site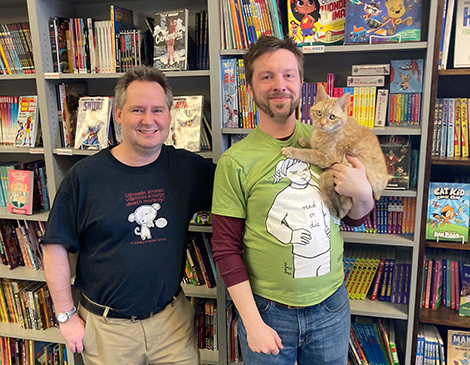 Lucky's Charms & Supplies
I have fond memories as a kid of visiting Lucky's Charms & Supplies. Mr. Lucky, who is also known as Warmsly Lewis, opened his supersensory shop in 1982. Featuring a variety of African and other candles, lotions, incense, herbs, oils, and jewelry, the shop evokes an aura of spiritualism. An awesome gentleman, Mr. Lucky's vast mystical knowledge and years of experience endow him with the ability to "see the unseen, know the unknown, and hear the unheard." 6408 St. Clair Ave., Cleveland, luckys-charms-and-supplies.myshopify.com
Jesse and Dale Osario
It was a pleasure to meet charming couple Jesse and Dale Osario and their beloved canine companion, Lucky, on Dyngus Day. The annual celebration returned to Cleveland's Gordon Square Arts District at 5400 Detroit Ave., Cleveland, on the traditional date of the Monday after Easter Sunday. The Osarios partied with thousands of Greater Clevelanders to celebrate Polish culture and traditions with ethnic food, beer and dancing.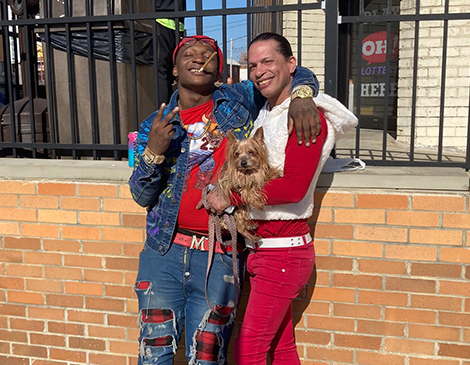 Hugo and Joe Lanese
During a recent visit to Little Italy, I met neighborhood resident Joe Lanese and his faithful and regal companion, Hugo. Not particularly a fan of walking, Hugo can often be seen exploring the streets of Little Italy in style, riding around in the padded comfort of his bright red Radio Flyer wagon.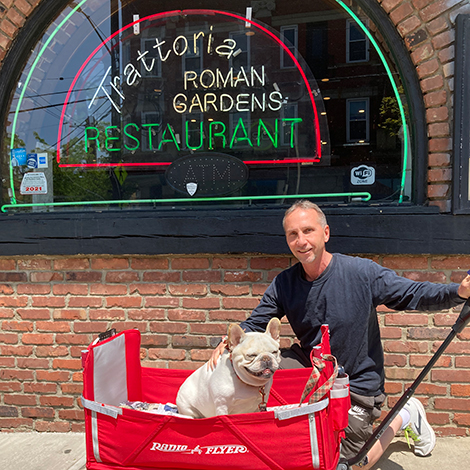 Dick Pogue
I had a great conversation with legendary lawyer and civic leader Richard W. "Dick" Pogue recently at the Cleveland Museum of Art. Dick arrived in Cleveland in 1957 to join what is now the Jones Day law firm. He and his wife, Pat, had intended to stay for five years, but they loved Cleveland so much that they decided to remain. With a career focused on corporate and litigation law, Dick became managing partner of Jones, Day, Reavis and Pogue in 1985. In June 1994, he retired from the firm and became senior adviser at Dix & Eaton, a corporate public relations firm. He rejoined Jones Day in 2004. An inveterate booster of all things Cleveland, Dick has served on countless boards and is currently a resident of Judson Manor.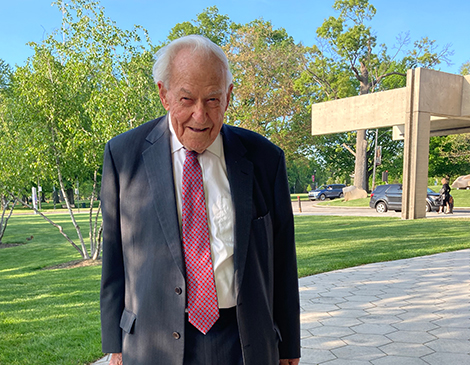 Table for 2
Table for 2 may sound like a place to grab a good meal, but it's actually one of Cleveland's finest vintage furniture and home goods stores. Owners Chelsea Jancewicz and David Altier originally started their business as an online marketplace before deciding to be a part of the renaissance of Lorain Avenue by opening a brick-and-mortar store. Their gorgeous Ohio City shop specializes in preserving and restoring classic and timeless pieces. If you're looking to furnish your home with the best in antique, vintage, and retro furniture and home décor, this local business has everything you need. 4720 Lorain Ave., Cleveland, tablefor2cleveland.com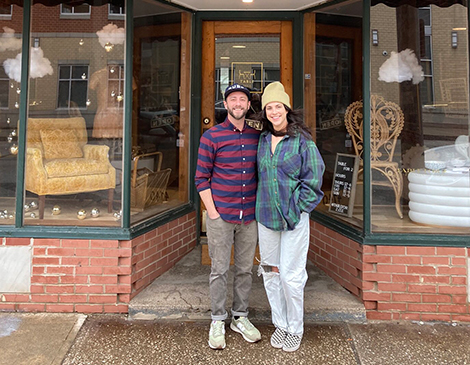 Sign up for our free weekly "In the CLE" newsletter — everything you need to know about Cleveland in your inbox a few times a week. Click here to subscribe.