Hot in Cleveland may have ended in 2015, but Valerie Bertinelli still watches the Cleveland Browns play from the comfort of her home in LA. "And we get our hearts broken every single weekend," she says.
Bertinelli's connection to us runs deeper than her role as Melanie Moretti on the TV Land show. Her husband, Tom Vitale, is originally from Cuyahoga Falls. "I spend a lot of time in Ohio," she says. "We'll all get together and end up visiting his mom's or cousin's house. Those are amazing parties."
These days, you'll find Bertinelli in the kitchen as the host of Valerie's Home Cooking on the Food Network. Launched as Hot in Cleveland was ending, it capitalizes on Bertinelli's neighborly appeal with a mix of approachable recipes and casual friends-dropped-in approach.
"We just did an episode on Ohio foods," she says, mentioning turkey chili, fried bologna bites and vanilla-and-coffee cream puffs.
Bertinelli's new book — also called Valerie's Home Cooking — debuted in October. It includes more than 100 recipes, beautiful photography and stories about Bertinelli's love of garlic, lemon and, most of all, preparing food for family and friends.
"I've actually been cooking longer than I've been an actress," says Bertinelli, who became a teen sensation playing Barbara Cooper in One Day at a Time from 1975 to 1984.
But Bertinelli didn't realize how far her cooking roots truly went until she stumbled upon a bit of family history while visiting Italy a few years ago. Her great-grandmother sold homemade gelato to raise the money needed to immigrate to America.
"It made me feel even more strongly that this is in my DNA and this is what I'm meant to do," she says.
That's not to say that Bertinelli doesn't miss her old show. Hot in Cleveland premiered in 2010 and told the story of three single women from LA who decided to give life in Cleveland a try (boarding with Elka Ostrovsky, played by Betty White) after their plane made an emergency landing here. It ended with all four women finding true love at last — in the town that had become their true home.
"I loved the ending, but I hated ending the show," Bertinelli says. "We just had so much fun."
Happily, there's been some chatter about a Hot in Cleveland reunion. "Big hope, big prayers," she says excitedly. "Fingers, toes and everything crossed."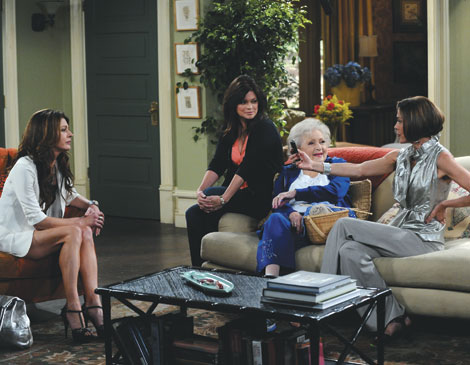 Jane Leeves, Beautician Joy Scroggs
Leeves recently joined Bertinelli to film an episode of Valerie's Home Cooking slated to run on Mother's Day. "We did a whole English thing," Bertinelli says. "Jane's a badass in the kitchen."
Wendie Malick, Soap opera star Victoria Chase
Malick finished a run as Esther in Paul Rudnick's Big Night in LA. A vegetarian, she's appeared as a guest on Bertinelli's show, where she indulged in mini roasted potatoes with eggplant caviar.
Betty White, Elderly Polish caretaker Elka Ostrovsky
White inspires Bertinelli with her love of life and short ribs (which Bertinelli makes for her). "I look at the way Betty lives her life," she says. "If I make it to 95, I'm going to do whatever the hell I want to."