In April, MidTown's Tech Hive buzzed with businesses, residents and nonprofits looking for information on a five-year plan with BroadbandOhio for a historic $42.45 billion from the Broadband Equity, Access and Deployment program. They also discussed the Digital Equity Act: $2.75 billion, geared toward creating digital opportunities.
Lt. Governor John Husted says at least 1 million Ohioans want reliable internet. The stakeholder insight gleaned from MidTown is vital to closing broadband disparity, given data gaps.
For example, if one home is connected, internet providers report the entire census block served. Meanwhile, home-connected, wireline broadband isn't distinguished from broadband retrieved from mobile phones across communities in the 2021 American Community Survey — not showing which populations lack service.
As stakeholders help BroadbandOhio probe for accuracy, plans must come together to allocate BEAD funds — likely, to infrastructure in Appalachia.
"BEAD is all about rural broadband," says Bill Callahan, Connect Your Community director and National Digital Inclusion Alliance research and policy advisor. "Talking about BEAD in Cleveland is irrelevant unless you can figure out a way to do multifamily with it."
Wanda Davis, Ashbury Senior Computer Community Center founder, says the DEA grants are more applicable to Cleveland's needs: investment in local tech support, hardware and training, plus connectivity. Creating a model that unites these components while eyeing the "tech support for tomorrow," Davis says, would move toward a permanent solution, since Cleveland's infrastructure wastelands exist in pockets.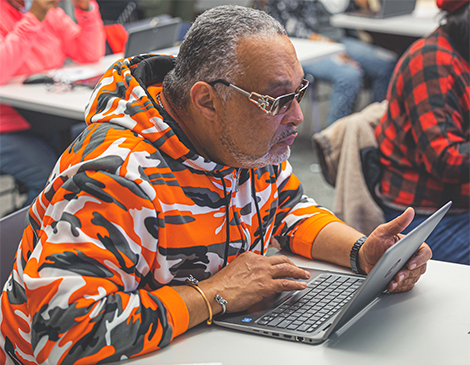 Husted calls East Cleveland a high-speed internet desert. Last fall, BroadbandOhio supported PCs for People's tower construction there. The nonprofit charges users $15 a month for reliable internet. A for-profit provider wouldn't build where it couldn't pay for the infrastructure within seven years, says Husted. "We had to create favorable economics to make this happen, meaning that we had to subsidize."
DigitalC CEO Joshua Edmonds says affordability rules Cleveland's connectivity discussion, adding context like the predatory nature of package rates, digital redlining and a lack of choice. "The standard shouldn't be [for] everyone to just have some type of internet connection; the standard should be that choice is baked in," Edmonds says.
Back in the days of dial-up, Callahan says Cleveland had more than 40 internet providers riding Ameritech's phone system. Today, with DSL, Cleveland has about two.
Edmonds believes infrastructure and affordability could be solved by constructing an open-access network, like UTOPIA Fiber, which leases lines to multiple providers.
"Treat internet just like you would treat a road. Build it, then allow private, public, municipal, anyone who can just drive traffic on that road," Edmonds says. "Anything that makes affordable internet a reality — not subsidized internet, but legitimately affordable internet — that's what we need to be prioritizing."