Did we actually pull this off? Some barriers remain downtown as delegates and media slowly filter out of the city, but Cleveland is breathing a collective sigh of relief. The Republican National Convention is in the bag. Chill out and read up on what went down Thursday.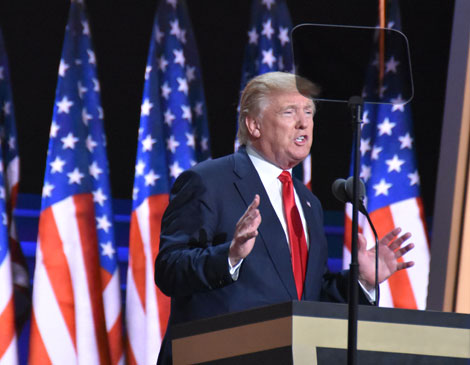 Trump at Center Stage
Donald Trump accepted the Republican nomination for president Thursday during a speech in which he attempted to bill himself as the "law and order" candidate. Trump railed against illegal immigrants and called for increased vetting of refugees. He decried the recent shootings of police officers and promised to restore order. He blamed his opponent, Hillary Clinton, for the rise of ISIS and the deaths at the U.S. diplomatic compound in Benghazi, Libya. He said he would renegotiate trade agreements such as the Trans-Pacific Partnership and the North American Free Trade Agreement. "I am your voice," he said in a speech that ran until just after 11:30 p.m. As balloons fell from the rafters and confetti fluttered "You Can't Always Get What You Want" by the Rolling Stones played. It was a surreal nightcap to what has been a boisterous and contentious convention.
Outside the Arena
As Trump spoke inside Quicken Loans Arena, police gathered in full force on the corner of Prospect Avenue and East Fourth Street, clearing the way for delegates and visitors as they prepared to exit The Q. Although only five protesters were present, one accused a cameraman of getting too close and Cleveland police chief Calvin Williams confronted him directly. "You're in everybody's face and you don't want his camera in yours?" asked Williams. "You need to calm down." By the time Trump finished his speech, the protesters had vacated the area, shaking hands with officers as they left.
Kasich? Bueller?
Ohio Gov. John Kasich was conspicuously absent from the convention, especially on a night in which Trump purported to bring the Republican party together. And to make matters worse, the conflict between the Kasich and Trump camps that has characterized the first three days of the convention continued yesterday. Although Kasich was in Cleveland, he refused to attend the convention or endorse Trump — a particularly worrisome development for Ohio Republicans, who will need Kasich's clout to secure the crucial swing state. Instead, Kasich seems to have his eyes on the future. At a Wednesday event in Little Italy, reported The Atlantic's Russell Berman, Kasich told the New Hampshire delegation, "For the people in New Hampshire, I'll be back."
Link Soup
In a press conference Friday morning at the downtown Westin hotel, Trump said that even if Texas Sen. Ted Cruz were to endorse, he wouldn't accept the nod. He then had a few positive words for the convention, saying "That was unity, that was unity, right?" At the same press conference, Trump revived his campaign trail conspiracy theory that Cruz's father was in league with John F. Kennedy assassin Lee Harvey Oswald — and said the National Enquirer should get a Pulitzer Prize.
Play a quick game of of "Who said it? Donald Trump or Regina George from Mean Girls?"
Several reports indicate that the RNC may not have been the payday many businesses were expecting, especially those outside of the immediate vicinity of the event zone. CBS News reports from the recently opened Coastal Taco, which had a down week.
Another day, another Mark Leibovich. The New York Times Magazine chief national correspondent filed a brief note Thursday on Cruz's non-endorsement. "[Cruz] embraced the professional-wrestling ethic that Trump has so fully imposed on this campaign," wrote Leibovich. "He leaned full-on into the spectacle."
Now, that spectacle is over. Trump will move on. But for Cleveland, the RNC was a momentous occasion — an assertion of progression and national relevancy. The world was watching, and we delivered.
For four days, grit was gold.
What better way to celebrate than with a balloon drop?