There's no bigger stage than the Olympic Games. It's the pinnacle of years of sacrifice and struggle to achieve what most people thought was impossible. Competing at the Olympics confirms you're the best of the best and makes all that pain and sacrifice worth it.
The road to this year's Olympics has been even more challenging than usual. After being postponed last summer, the 2020 Olympic Games — dubbed Tokyo 2020 — will finally take place in Japan from July 23 to Aug. 8. The Paralympic Games will also be held there from Aug. 24 to Sept. 5. Although no additional spectators are allowed in Tokyo, NBC is broadcasting the events so you can support the athletes from home.
Ahead of the Tokyo Games, we talked to four Cleveland athletes about their journeys to the Tokyo Olympics and how it feels to represent their hometown on the world stage.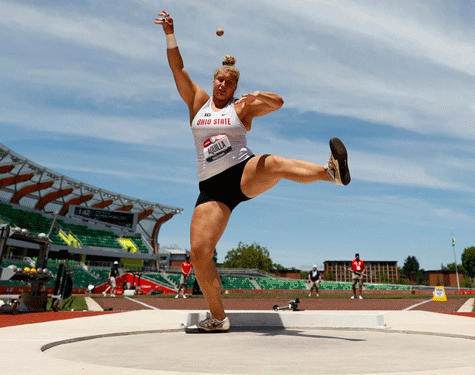 Adelaide Aquilla, 22, shot put
Adelaide Aquilla's journey to the Olympics started with, of all things, a sweatshirt.
"When I was in grade school we had this thing [where] if you did every event on the track, you got a sweatshirt," Aquilla says.
The Westlake native took up the challenge. When she performed well in the shot put event, her coaches encouraged her to stick with it. Soon, she grew to love the event and the thrill of competition.
"I love how detail-oriented the sport is," Aquilla says. "I also love competing against different people. I'm a very competitive person."
While attending Magnificat High School, Aquilla met Bob D'Andrea and his son Mike D'Andrea of T3 Performance in Avon. Thanks to Aquilla's work with Bob and the T3 staff, she was able to walk onto the team at Ohio State University, where she grew even more dedicated to the sport.
"Initially when I came to Ohio State, I was a walk-on, and so I never really thought about going to the Olympics or competing at such a high level," she says. "Now, for me to be able to compete at the Olympics, it's just so rewarding to see all of my work — in the weight room, academically, physically, mentally, all that stuff — just pays off."
Aquilla attributes her success to the practice of setting goals for herself.
"At the beginning of every year since I've been in college, I wrote down all of my goals that I have for my season in my book," Aquilla says.
This year, Aquilla's goals included winning the 2021 NCAA DI women's indoor and outdoor shot put national championships and finishing in the top five in the Olympic trials. All of those accomplishments earned her the honor of being the Buckeyes' Female Athlete of the Year.
"Never give up on your goals," Aquilla says. "You just really have to focus on what you want to do and you have to know how much work you're going to put in."
When To Watch:
Qualifying Round: July 30, 6:25 a.m.
Final Round: July 31, 9:35 p.m.
Follow Her Olympic Journey:
Instagram: @aaquilla; Twitter: @aaquilla39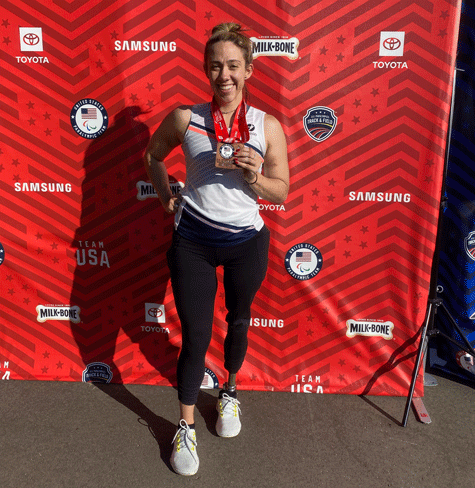 Jenna Fesemyer, 24, wheelchair racing
In 2013, when Jenna Fesemyer was a sophomore at Southeast High School in Ravenna, the Ohio High School Athletic Association introduced wheelchair events to the high school state track meet.
"Before that, I did not know anything about wheelchair racing, and so I was a little bit reluctant to give it a try," Fesemyer says. "But once I started competing and practicing, I really fell in love with the sport rather quickly."
Since wheelchair racing was a new sport for Ohio high school athletes, there weren't many existing resources when Fesemyer started training.
"We kind of went through trials by fire in terms of learning about the sport," Fesemyer says.
Her high school coaches — her mother Cindy Fesemyer alongside Mary Schill — helped Fesemyer train, from creating workouts to learning how to change the wheels on a racing wheelchair.
"There's a whole world and depth of preparation that comes into the sport of keeping your equipment ready and making sure that everything is safe for you to use," Fesemyer says.
From the preparation to the training itself, Fesemyer has learned how to be persistent.
"The movement is so sport-specific that there's no expedited way to become an elite wheelchair athlete," Fesemyer said. "The secret is that it takes time and it takes years, and miles to be able to excel in the sport."
Fesemyer was born without her left leg and a hip joint and uses a prosthetic leg. But don't be mistaken, she and Team USA's Paralympians are elite athletes. Fesemyer trains over 100 miles each week and has gone through six years of rigorous training to reach her sport's top level.

"Paralympic athletes have a similar and just as complex process of making the Paralympic team compared to the Olympic team," Fesemyer said. "There's a lot of work that's gone into it, and there's no way I could have done this without my community of support that I have."
With her community by her side, Fesemyer becomes Ohio's first Paralympic wheelchair athlete — although she says she won't be the last.
"I am indebted to the Ohio High School Athletic Association for their decision in being inclusive at the high school level in terms of adding wheelchair events," Fesemyer said. "It's such an honor, and I hope that I can represent well, and bring everything I learned back to the state of Ohio and continue to give back."
When To Watch:
5000-meter
Round 1 Heats: Aug. 26, 8:30 p.m.
Final Friday: Aug. 27, 8:30 p.m.
1500-meter
Round 1 Heats: Aug. 30, 6 a.m.
Final Tuesday: Aug. 31, 6 a.m.
Marathon
Sept. 4, 5:30 p.m.
Follow Her Olympic Journey:

Instagram: @jenfesemyer; Twitter: @jennafesemyer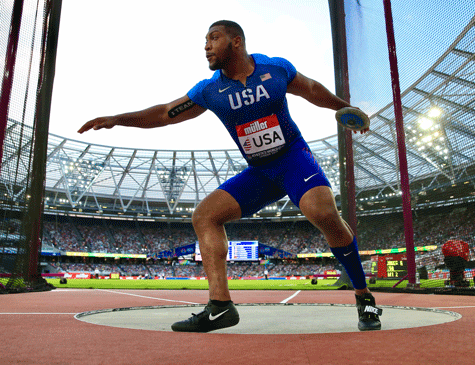 Reggie Jagers III, 26, discus
After Solon High School's close-but-heartbreaking defeat in the 2009 high school football playoffs, Reggie L. Jagers III was disappointed that his football success depended on something outside of his control — a team. When he saw the discus throwers practicing at school, the sport piqued his interest because he could determine his own growth and success, unlike in football.
"I liked the sport because it was all based on how you did individually, how much work you poured into the sport," Jagers said.
Jagers, who could throw a football 70 yards at the time, took to discus naturally, even though others doubted him due to his lack of experience. Though Jagers didn't start competing until the end of his junior year in high school, he found success by taking it a step-by-step approach, aiming to be the best at whatever small challenge was in front of him.
"Even your teammates or other people might not see what you see in yourself," Jagers said. "I just had a work ethic to excel at whatever I was doing, and each day I got better at something."
Jagers competed on the Junior Pan American team in 2013 during his freshman year of college at Kent State University. It was there, donning a Team USA jersey and coming home with a bronze medal, where he realized the next step was the Olympics.
His determination to make it to the Olympics came, in part, from his upbringing in Cleveland.
"You always bring that grit and that type of by-any-means-necessary [mindset] to get the job done," Jagers said. "Living in Ohio, and living in Cleveland, you get that vibe from how we grow up and how we attack things."
That mindset was integral on the day of the Olympic trials. There were numerous obstacles: It felt over 100 degrees on the track, Jagers hadn't slept for three days and only a year earlier he had torn his pectoral muscle in an almost career-ending injury.
But as he saw his mom in the stands, he thought about all the sacrifices she'd made for him and was determined to keep fighting.
"I decided to think about all the people along the way in the journey," Jagers said. "I just tried to pull all those emotions together and put it into the competition, because I knew I had support."
When To Watch:
Qualifying Round: July 29, 8:45 p.m.
Final Round: July 31, 7:15 a.m.
Follow His Olympic Journey:
Instagram and Twitter: @kingjagers
Katie Nageotte, 30, pole vault
It's not uncommon for children to enjoy climbing on things they shouldn't. But for Katie Nageotte, that tendency set her on a path to the Olympics.
"I was always climbing on things," Nageotte said. "During recess, I was always on the jungle gym monkey bars, and so just looking at [pole vaulting], I knew that was something that I really wanted to do."
In seventh grade, Nageotte was fascinated by the pole vaulters she saw at Olmsted Falls High School. Nageotte was immediately drawn to the sport by her love for climbing and her gymnastics background. She always dreamed about making it to the Olympics over her 17 years competing.
But when she didn't make the Team USA in 2016, Nageotte didn't get defeated. Instead, she decided to make a change in her training.
"When I didn't make that team, having a good day, I knew that I needed a new situation entirely to really get out of my comfort zone to make real changes to my jump," Nageotte said.
That's when Nageotte started working with coach Brad Walker, a two-time Olympian, who helped her improve her jump by almost a foot. Under his guidance, Nageotte took the top spot at the Olympic trials this year and was brought to tears at the realization that she would be heading to Tokyo in 2021.
"That's the biggest dream any athlete, any person could ever have," Nageotte says. "It's everything that I've ever dreamed of and worked for."
Nageotte, an Olmsted Falls native and graduate of Ashland University, is excited to represent the Greater Cleveland area at the Olympics.
"There's just such a hometown pride for being a pretty big city," Nageotte said. "Any time there's a Cleveland athlete that's doing well, we all kind of get behind them, and so to be a Cleveland athlete that people are potentially getting behind, it's very humbling, and I'm just thrilled that I have this chance."
When To Watch:
Qualifying Round: Aug. 2, 6:20 a.m.
Final Round: Aug. 5, 6:20 a.m.
Follow Her Olympic Journey:
Instagram and Twitter: @ktnago13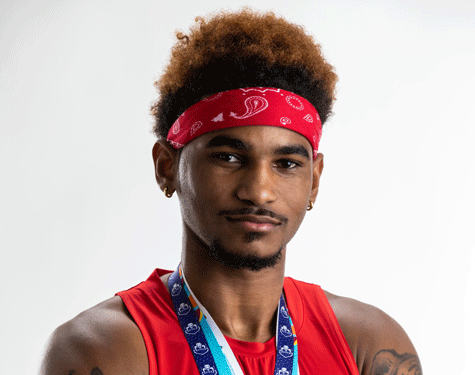 Delante "Tiger" Johnson, 22, boxing
Delante Johnson's nickname "Tiger" comes from a birthmark shaped like a tiger stripe, but with his long list of accomplishments — winner of the 2016 Youth World Championships, two-time winner of the Elite National Championships, bronze medalist at the 2019 Pan American Games and more — you could easily think that the name was born from his dominance in the boxing ring.
Johnson started boxing when his dad took him to the gym at Salvation Army's Hough Center (now closed) when he was just seven years old. Though the sport was difficult at first and the coaches were demanding, Johnson was a fast learner and caught on quickly.
His Olympic dreams were ignited after he watched Raynell Williams, a boxer from Cleveland, compete at the 2008 Olympics in Beijing. From that moment, Johnson knew he wanted to do the same one day.
"After seeing him go, that was pretty much what I wanted to do," Johnson says.
His dreams of competing at the Olympics were further fueled by one of his coaches, the late Clint Martin.
"Before he passed, he told me that he wanted to see me get a gold medal in the Olympics, so I pretty much just held onto that," Johnson says.
That's exactly what Johnson's goal is heading into Tokyo: take home the gold medal, not just for Team USA, but for his hometown of Cleveland as well.
"I just want to do my best to help put Cleveland on the map, represent Cleveland real well and bring a lot of attention to the city," Johnson says. "I'm gonna bring that gold medal home and make Cleveland proud."
When To Watch:
Men's Welter Round of 32: July 24, 6:39 a.m.
Quarterfinals & Semifinals: July 29-Aug. 1, various times
Gold Medal Bout: Aug. 3, 6:05 a.m.
Follow His Olympic Journey:
Instagram and Twitter:
@tigerjohnson216