Editor's Note: This article was originally published in the October 1980 issue of Cleveland Magazine and has been republished as part of our From The Archives series, in which we revive some of our favorite classic pieces from the magazine's archives.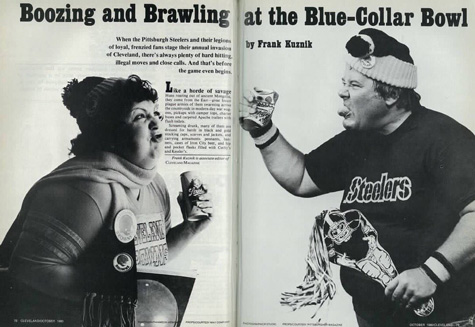 Like a horde of savage Huns roaring out of ancient Mongolia, they come from the East — great locust plague armies of them swarming across the countryside in modern-day war wagons, pickups with camper tops, charter buses and carpeted Apache trailers with flush toilets.
Screaming drunk, many of them are dressed for battle in black and gold stocking caps, scarves and jackets, and carrying armaments: pennants, banners, cases of Iron City beer, and hip and pocket flasks filled with Corby's and Kessler's.
These are Pittsburgh Steelers fans, a feverish, crazed group of football junkies every bit as tenacious and dangerous as the Steelers themselves. This fall, 20,000 to 25,000 of them will again be invading Cleveland for the event that nothing in pro football — indeed, nothing in the entire free world — can compare to: The Cleveland Browns versus the Pittsburgh Steelers at 80,385-seat Municipal Stadium.
The Browns and Steelers share the most intense, vicious rivalry in professional sports today, a simmering 30-year feud of seesawing fortunes that shows no signs of abating. If anything it is growing even stronger. This year's October 26 game was completely sold out by July 22, making it the earliest sellout in the history of the Cleveland Browns franchise.
For football fans in Cleveland and Pittsburgh this is the game beside which the Super Bowl itself pales — because it is much more than a game. It is a test of wills, a matter of spirit and pride, the ultimate meeting between the Midwest's toughest two-fisted, beer-drinking steel towns. The confrontation divides families, causes even fair-weather fans to take a temporary leave of their senses and whips up immense crowds to fever pitches.
"Screw the rest of the year — if we beat the Steelers, it's a good season," one Browns booster says, echoing the sentiments of most of the fans in Cleveland.
This is a rivalry of such magnitude and tradition that even the team owners, Cleveland's Art Modell and Pittsburgh's Art Rooney, have become part of it. During the 1970 realignment of professional football, keeping it intact was one of their major concerns.
"I was in New York when I made the decision to move to the American League," Modell says. "I told [NFL Presidents Pete] Rozelle, I'll go — but only if Rooney goes with me."
"The next day I collapsed in my hotel room with an attack of bleeding ulcers, and was rushed to the hospital. A couple of days later, Rooney and his son [Dan] came for a visit, and I said, 'I've got a proposition for you; I'm moving to the American League, if Pittsburgh goes with me."
"Dan Rooney said, 'No, we won't move.'"
"I said, 'Well then, I can't move either.'"
"Art [Rooney] looked at Dan and said, 'You stay if you want to, I'm going with Art; I think we can both move and keep the rivalry going.'"
And so they have. Since then the fortunes of the teams have reversed. The Steelers stopped the 20-year dominance of the Browns and with four Super Bowl victories in the last six seasons have come to dominate not only the rivalry but also all of pro football.
That, of course, has only intensified the rivalry, and swelled the number of Steelers fans who come to Cleveland every year. If it is possible, they are even more obnoxious and arrogant now than in the past. One longtime Browns season ticket holder from Rocky River probably speaks for most Cleveland fans when he says, "The Pittsburgh fans should all be met at the turnpike gate and thrown in jail."
That same man was part of an entire busload of Browns fans who once got arrested in Pittsburgh after a Browns-Steelers game there for relieving themselves in public. And he readily admits that Browns fans turned loose in Pittsburgh can be just as obnoxious as their counterparts are here.
But few Browns fans can go to Pittsburgh, much less raise hell there any more, because the local demand for tickets fills almost all of the Three Rivers Stadium's 54,000 seats. Steelers fans, however, continue to come to Cleveland in record numbers, adding every year to the barbaric mythology that has grown out of their annual invasion.
That mythology is grounded in real-life stories. There are the stories about the tense arguments in bars, and the Pittsburgh cops in civilian clothes who had to be thrown out of a bar in the Flats one night; about the Pittsburgh fans wandering around in a drunken stupor hours after the game, still looking for their buses; about the scenes in the bleachers, where the fans wear Browns and Steelers apparel like motorcycle games wearing their colors, daring someone to insult them; about mobs of Pittsburgh fans taking over hotels and cheering and running through hallways like college kids at the end of finals week; and about the individual crazies, such as the Pittsburgh man who brought his swimsuit to the game one November and decided to go for a dip in Lake Erie.
The siege on Cleveland actually begins six months before the game, the day the schedule for the next season is announced. Within hours of the announcement, reservations phones at Cleveland hotels start ringing, and a few days later every room within a 10-mile radius of the stadium is booked for invasion weekend.
Thousands of Pittsburgh fans come to Cleveland on the day of the game, many on buses so they can still drink on the way. But an equal number arrive here a day or two early, and spend the entire weekend at a hotel. It is not unusual to see small mobs of them waving black and gold pennants and scarves, and chanting Steelers cheers while stumbling into the Bond Court and Hollenden House and Marriott-Airport lobbies. By Saturday afternoon they may fill as much as 60 percent of the major hotels' rooms (that can be 1,300 people at a place like Bond Court). Most hotels double their security in anticipation of the onslaught—and are glad.
"That we would do with any group coming in that does a lot of drinking," says Jim Taliak, sales manager at Bond Court. "The Steelers fans want to have fun, and they start before they leave Pittsburgh, then keep it up here."
One of their main strongholds is the Marriott on West 150th, where the Steelers themselves stay when they play in Cleveland.
"That weekend there's an electric atmosphere here," says John Engle, Marriott marketing director. "The Pittsburgh people don't stay in their rooms — they're out in the halls, the lobby, wherever, having fun. When the team bus gets here, the fans virtually mob it. They're obviously very close to their team."
And to the beer. Last year Engle had 25 cases of Iron City, Pittsburghers' favorite, delivered to the hotel for that weekend. He had wondered if he had ordered too much, but that sold out quickly, and the guests were asking for more.
Invasion weekend is hardest on hotels where a staff is new and caught off-guard. When Steelers fans ran out the doors of the Ramada Inn on Rockside at I-271 for the final time last year, they left behind them shaving cream murals on the walls, toilet paper streamers up and down hallways, and a staff that vowed this year will be different.
"I'll never forget those people," says Shirley Moss, Ramada front desk manager. "They were hyper! They were real loud and were constantly all over the hotel, especially in the lobby. They did some cheers for us, too. It was like something you'd see on a college campus.
"When they left, they were yelling things like, 'goodbye, losers!' Wait till next year—we're all going to be wearing Browns jerseys."
How does one account for such insanity?
There is for one thing the geographical proximity of Cleveland and Pittsburgh, cities separated by a mere two-and-a-half-hour drive on the turnpike. Any sporting event that offers the fans a steady opportunity to go at each other face to face has the potential to blossom into an authentic rivalry.
More importantly there is the similarity of the two cities, steel towns where the life beat is hammered out in hot, dirty factories and forges, Northern industrial towns where there has been little to cheer about the past couple decades.
In Cleveland and Pittsburgh football is, like most other athletic diversions, serious business. There is nothing sporting or gamesome about it. A remark like "the Browns suck," even uttered in a drunken stupor from a barstool on Saturday night, is not taken lightly. It is a personal affront, an insult not only to one's team but also to one's pride and self-esteem, a challenge that begs to be answered with fisticuffs.
The exchange of fists is a common occurrence on invasion weekend, starting usually the night before the game. By late Saturday the chemistry in many bars, where Browns and Steelers fans are inevitably trading arguments and insults, has become volatile. Often bar owners will have to take extreme measures to keep brawls from erupting.
One Flats bar owner, who understandably requested anonymity, once walked around his crowded bar openly brandishing two guns he normally keeps within easy reach but out of sight.
"I thought somebody was going to be killed," he says. "There were a lot of arguments— people were yelling, emotions were running real high. It was getting out of control. I felt I had to pull the guns out; people think twice about starting something when they see you're packing heat."
Another bar owner tells this story: "One year eight guys from Pittsburgh came in here and drank and argued with Browns fans all night. When it came time to close, they wouldn't leave. We kept saying, 'We have to lock up now,' and they'd just say, 'We want another beer.' Finally we had to force them out the front door, I mean grab them and physically shove them out. It wasn't until they got outside and started picking a fight with some Cleveland cops that we found out they were Pittsburgh cops in civilian clothes."
This sort of madness continues into Sunday. The most well-known football bar in town, The Grist Mill on Woodland, which sits just two miles from Benedictine, where Pittsburgh Coach Chuck Noll went to high school, shows every Browns game on its two cable TV screens to packed houses that are as rabid as stadium crowds. One year about a dozen Pittsburgh fans who started from a hotel in Beachwood and never made it downtown ended up sitting at a Grist Mill table for the game, and damned near started a riot.
"When these guys came in and started cheering for Pittsburgh, everyone looked at them and yelled 'What the hell are you doing here'" says Grist Mill proprietor Rick Strutevant. "They said, "We're here to watch you guys get killed.' Then they made jokes about the Browns during the game — I thought we were going to have a big brawl. You know, when people get four or five beers in them, they don't think that stuff's funny."
If there are more near-fights than outright barroom brawls during invasion weekend, it is because beneath all the hostility and rancor that characterizes most relationships between Browns and Steelers fans, there is a strange camaraderie , an unspoken mutual respect that keeps everyone but the most inebriated from coming to blows.
It is a love-hate bond born out of the feelings of total devotion that both sets of fans share for their team, out of the knowledge that both sets of fans have suffered through the best and worst of times with their heroes, and have more in common than either would like to admit. There is a high level of tolerance, if not of liking, between them.
"If the Browns won all the time, I'd be that excited too," one Cleveland policeman who works the football games says in explaining why he tolerates almost anything short of a fist in the face from Pittsburgh fans.
"We've gone to games where we've been surrounded by Pittsburgh fans and become good friends with them," says 24-year-old Denise Simmons, a bleacher regular at Browns games. "We've gone to the other extreme with them, too. But face it, Pittsburgh fans are on the same kind of high we are. Even the calmest, most reserved people can get so wrapped up in the game that they just lose control. It's like you're not responsible for your actions, you know?"
Even team owners Art Modell and Art Rooney, who are close personal friends, fall into the traditional roles of rivals on invasion weekend.
"One year — this is when we used to win all the time — Rooney was up in my office crying the blues to me before the game,'" Modell recalls. "He was saying 'Take it easy on us, we have all these injuries' — which they did — 'We don't want to be embarrassed.' After that, I thought I was going to sit back, have a scotch and water, and enjoy the game. Then they went on to beat us; they just outplayed us that night. I was beside myself after the game. I was so mad I didn't want to see anybody. But as I was walking up a ramp, here comes Rooney chasing after me, shaking his finger at me, yelling 'Art, Art, we got you this time.'"
Rooney and Modell are already in Modell's office at the Gate B tower, making their pre-game promises, predictions and jibes when the first of hundred of buses filled with screaming, frenzied Steelers fans pulls off the shoreway at East Ninth and into the stadium parking lot.
Some Pittsburgh fans never get off the bus to see the game, either because they are too wasted to negotiate their way into the stadium or because a police officer will suggest that they do not try. Some have to be carried in by their friends. Even some of the Steelers fans at the hotels end up watching the game on television — casualties of late, all-out parties that began the night before.
The fever that drives Steelers fans to Cleveland is so strong that some of them are willing to come here without a ticket, and then offer as much as $50 or $100 to ticket holders in exchange for their seat.
A paltry sum, it seems, to hard-core Steelers fans — most of whom get inside the stadium early, and greet incoming Browns fans with taunts and cheers and small parades with pennants and banners around the stands.
By game time the stadium is a seething ocean of humanity that is as psyched for the game as the players themselves. Almost all the seats are filled with true believers; latecomers are crawling over each other and screaming at harried ushers; standing-room-only ticket holders are scrambling to find a dry place in the aisles to sit; and the first blows have already been exchanged — in the stands.
The fisticuffs among the fans can only be called "fights" in the loosest sense of the term. Sometimes they start with a simple verbal exchange; occasionally a Browns fan will lead with his chin by grabbing a Steelers' fan's pennant and throwing it on the ground. But since most of the punches that follow are being thrown by drunks, who are usually trying to fight from a cramped space in the middle of a crowd with someone a step or two above or below them, few get beyond the pushing and shoving stage. Still, there are enough of those exchanges to keep the police occupied during the entire game.
"We always know we're going to have problems in the end zone opposite the bleachers, which is where most of the Pittsburgh fans sit for that game," says Sgt. Jim Erne, who is in charge of the roving eight-man police squad that looks for trouble spots during football games. "There's a lot of fights there."
Normally, the police make few arrests. Unless a person is completely out of hand, they prefer to have him walk around to get some air, or simply leave the stadium.
At the opposite end of the field, in the bleachers, is where the hardest of the hard-core Browns fans sit. Because those are also some of the last seats to be sold, there is always a good mix of Browns and Steelers fans there — and plenty of action. Ushers who have worked that area talk about its unpredictability, how bottles sometimes fly through the air there, or of the man who once rolled down the bleacher steps, out of the stands and all the way to the end zone.
Occasionally the action in the stands moves outside the stadium.
"One Pittsburgh game a few years ago, it was November, and it was so cold we had our overcoats on," recalls Lt. Charles Neumeyer of the Cleveland Police traffic bureau. "This guy from PIttsburgh came running out of the stadium with nothing but a bathing suit on, went down by the docks and started climbing the fence. He insisted he was going swimming. I don't know why he suddenly decided it was time to take the last swim of the year, but he was determined to go. We finally had to pull him off the fence and put the cuffs on him."
After the game the stadium looks like a giant bottle-and-can recycling factory, (It is against the law to bring bottles and cans into the stadium, but many people sneak them in under their coats.)
"The Pittsburgh people are two-fisted beer drinkers, all right," says Al Friedlander, the head of stadium concessions. "You ought to see this place after a Pittsburgh game, especially if it's been a cold day, and they've really been putting 'em down — it almost looks as bad as it does after a rock concert."
On their way out of Cleveland, many Steelers fans are making a last-minute effort to ghrab souvenirs. In the past such items as life preservers from Fagan's bar and day-glo traffic cones have been popular items — as well as police hats.

"When you're working that close to traffic, it's not unusual for a hand to reach out of a bus and grab your hat," Lt. Neumeyer says. "Then if the bus doesn't get stuck in traffic, you lose it. One year we had a female officer directing traffic, and there were a lot of guys reaching for her. But they didn't want her hat. She's rather well-endowed, and they were reaching for something else.

Most of the Pittsburgh faithful head east immediately after the game, inr recent years savoring another victory over the Browns and making drunken promises to one another to meet for the Super Bowl. But the shock of their invasion lingers on, like the fallout a nuclear bomb leaves. The image of them that lingers longest is best typified by the Steelers fan that Lt. Neumeyer met one night years ago, while he was still working on a regular West Side beat.

"I'm at the old Kenny King's on West 117th north of Lorain at about three in the morning the night after the game, when some guy shows up who looks like he walked there from downtown.

"He stumbles in, looks around and says, 'Which way is Pittsburgh?'"