Joseph and Sarah Aude share a love — not only for each other but for the Cleveland Browns. We first caught up with the couple last year after Joseph sported a Browns-themed suit coat to the Kentucky Derby and Sarah wore a matching orange dress.
"I got a lot of looks, a lot of people kept coming up to us and asking us for pictures," Joseph says of the experience. They were even stopped by Browns defensive tackle Sheldon Richardson's uncle and a business partner of Jimmy Haslam's for photos.
It wouldn't be the only time the couple scored some attention for their Browns attire. After getting engaged shortly after the Kentucky Derby, they decided to take their engagement photos, in the same Browns gear, outside of FirstEnergy Stadium during the Browns' bye week. They figured foot traffic would be minimal. To their surprise, a 5K was happening right outside the stadium.
"People were laughing, asking to take pictures," says Joseph. "It was awesome. I really enjoyed it because a lot of people enjoyed seeing me in the suit and got a lot of joy taking pictures with me. It made me feel good, making them happy."
For their wedding earlier this year, Joseph and Sarah had envisioned getting married in a church in front of all their family and friends, but had to shift plans due to COVID-19.
The couple kept their original wedding date, getting married over Memorial Day weekend. Instead of a church, they opted to hold the ceremony in front of 50 family and friends in their sizable backyard. Joseph donned a traditional tux for the ceremony, but after it was over, he had a surprise for everybody in attendance, including his bride.
"After the ceremony was over, I ended up coming back in the house to put on the Browns suit to surprise everybody," he says. "Sarah wasn't thrilled about me putting it on but that she ended up warming up to it."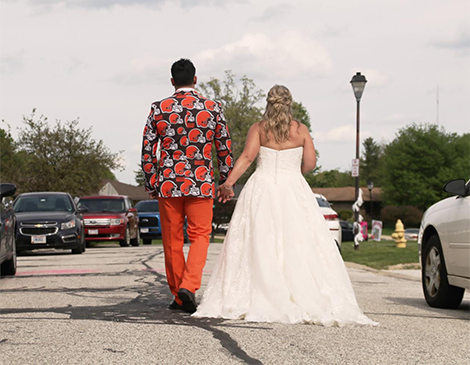 His friends and family laughed and wanted pictures with him — you could say the costume change was a wedding day touchdown.
And while last year's season was disappointing for Browns fans everywhere, Joseph and Sarah are looking forward to what this year's team may bring — and the bond watching games has created between them. "It has made us pretty strong," says Joseph. "We're going with the Browns through thick and thin."