At Riviera Lanes in Fairlawn, the sign above the entrance reads, "Through these doors pass the world's finest bowlers."
For most of last week that mantra held true as the PBA Tournament of Champions rolled through Riviera Lanes, bringing together the best bowlers in the world for a weeklong tournament consisting of guts, glory and alley oil.
And then, of course, there was me.
On Saturday, your favorite mild-mannered associate editor took to the lanes with Kimberly Pressler, FOX's laneside bowling reporter for the PBA, for a light-hearted game before Saturday's Pro-Am — a tournament where fans pay to bowl with professionals.
This story requires a quick preface. Before my illustrious career at Cleveland Magazine, I was a high school state qualifying bowler, (with a t-shirt to boot)! And while that may sound like an impressive advantage, I'll have you know, prior to Saturday's match-up, I hadn't touched a bowling ball in nearly three years. In preparation for the festivities, I spent the night before my game tossing back beers and Wii bowling with two friends. I (virtually) rolled a 184.
This wasn't my first rodeo. Inside Riviera Lanes I was back home.

But this version of home was different.

Instead of the near-empty, Saturday mornings of my youth, these lanes had … action. Television cameras! Personalized bowling balls! Bleachers for spectators! An hour before the Pro-Am portion of Saturday's games began, most of the bleachers were filled with bowlers and families of bowlers. I quickly realized that this would be the most people I've ever — and probably will ever — bowl in front of.
After some introductions with Kimberly and FOX's Vernon Cheek, I was up to bowl. As I walked up to the lane, a rush of lessons, mantras and advice rushed into my head. "Straighter is greater." "Finish with an open palm." "Don't throw it in the gutter."
I picked up my 15-pound green ball of doom, lined myself up, took a breath, started my approach and let the ball go. It was a near-perfect throw that ended with a sweet clatter of pins careening into the backstop.
Just like riding a bike, I thought to myself.

For the first six frames, I channeled my inner Pete Weber, alternating strikes and spares. With each throw, I gained more confidence, even as Kimberly and Vernon stayed on my heels with strikes and spares of their own.
But then the seventh frame hit.
As someone who throws a ball with little to no curve, I can usually tell right away whether my roll is destined for destruction. In the seventh frame, my first throw veered left, knocking over three pins.
After letting it go, I turned around and the crowd — which had once appeared to be impressed by my performance — was now more interested in their programs, phones or fingernails.

In the eighth frame, my form took another nosedive. From the moment the ball left my hand, it was destined for the gutter — every bowler's worst nightmare. In the matter of three frames, I had gone from Norm Duke to Norm Macdonald. Luckily, the ball managed to knock over a single pin. When I turned around, everyone was paying attention — much worse than their disinterest.
And I can't say I blame them. Some of the world's best bowlers would be on these exact same lanes later that day, but all I had to offer were the bitter musings of a bowler scorned as I swore under my breath.

Bowling is an incredibly unique sport in that you are accountable for every roll. You can't hide behind teammates or schematics — everyone on God's green Earth is familiar with this game, and in turn, knows how well you're doing.
Despite a rough series of final frames (along with a goose egg celebrity shot from digital editor Maria Serra), I pulled out a 131-118 win over Kimberly and Vernon. While I lost steam as the game went on, Kimberly took over and cleaned her plate — bowling lingo for nailing a strike or spare — on her final four frames.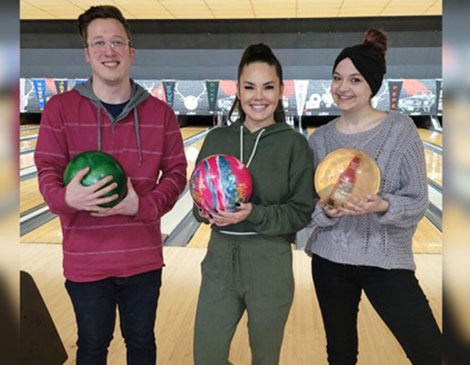 At the end of our game, we gathered for a photo-op in front of the lanes, which resulted in a conveyor belt's worth of bowling fans clamoring for pictures with Kimberly. No one asked for my picture, I'm afraid, but I'm still happy to pose for one, regardless.
"These fans are like a family," Kimberly said. "In bowling, the fans have access to the bowlers they admire in a way that isn't really there in other sports."

And let me tell you, that access is intimidating. With each throw, I felt hundreds (okay, maybe tens) of eyes holding onto my every movement, silently judging every misstep. And that's just with pride on the line.

On Sunday, England's Dom Barrett won the Tournament of Champions with a 210-189 win over Kris Prather, a notch that adds to the Riviera's belt and confirms they do host the world's best bowlers.
But on Saturday, the tournament allowed one washed-up bowler to feel like he was part of that elite fraternity, and I will forever be in its debt.

Now, if you'll excuse me, I need to go ice my arm.