Come Sunday, there's nowhere Browns fan Kurt Boveington would rather be — not the Muni Lot, not the 50-yard line of FirstEnergy Stadium — than the Lucky Dog Grille in Mason, Ohio.

About a half-hour north of Cincinnati, the craft beer bar and wing joint isn't all that different than any other suburban bar in town — other than the fact that they have the best wings north of Cincinnati, according to the readers of Cincy Magazine. On NFL game day, most customers even rock orange.

But there is one big difference between the Lucky Dog and other local sports bars.

"People are chanting on the mic, 'Here we go, Brownies, here we go!' Everyone is barking like dogs," says Boveington, the president of the Cin-Day Lucky Dawgs Browns Backers, a group of more than 200 Browns fans that meets every NFL Sunday at Lucky Dog Grille. "We just have a blast. If you're a Bengals or a Steelers fan, don't even walk in there."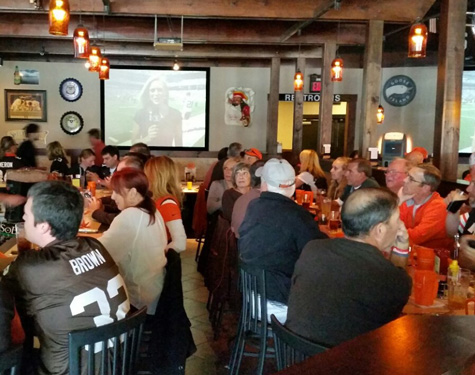 Boveington was born in Stow and also lived in Mentor before permanently moved to Cincinnati around Christmas 1990. With family still in Northeast Ohio, he remains a loyal member of the Dawg Pound.

"There's just something about Cleveland and the nature of people who are from Northeast Ohio," he says. "We're hardcore. We stick with it."

And he's not alone. Since Cincinnati didn't have a team until 1970, when former Cleveland Browns coach Paul Brown started the franchise, many older Cincinnatians still back the brown and orange over the brown and black, he says. The group, which started in 2007, is one of the world's top Browns backers groups, of which there are 363, according to the Cleveland Browns, and it's far from the only one in the area.

"About 80 percent of us have roots in Northeast Ohio," says Boevington, who became president in 2011. "But there are a lot of people in Cincinnati that are true-blue Browns fans because grandpa told them they have to be!"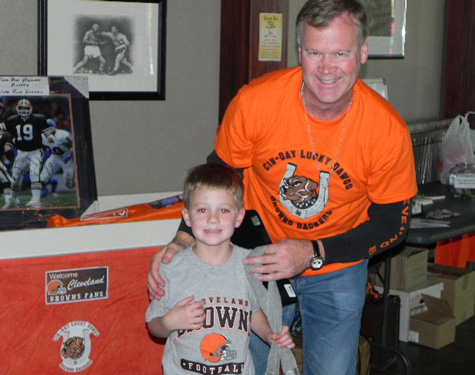 Boevington knows this season is going to look a little different for Browns fans, most of whom will be gearing up and watching the game from a local pub or their living rooms instead of the Muni Lot or the stadium. The season is going to be different for the Cin-Day Lucky Dawgs, too, which have capped game day attendance at 60 members and canceled their weekly games and events.

But Boevington says a Sunday funday with the Browns doesn't rely on being in Cleveland — you just have to get a little creative. He suggests finding ways to make game day special and fun for everyone involved.

In a normal season, the group's organized games are the highlight of each Sunday. In addition to a weekly trivia game and a spirit awards, awarding the loudest fans a weekly prize, Boevington nods to members' roots by highlighting a Cleveland suburb of the week, hoping to introduce members who may have grown up near each other or have mutual friends. The group shares some fun facts about the chosen suburb and even sends a proclamation to its local government.

The group's charity initiative is even more on the nose — or should we say snout. With decades of poor play, Browns fans are prone to nasty language. In order to keep things family friendly, the group instituted a swear jar. The collection grows throughout the season, and then the group donates the money raised, along with "a truckload" of dog food, to the local dog shelter.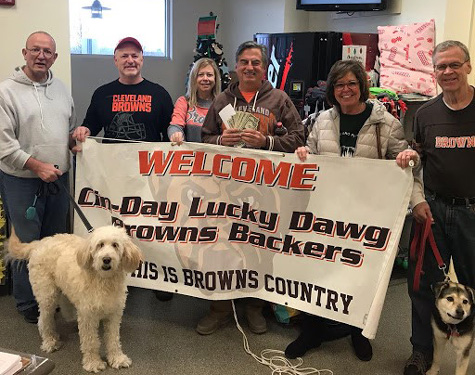 "We could just meet up there and watch the games," says Boevington. "But it's our way of adding a little spice for everyone to the Sunday afternoon."

So while this season is going to be a little different, a little creativity and inspiration from your fellow fans in Cincinnati can help you and your family have a season of Sundays you'll never forget.

"Our goal is just to have a great time, to love one another, and just tip a few brews," says Boevington. "And when we're winning, everyone comes out of the woodwork."