Last year was a season like no other for Major League Baseball. With the COVID-19 pandemic shutting the league down a month before its scheduled start in 2020, authority figures throughout the league scrambled to try to have a season. In June 2020, commissioner Rob Manfred made a decision: the 2020 MLB season would be cut down to 60 games, a far cry from the normal 162 game season.
On Sept. 27, 2020, the Cleveland Baseball Team beat the Pittsburgh Pirates 8-6 to end its season at 35-25. All eight of Cleveland's runs in that game were driven by Carlos Santana and Franmil Reyes. Francisco Lindor led off. The outfield consisted of Oscar Mercado, Jordan Luplow and Josh Naylor, who was pulled in the ninth inning for Delino DeShields. Adam Cimber and Brad Hand pitched the last two innings.
For its 60th game this season, on June 11, 2021, Cleveland defeated the Seattle Mariners 7-0 to improve to 33-27. It was the first full capacity game at Progressive Field since the 2019 season finale. Aaron Civale threw eight shutout innings and Blake Parker threw a scoreless ninth. Bobby Bradley hit a home run and drove in three runs. Amed Rosario had four hits.
The game 60 iteration of the 2021 Cleveland Baseball Team barely resembles the game 60 iteration from 2020. Depending on who you ask, that could be a good or bad thing.
While the faces might be different, this year's team shares some of same warts as last year. The outfield still has trouble hitting — though it's not as bad as it was last year (that would be a near impossible feat, FWIW). After having one of the best pitching staffs in baseball last year, they've fallen back down to earth — which makes sense considering the amount pitching talent the organization's traded away. Somehow, being outscored by five runs, Cleveland's within two games of a wild card berth.
But it's not all bad. Cleveland's bats have slowly begun to wake up over the past month. Pitcher Triston McKenzie had two straight encouraging starts in a row. The first base situation finally seems to be figured out.
Right now, Cleveland's exactly where it wants to be: In the heart of a postseason race with young players holding key roles across the diamond. With some better starting pitching and a little more production on offense, they could be near the top of the standings come mid-July.
At this point in the season last year, Cleveland was preparing for a (short) playoff berth. This year, they're preparing for game 61 against Seattle. With a full pandemic season under its belt (and 100 games left in the 2021 season), here's a look at Cleveland position by position.
The number next to each player's name is the number of games they've played at that position thus far in the 2021 season.
Catcher: Austin Hedges (32), Roberto Perez (19), Rene Rivera (13)
Do you want the good or the bad first?
The good: Cleveland's catching staff continues to be solid behind the plate, with a 42% caught stealing percentage that's tops in the majors.
The bad: Well… everything else. Through 60 games, Cleveland catchers are batting .225 on the season, ahead of only the Mariners, Brewers and Pirates. In total, Hedges, Rivera and Perez have combined for a ghastly .225/.295/389 slash line. When in the lineup, Perez himself wasn't much better before being put on the shelf at the beginning of May (.131 batting average, .308 on-base plus slugging in 78 at-bats), he admitted his injury was limiting his ability at the plate.
What to watch for: Five years ago, Jason Kipnis and Mike Napoli led a sacrifice to a Jobu statue in an attempt to break Yan Gomes out of a horrific slump. It didn't work. So long as another position-wide sacrifice (er, exorcism) isn't on the horizon, Perez's healthy return should be the main fix here.
First Base: Jake Bauers (41), Yu Chang (25), Josh Naylor (11), Bobby Bradley (4), Owen Miller (1),
Things sure do change quickly, don't they? A week ago, a crux of this blurb would have been about how Cleveland needed to call up Bobby Bradley. And well… they did. Bradley was called up June 5 after Cleveland designated Bauers for assignment. Even with Bradley raking (he has two home runs and six RBI in four games), Cleveland's first basemen are still 27th in baseball with a .202 batting average as a unit.
What to watch for: We understand Cleveland's hesitancy to cut ties with Bauers, but this was the right time to move on. Bauers lack of minor league options might have extended his stay in Cleveland but the front office had seen all they needed to see. Funnily enough, Bauers was traded to Seattle June 9 and batted against Cleveland on June 11, going 0-for-3 with a strikeout. Baseball's a funny game sometimes. Bobby Bradley's going to cool down at some point, but he has this once-anemic position on the upswing.
Second Base: Cesar Hernandez (56), Miller (4), Chang (2)
For better or for worse, this is Hernandez's position. Although he hasn't been as consistent as in years prior (his .216 batting average is nearly 60 points lower than his career average) he's shown some pop since moving into the leadoff spot.
With his contract expiring at the end of the year, Hernandez is one of Cleveland's likeliest trade candidates.
What to watch for: Not a ton. Hernandez getting traded would obviously be big news, but unless that happens it should be business as usual. If Hernandez does get traded, some prospects who could take his spot, along with Miller, include Nolan Jones, Tyler Freeman or Gabriel Arias.
Shortstop: Amed Rosario (36), Andres Gimenez (28), Chang (2), Miller (1)
Amed Rosario' slash line through 60 games in 2021: .276/.333/.411, 4 home runs, 18 RBI, 4 triples
Francisco Lindor's slash line through 60 games in 2021: .213/.306/.332,
While it's hard to believe that Lindor's struggles with the Mets will continue, it's somehow even harder to believe Rosario has out hit Lindor so far this season. What makes it even more impressive is that Rosario did all this while spending the first month of the season playing out of position in the outfield. Since the beginning of May (when Rosario moved back to short full time), he's batting an impressive .330. Rosario moved back to the infield after Gimenez's struggles (.179 in 78 at bats) pushed him to Columbus.
What to watch for: Is Rosario's production sustainable? As mentioned above, he's looked like a different hitter since he moved to shortstop full time, but what happens when he starts to struggle? Also, it's worth watching what Cleveland does at the deadline with the surplus of middle infielder prospects roaming the infields in Akron and Columbus. With so many of Cleveland's shortstop prospects a year (or less) away from the majors, Rosario could be the odd man out in the future.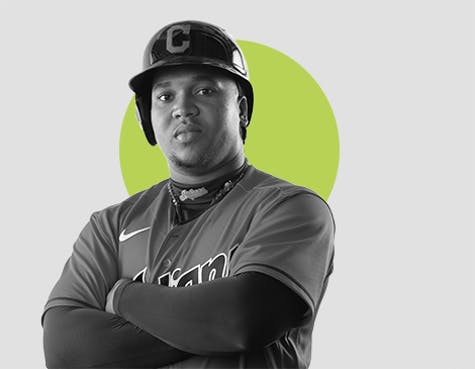 Third Base: Jose Ramirez (56), Chang (7), Miller (3)
After a series of haunting stat lines, we've reached a strong point. And make no mistake about it, this position is a strong point strictly because of Jose Ramirez. Ramirez has continued to stake his claim as one of baseball's best players, batting .276 with 14 home runs to go along with 36 RBI. Not only is he one of the best third basemen in baseball, but he's also one of the best players in the entire sport  —  period.
3wWhat to watch for: Does Ramirez make it four MVP nominations in five seasons? With third place finishes in 2017 and 2018 and a second-place finish last season, Ramirez is no stranger to postseason awards season. While his numbers are down this year compared to last season, his value to Cleveland can't be overstated.
Outfield: Eddie Rosario (55), Naylor (41), Jordan Luplow (35), Harold Ramirez (30), Amed Rosario (18), Bradley Zimmer (11), Ben Gamel (10), Daniel Johnson (2), Franmil Reyes (2)
Through 60 games, Cleveland's outfield play has ranged from average to frightful, depending on the day. Eddie Rosario has been a disappointment for Cleveland so far this season after signing a one-year pact in the offseason. A first basemen by trade, Josh Naylor (.251, 16 RBI) has the second-most most starts in the outfield. Harold Ramirez has hit everything in sight since being called up May 3 and, among outfielders with at least 100 at bats, is fifth in baseball with an 54.5% hard hit percentage. Ramirez's offense barrage couldn't have come at a better time either, as it's coincided with Luplow (.170, 7 home runs, 20 RBI) and Reyes' (.257, 11 home runs, 29 RBI) Injured List stints. Zimmer has also shown some flashes in what could be his final chance to prove himself in Cleveland, batting .250 (albeit in a 12 game sample size) while also playing solid defense.
What to watch for: Even when Luplow and Reyes return, Rosario and Naylor seemed to be secured in their spots in the corner outfield spots  —  Reyes is a full-time designated hitter at this point but it's his "natural" position. It'll be interesting to see what happens in center. Will Ramirez continue hitting the stitching off the ball? Will Zimmer keep up his quality start (while also staying healthy)? What happens when Luplow returns? At a certain point, there's only going to be so many at bats to go around.
Starting pitchers: Shane Bieber, 7-3, 2.96 ERA, Aaron Civale 9-2, 3.17 ERA, Zach Plesac 4-3, 4.14 ERA, Triston McKenzie 1-3, 6.26 ERA
Last year Cleveland led Major League Baseball with a 3.17 ERA in 60 games. This year through 60 games, they're 23rd with a 4.74 ERA, an increase due in large part to the instability in the rotation. With Carlos Carrasco gone and McKenzie struggling, Bieber, Civale and Plesac have picked up the load — a load that got a little larger when Plesac went on the Injured List after getting in a fight with a T-shirt.
What to watch for: Who holds down the fort? Cleveland's embarking on a stretch of 30 games in 31 days, so it's going to be imperative it gets some length from the back of the rotation. Quantrill (0-2, 3.21 ERA), J.C. Mejia (1-1, 4.15 ERA) and Sam Hentges (1-1, 8.15 ERA) look to be the main candidates to get the most starts. If further reinforcements are needed, Eli Morgan (0-1, 20.25 ERA) and Logan Allen (1-4, 9.19 ERA) are at AAA after getting cups of coffee in the bigs earlier in the year.
Bullpen: James Karinchak (2.77 ERA, 7 saves in 26 innings), Emmanuel Clase (1.05 ERA, 9 saves in 25 2/3 innings), Bryan Shaw (1.82 ERA in 24 2/3 innings)
Like the rotation, Cleveland's bullpen has been three workhorses and then everyone else. While Karinchak, Clase and Shaw have had their own individuals struggles lately, they've been one of the best reliever trios in baseball. After them, Phil Maton (6.23 ERA in 21 2/3 innings), Trevor Stephan (4.64 ERA in 21 1/3 innings) and Nick Wittgren (5.21 ERA in 19 innings) have gotten the most run.
What to watch for: As mentioned, Karinchak, Clase and Shaw have been incredible. But they've also thrown a lot, as the three of them have accounted for nearly 37% of Cleveland's relief innings. They're going to need cut down their workload, especially during this marathon stretch. Maton or Wittgren finding their 2020 form would be a godsend for this team.
Bottom Line: This team is flawed. Of all the "contenders" in baseball, Cleveland's probably the most flawed. But this always kind of seemed like the plan. While results and wins are obviously important, this always seemed like an evaluation year for the front office to see who sticks around for the next core. And it seems like there's something there. Amed Rosario and Naylor look to be bonafide MLB starters. Zimmer and Bradley are looking like they're starting to put it together. Karinchak and Clase are young, electric arms at the back of the bullpen. If this team is able to string together some consistency, they have as good a shot as any to play in October. But even if they stumble and spend the fall at home, the framework's there for the next generation of Cleveland baseball.