For so long, we knew who we were.
We were Clevelanders, from a city where bad luck was literally in the water, home to the burning river, LeBron James' Decision and an economy in ruins. Cursed. Not so much underdogs as barely in the competition.
Once the Sixth City, then just a place you were from, past tense. We were fighters, sure. We loved to scrap, relished the momentary punch-drunk euphoria of trying to create a sense of optimism, of building and scraping for a bit of respect. But underneath, mostly, we expected despair. Because for all the love we gave to our city, what we seemed to get in return was ashes, over and over.
"It got to the point where we began to believe the negative side of our image, to the point where we ourselves began to reinforce that," says Mayor Frank Jackson. "When we did that, it became true, not only what the world thought we were, but also what we thought we were."
Research by Destination Cleveland showed that in 2012, only 34 percent of locals would recommend Cleveland to friends and family. Consider that for a second. Only five years ago, 66 percent of Clevelanders were so down on their town they couldn't even bear the agony of putting in a good word with their college pals or Uncle Al. Other similar cities would usually have positive numbers in the mid-60s.
Well, we've got a problem, thought David Gilbert, Destination Cleveland president and CEO.
Five years later, amid an avalanche of good news, our chests swell with civic pride. LeBron came back. We won an NBA championship and made it to the World Series in the same year. We hosted a major political convention. The renovated Public Square opened. The lakefront is blossoming. Health care technologies and professional services are opening a connection to the globalized economy. We are, proportionately speaking, drawing more than our fair share of millennials to the region.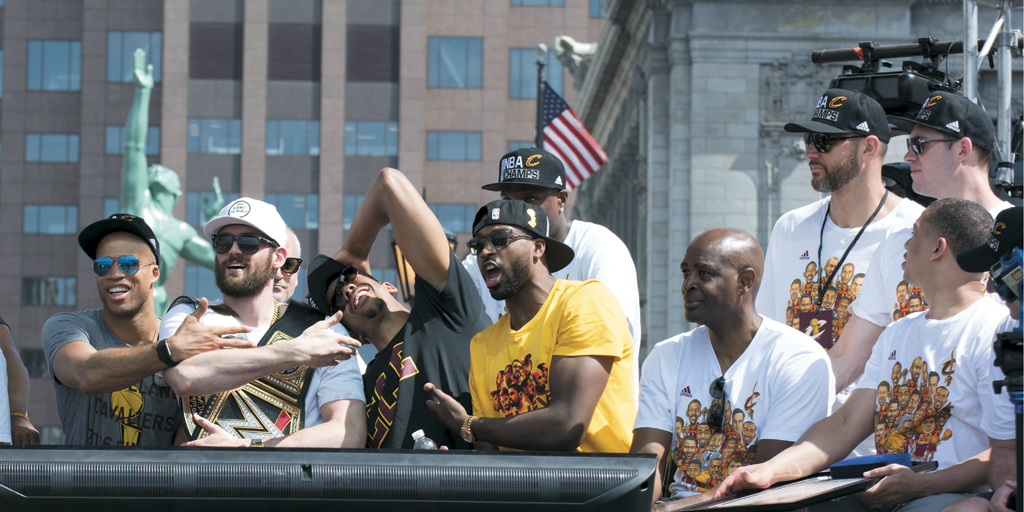 "All of these things helped to build our image but also gave Clevelanders and Greater Clevelanders the kind of self-confidence that they had lacked before," says Jackson. "We just decided to be successful. And as we did that, it actually was effective in changing how people view this, externally, nationally, internationally and how we viewed ourselves."
Two years after their initial survey, Destination Cleveland decided to re-evaluate if perceptions had improved. "We were hoping internally that number would get up to 40," says Gilbert. It went to 54. They ran the survey again in March 2017. It came back as 77 percent.
Gilbert was blown away. "It's astounding," he says.
Similarly, 69 percent of Clevelanders have a more favorable perception of the city over the past 12 months, according to Cleveland Magazine's "Who Are We Now?" online survey. More than 35 percent believe the city is much better off than just three years ago.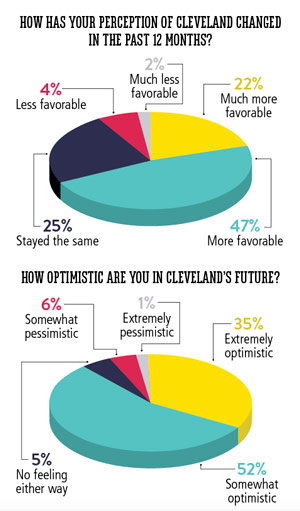 But when so much of our identity was tied up in that chip on our shoulders, what happens when it's gone? Who the hell are we now?
Tony Madalone has seen the change firsthand. A Lorain native and former Ashland University basketball coach, he saw a market opportunity in Cleveland's need to wear affection on our sleeves. In 2009, he founded Fresh Brewed Tees and began selling T-shirts, hats and other apparel with slogans that shouted the gospel of a new Cleveland: "You Had Me At Cleveland" and "Cleveland 'Til I Die."
As he sold shirts to Clevelanders hungry for affirmation, Madalone was capitalizing on an impulse that came from being downtrodden for so long. "It's partially subconsciously telling ourselves that we're legitimate," he says.
There was a similar theory behind Madalone's infamous "Defend the Land" shirt. The Cleveland Cavaliers licensed the phrase, originally intended for Fresh Brewed Tees' line of military-themed clothing, which took on new meaning with a championship trophy. "We're defending the fact that we're from Cleveland," says Madalone. "That's how it started."