For the first time — perhaps in the history of Cleveland — there are multiple, coordinated efforts under way between all levels of government, the private sector and the advocacy community to make the Lake Erie waterfront more enjoyable and accessible. These efforts include constructing and relocating roads, creating new lakefront parks, adding paths along the water's edge, building mixed-use developments, protecting natural habitats and more.
As Clevelanders, we can be excused for our skepticism. We've been here before.
But, this time, there is more than a vision. Key people strongly desire lakefront development. And these leaders can leverage the political will to shake loose the dollars necessary to create on the landscape what, as of now, has only existed on paper.

First, a Bit of History
Compared to Cleveland, our Great Lakes neighbors Chicago, Toronto and Milwaukee have better public access to their lakefronts, especially near their central business districts. More than 150 years ago, their flat topographies allowed their waterway and railway shipping routes to veer away from their downtowns.
Cleveland's could not.
The Ohio & Erie Canal and the earliest railways followed the wide Cuyahoga River valley and the lake shore to Cleveland's central business district and port, where industries flourished.
Now, in Cleveland's post-industrial era, there is an opportunity to redevelop those industrial and port areas with housing, recreation, public spaces, retail, restaurants, creative commercial spaces and more.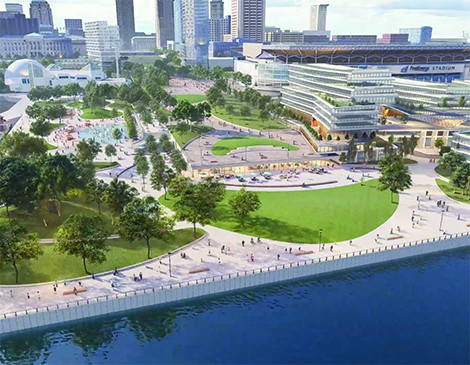 The Land Bridge to the Lake
The mid-1900s spawned newer transportation systems, namely highways and an airport, between downtown and the lakefront. There is now a growing effort to remove one — Burke Lakefront Airport — and deemphasize another — the Shoreway.
Cleveland Memorial Shoreway was built at a time when industrial designer Norman Bel Geddes was crafting futuristic visions of the cities of tomorrow for General Motors and Shell Oil Co. In his book Magic Motorways, he wrote: "There should be no more reason for a motorist who is passing through a city to slow down than there is for an airplane which is passing over it."
That ran counter to 5,000 years of established city building. Cities grew by people stopping in them, walking around, personally conducting commerce and sharing ideas.
While lakefront railroad traffic cannot be easily moved, the tracks can be bridged. The city, along with Cleveland Browns owner Haslam Sports Group, is planning a $200-million-plus land bridge from Mall C that goes over the tracks and ends on the east side of FirstEnergy Stadium.
The land bridge would essentially be a box with a park on top, a rail and bus station's passenger facilities (ticket counters, waiting areas, baggage rooms, etc.) inside it, with tracks, bus bays and loading areas below it. The station would unite Amtrak, the Regional Transit Authority and Greyhound services under one roof.
The challenge — and there always is one — is that the land bridge can't go over the Shoreway, Cleveland's oldest freeway, because it's still ramping down from its highest point of 100 feet when it crosses over the Flats.
So, the Northeast Ohio Areawide Coordinating Agency, the region's administrator of federal transportation funds, has begun work on a range of alternatives that include removing the lightly traveled Shoreway east of West Third Street and converting it into a boulevard with intersections.
A possible hitch is that, although municipalities determine land use, the City of Cleveland can't force the Ohio Department of Transportation to downgrade a roadway if the funding is not available to do so. And ODOT cannot use traditional federal highway dollars for projects that cause traffic to slow down and make it less free-flowing, ODOT spokesman Matt Bruning says.
But free-flowing roadways don't make for walkable cities.
"For far too long, we've let the almighty car dictate how we build and design our cities," says Ward 3 city councilman Kerry McCormack. "If we are at all serious about creating a more vibrant Cleveland that connects our city and our people to our most precious natural resources, these are changes that need to be made. If we make a decision based on 'how fast can I get around and through the city,' it will be a 100-year mistake."
Cleveland-Cuyahoga County Port Authority president and CEO Will Friedman says the land bridge will spur development on the lakefront. "It's exciting," he says. "There's great potential."
Thankfully, traditional federal highway dollars aren't the only option. Tucked into the $1 trillion federal infrastructure bill passed last year is $1 billion of fresh funding for removing highways that divide cities. There is also ODOT's Jobs & Commerce Economic Development program to fund road projects that support mixed-used developments like the one Haslam Sports Group plans next to FirstEnergy Stadium — and perhaps in place of it.
Haslam Sports Group has reportedly hired M.A. Mortenson Co. of Minneapolis and Independence Construction of Cleveland to be its lakefront developer and construction manager, respectively. Mortensen is one of the nation's largest developers while Independence manages large construction projects locally.
Haslam Sports Group CEO Dee Haslam has also noted the possibility of building a new football stadium elsewhere as part of a mixed-use real estate complex — a trend embraced by professional sports team owners turning to "ballpark villages" to provide revenue.
"The question is, can we leverage the value from lakefront development for a stadium?" asks Lee Weingart, the Republican candidate for Cuyahoga County executive. "I'm open to a new stadium, but it's hard to fathom building a new stadium when the existing stadium is only 23 years old."
Setting that question aside, it'd be hard to fault anyone who still has a nagging suspicion that none of this will get done.
"I'm cautiously optimistic about the land bridge from Mall C to the lakefront," says Chris Ronayne, the Democratic candidate for Cuyahoga County executive. As a former city planning director, he was the champion of the last lakefront plan, passed in 2004 in the waning days of Mayor Jane Campbell's administration. Her successor, Mayor Frank Jackson, never followed up on the plan.
"We need to hire managers of lakefront development," Ronayne adds. "We can't leave it to hope."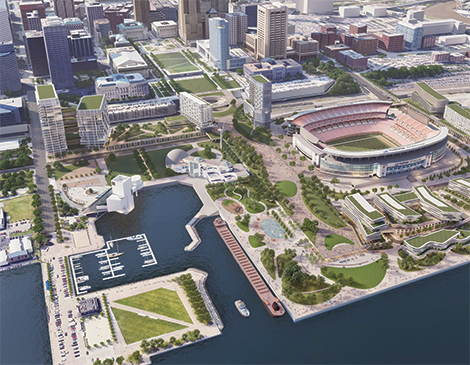 Closing Burke Lakefront Airport
Another chunk of concrete that blocks public access to the waterfront is Burke Lakefront Airport. According to the Federal Aviation, aircraft operations at Burke have fallen from 100,058 in 2000 to 39,892 in 2019, which is less than Lorain County Regional Airport.
By comparison, another 75 acres of lakefront amenities, called Northerly Island Park, was added when Chicago closed Meigs Field airport and converted it to recreation. Meigs often is cited as an example of what Cleveland could do with Burke.
The City of Cleveland has hired CHA Consulting to analyze the costs and benefits of closing Burke — a study that will be completed by early 2023. The FAA mandates that all primary airports like Hopkins International need to have a reliever nearby for private aircraft, emergencies, major construction projects or congestion relief. Burke is one of several relievers in Greater Cleveland and the best equipped. No other such airport has its runway lengths, parking or air terminal.
To close Burke, other airports like Cuyahoga County, Lake County Executive Airport (formerly called Lost Nation) or Lorain County Regional would have to be improved to match or exceed Burke's offerings. Or as Ronayne advocates, combine and coordinate them under a regional airport authority to provide "a regional air service delivery system" so that, in total, all of the reliever airports can offer what Burke offers.
Burke, built on relatively clean landfill, will be subject to environmental reviews before it can be redeveloped with recreation, housing, commercial or mixed-use development. And that's assuming the business community gets behind Burke's closure.
Nearly one-third of all non-training flights at Burke involve medical transportation such as organ transplants, air ambulances and visiting patients. Burke is four minutes closer to Cleveland Clinic by car than Hopkins and nine minutes closer than from County Airport in the eastern suburbs. Additionally, Burke hosts numerous corporate jets, visiting sports teams and the Cleveland National Air Show — a Labor Day weekend tradition since 1964.
But more corporate jets fly out of County Airport, offering the potential for economic development there if Burke closes. County Airport has spare capacity as its air operations have fallen by nearly two-thirds, from 65,177 in 2000 to 22,418 in 2019, FAA data shows.
Hopkins has space, too, by the way. Its air operations fell from 336,635 in 2000 to 127,045 in 2019. And some city officials think the case can be made that Burke, which costs the city's Division of Port Control $1.5 million to $2 million more per year than it generates in revenue, according to the city's budget, is holding back the city's ability to attract more airline service to Hopkins.
"Any and all revenue drains on Hopkins make it less competitive and make flights more expensive, leading to fewer flights," adds McCormack. "I would argue that, beyond all of the public good reasons, Burke is also bad for business."
When the CHA Consulting study is done next year, city leaders will have the data to decide if they should close Burke, how to improve other airports to take up the slack and how much it would cost.
And if that all happens, discussions can begin on what to do with 450 acres of prime lakefront land.
CHEERS to Cleveland's Lakefront
Governments love acronyms, and they've made one for an ambitious remake of the shoreline from Burke Lakefront Airport east to the Cleveland Lakefront Nature Preserve. The Cleveland Harbor Eastern Embayment Resilience Study (CHEERS) has a two-phase plan to expand Gordon Park north of Interstate 90.

Sixty years ago, I-90 sliced the park in half to curve around the lake side of the Lake Shore Power Plant. The defunct plant was imploded in 2017, leaving the site vacant. The lakefront advocacy group Green Ribbon Coalition lobbied for the highway to be straightened out through the power plant site, relocating it away from the lake to protect I-90 from rising lake levels and wave action. But CHEERS planners found it was cheaper to add land in the lake.
The first phase of CHEERS would create a 64-acre lakeshore park with 43 acres of new land in the lake. Nearly $4 million has been raised for design work by the Cleveland Metroparks and its partners, including the city and port authority.
"CHEERS envisions returning the hardened edge of Cleveland's East Side lakefront to a natural living shoreline with play spaces, amenities, trails, picnic lawns, fishing areas, habitats and overlooks," says Metroparks communications director Jacqueline Gerling.
Gerling says dredged material from the Cuyahoga River will be help create a more naturalized shoreline of parks and habitat, mitigate the lake's impact on I-90 and improve access to Lake Erie.
Although phase one could take 10 to 15 years, Friedman says the port envisions speeding that up by relocating already deposited dredge material from a dump at the northeast corner of Burke to the new shoreline park, just 1 mile away. The dump resembles a giant sand box filled with material removed from the bottom of Cleveland's harbor and the Cuyahoga River.
The next phase, called The Isle, involves a 30-year timeline to create a 36-acre island along with a new cove between it and the shoreline. That would provide a new wildlife habitat and create a place for fishing and boating that's protected from Lake Erie Storms by the new island. The total estimated cost of both phases is $300 million.
Ever since I-90 sliced 122-acre Gordon Park in half in the late 1960s, its popularity has waned. The park opened in 1893 and became a hit with East Side residents for swimming, thanks to its grand bathhouse. Boaters and picnickers also enjoyed the park.
The CHEERS project offers a chance to restore the park north of the highway.
And Dick Clough, executive board chair of the Green Ribbon Coalition, says the 60-acre former power plant site, just south of the planned park expansion, could attract developers wanting to construct housing, restaurants and shops, like the booming Battery Park area south of Edgewater or the lakefronts in Chicago, Toronto and Milwaukee.


We checked in with both candidates for Cuyahoga County executive to see their stance on the lakefront.
Democratic candidate Chris Ronayne calls lakefront development "one of the region's top-five issues," along with job creation, safety, housing and quality-of-life concerns, and says he wants Greater Cleveland rebranded as a waterfront community.
Republican candidate Lee Weingart says the lakefront is important, but not the most important issue. "I think job creation is a higher priority, as is wealth creation through homeownership. We should invest those dollars in the urban core."


Euclid and Lakewood Raise the Bar on the Lake
Two cities in particular have taken creative steps to connect to the lakefront.

In 2015, the City of Lakewood completed a $2 million project to convert a former landfill at Lakewood Park into the lakefront Solstice Steps and walkway — a move that proved immensely popular with residents and protects against erosion.
Four years later, the City of Euclid took the next step, by constructing a $18 million lakefront trail that doubled as an erosion control project near Sims Park. In exchange for public access to the shoreline via the new trail, private property owners gained erosion control partially funded by a tax increment financing district that captures tax revenues from the increased value of those properties.
These advancements, combined with worsening erosion and rising lake levels, are feeding a political will to extend access to all 30 miles of Cuyahoga County's lakefront.
In 2019, outgoing Cuyahoga County executive Armond Budish announced a plan to create a network of connected paths, all-purpose trails, boardwalks, roads, bridges and public access points across the Lake Erie shoreline. The Lakefront Public Access Plan directly affects Bay Village, Rocky River, Lakewood, Cleveland, Bratenahl and Euclid.
With public input, the plan, drafted by SmithGroup consultants and released in March, identifies focus areas based on the greatest need, greatest impact and ability to complete. Plans call for:
Converting the two northernmost lanes of the four-lane Lake Road-Clifton Boulevard (U.S. Route 6) bridge over the Rocky River to a shared-use trail and scenic overlook. It's called the Community Confluence Plan and is a partnership between the cities of Lakewood and Rocky River, the Cleveland Metroparks, Cuyahoga County Planning Commission and NOACA. Cost is about $9 million with construction due to start as early as next year, according to Lakewood planning and development director Shawn Leininger.
Stabilizing the shale cliffs below the high-rise residential towers of Lakewood's Gold Coast and constructing a 0.7-mile recreational trail along the water's edge with stone and steel. Cost is estimated at $25 million to $35 million. There is no timeline yet, as Lakewood officials are asking more lakefront property owners to join a voluntary special improvement district to help fund the local share, Leininger says.
Building and enhancing 2.7 miles of trails along the North and South Marginal roads that parallel the East Shoreway. This would connect downtown with Gordon Park, says Mark Lammon, executive director of Campus District community development corporation, which oversees civic improvements on the East Side of downtown Cleveland. The projected cost is $11 million, with construction starting as early as next year.
Building a 0.32-mile portion of a connector trail between Beulah Park and Euclid Beach Park in Cleveland's North Collinwood neighborhood. Construction cost is estimated at $6.2 million. Work could start as early as next year, depending on funding.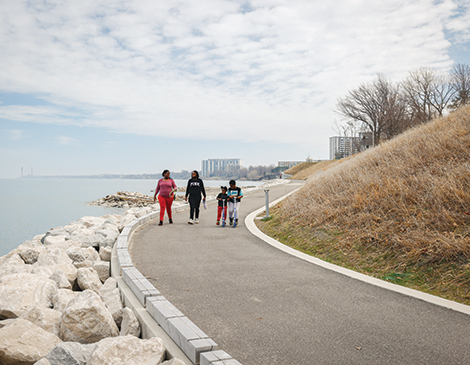 Connecting the Dots
Although short sections of lakefront trail, recreational sites and natural habitats are being established in some lakefront communities, they only go so far — literally. Walking or biking for one-third of a mile doesn't quite cut it. So, as sections of the lakefront are improved with public access, pressure — and desire — is mounting for other communities to fill in the gaps.
Now is the time to make some waves on the lakefront.
Cleveland Mayor Justin Bibb said as much in his State of the City speech April 13, 100 days into his new administration.
"The first three months of any job is a test," Bibb said. "I'm proud to say we've recorded some early wins."
Among those wins, he cited his administration's nascent lakefront efforts.
"We got to work on collaborative planning for Cleveland's lakefront and riverfront, studying various ways we might extend our fragmented downtown malls to the lake, continued partnership in progress on the revitalization of Irishtown Bend and finally, finally exploring the future of Burke Lakefront Airport."
"These are not small projects," he added. "Each has the potential to be transformational."