In Lakewood's mere but mighty five square miles, the world is at your taste buds with global culinary influences tucked in every pocket of the city. Within walking distance, you can travel to Bangkok and sample street food at Thai Thai. Or bike to Singapore and nosh on food featured from hawker centers at Dang Good Foods. Maybe take your scooter to Rome and sample Italian red wines and authentic European cuisine at Pepper's. Perhaps make a pit stop in Hungary to enjoy some traditional langos with an ice-cold Kolsch brew at Immigrant Son. You just need to be hungry.
Thai Thai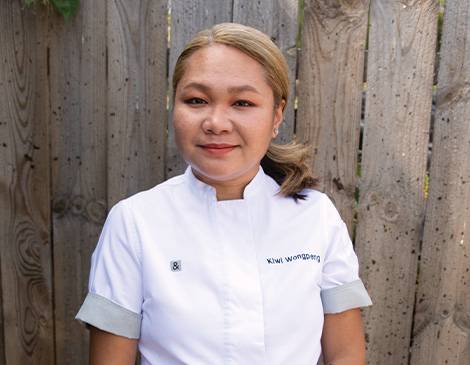 You only need to travel down Madison Avenue to dive into a culinary experience bursting with flavorful Bangkok-inspired eats and drinks.
The journey begins as you enter the award-winning Thai Thai, a popular eatery with a chill vibe and hot reputation. Perennially recognized for having the best Thai food in Cleveland, Thai Thai is owned by Kiwi Wongpeng, who knew there was an appetite for the intensely flavored Bangkok street food that truly represented the dishes enjoyed in her native country.
Think authentic street food from Thailand's capital that you can wash down with an original bubble tea. Since Thai Thai opened in 2016, Wongpeng has been highlighting the recipes cooked by her mother at the 50-seat spot run entirely by family, including her father and her brother, Santi.
"We had a restaurant in Cleveland before Thai Thai, but it seemed like everybody sold the same kind of Thai food for Americans — nothing spicy, nothing flavorful," she says. "My mother and I work together every day, but she makes different food for me. She makes real spicy, real hot and the flavor is so pungent and strong. I was just thinking maybe we should offer these kinds of food to people in Lakewood. That's when the Bangkok street food came to be the idea."
The most popular street dish is the Kra Praow, she says. The Cleveland favorite comes with your choice of meat, seafood or tofu that is combined with fresh basil, fresh chili and garlic and served with jasmine rice and fried egg. Other menu best-sellers are Tom Yum soup, especially popular in the fall and winter; Northeast Sausage, which is a peppery pork sausage stuffed with rice and lots of herbs such as lemongrass and ginger; Massaman Curry, which is a rich coconut curry that has potatoes, onions, carrots and roasted peanuts; and the roasted duck noodle soup that has bean sprouts, fresh cilantro and roasted garlic.
From the heavily spiced Bangkok street menu, Wongpeng makes note of Larb, a northeastern-style minced chicken salad with chili, roasted rice powder, red onion, lime, lemongrass and cilantro.
Wongpeng and her family emigrated to the United States from Thailand in 2001 and made their way to Lakewood in 2005.
"We are really grateful to the Lakewood community," says the 36-year-old mother of two. "This is home to me now. I've lived in Lakewood longer than I lived in Thailand."
In late 2019, Thai Thai expanded to its current location on the south side of Madison, between Angelo's Pizza and Taco Tonto's.
They were about to open the bright, cozy new location and then COVID hit. Instead, they focused on takeout and only recently reopened their dine-in space.
"We really appreciate our customers because they've been supporting us, and they were very patient to wait for our dining room to open," Wongpeng says. "But even though it was a tough time in those two years as soon as we open, I see all the same faces, and they love the new space."
Dang Good Foods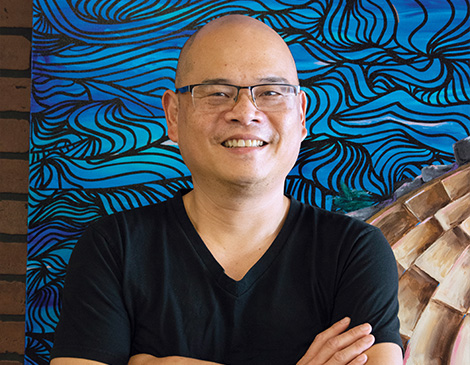 When Daniel Ang had a hankering for his favorite foods growing up in Singapore, he had two choices: Fly to Southeast Asia or cook it for himself. Fortunately for those with a global appetite in Northeast Ohio, he chose the latter.
Necessity being the mother of invention, Ang taught himself to cook the dishes closest to his culinary heart.
"There is not any place that I ever lived in North America that served the kind of food that I want to eat," he says. "The longer I lived here, my repertoire of dishes just grew. And when we have friends over, I would introduce them to all these wonderful dishes and they're like, 'Where does this come from?'"
This creative and nourishing outlet for Ang grew into a passionate hobby that led to what is now Dang Good Foods on Madison Avenue. This cozy eatery opened in December 2019 and now supports Ang and his family, which includes his "very Cleveland" wife Jessica — born at Marymount Hospital, he offers with a laugh — and two teenagers.
Ang, who has a degree in sociology and worked in corporate America most of his professional life, most recently with First Federal of Lakewood, says he chose to open his restaurant in Lakewood for several compelling reasons.
"Lakewood was a place for us to put down roots and have our kids go to school here because we enjoyed the diversity and the open-mindedness of the community," says Ang of the family's move 11 years ago. "One of the reasons we moved to this area was because there was a sizable Asia town here and cost of living was a lot better than in places like San Francisco and the New York area, or even Chicago. Plus, we had family in the area."
Tucked between McGinty's Pub and Angelo's Pizza on Madison Avenue, and just a mile from his house, Ang has brought his dream to life, preparing dishes to which people often are not exposed, even in big cities.
Weathering the pandemic with a robust take-out business and a lot of community support, Dang Good Foods' dining area, which seats 20 with a couple of outside tables, is the best place to experience and enjoy his unique fare, he says.
There are an assortment of regionally inspired dishes on Dang Good Foods' menu. Think fried rice, noodles, stir fries, buns, rice wraps and soups.
"We start out basically by making sure that the ingredients have as much flavor as possible — most of our dishes includes garlic and shallots," he says. "Like our menu says, Singapore is the fried-rice paradise, and we pride ourselves on our fried rice."
Mee Goreng is another must-try dish, Ang says. This combo of stir-fried egg noodles with shrimp and chicken emulates the version found in eateries and hawker centers around Singapore.
Other recommendations from his eclectic menu? The braised pork belly buns with shiitake mushroom and sliced cucumber. The carrot cake appetizer, which is a common breakfast in Singapore, is made from steamed daikon and pan-fried with eggs. Don't miss the traditional Rice Wraps, either. The Salmon Onigiri is a traditional lunch that a mom would make her kids or a wife would make her husband in Japanese culture. This wrap is a seasoned rice ball with salmon-mix filling.
Spam, ubiquitous in East Asia because of the influence from the GIs who stayed after World War II to rebuild, is featured in one of Ang's favorite rice wraps he discovered while in Hawaii.
"I first tried Spam Musubi in a little shop in Hawaii by this family with Japanese roots," says Ang, who combines fried slices of Spam glazed with house teriyaki sauce, sandwiched with premium sushi-grade rice and wrapped in seaweed. "It was actually voted 'The best thing I ate in Cleveland 2020' by Scene Magazine."
Pepper's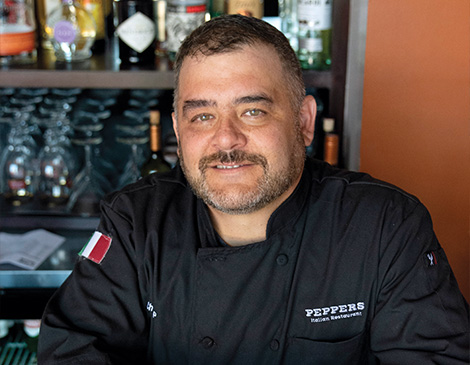 Italian fare has been served at the corner of Cove and Detroit avenues for nearly three decades, but the recipe for its success transformed about three years ago when a new owner took over the mom-and-pop eatery.
Enter chef-owner Joe Pinzone, a Lakewood grad with family roots in Little Italy. Since being at the helm of Pepper's, Pinzone has enhanced the cuisine and revamped the quaint space, closing the doors March 2020 and reopening in January 2021. He continues to manage the day-to-day as the operating chef, next to new executive chef Sergio Porcelli.
"When I was growing up, this location was called The Nest. It was a little diner that my mom and I would visit to have lunch. Fast forward 30 years, I have a catering company, and this place came up for sale," says Pinzone, who graduated from culinary school after serving in the Marines. "I knew Pepper's had a great reputation, and I wanted to build on that brand so we bought it and then COVID happened. We shut down and rebuilt everything from the ground up."
Pinzone and his brother added a Tuscan farmhouse style 30-seat wine bar with exposed stone and wood beams. The pair even hand poured the concrete for the bar top. The dining room is sleek and modern with grays, black and red accents. Strings of exterior carriage lights invite guests into the welcoming space.
"We sell out of our lasagnas like crazy. It just seems like we can never make enough," says Pinzone, who grew up cooking with his mom and grandmother, plucking things out of the garden. "They are giant, four-inch tall, one-pound blocks of smothered goodness."
He recommends the provolone sticks appetizer. The provolone is hand cut, battered and breaded and then served with its house pomodoro sauce, which is the house marinara sauce with a touch of cream, white wine and herbs.
While chicken parmesan pays the bills, Pinzone says his Fruitt di Mare is essentially a trip to the Italian coastline on a plate. "It's shrimp, clams, mussels and calamari tossed in a white wine tomato sauce served over fettucine," he says.
Marsalas — veal or chicken — are also best sellers, along with starters like fried Brussels sprouts and calamari.
"It's the simple, familiar comfort food that people come in for, even spaghetti and meatballs," he says. "Our meatball recipe is something I grew up making. From the time I could stand, I was rolling meatballs with my mom on Saturday mornings."
As far as desserts, tiramisu never disappoints. Most desserts are made in house or sourced directly from Italy.
To complement all the rich fare, Pepper's offers an extensive array of reasonably priced Italian reds that hit all ends of the spectrum.
"We've been very blessed with great loyal people, and the place is packed from six to eight," Pinzone says. "If you want to enjoy good food and a nice level of service without getting gouged financially."
Immigrant Son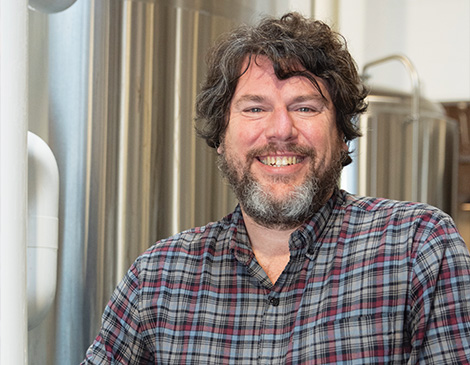 After real panic set in when Andrew Revy closed the doors of his family's Constantino's Market on Sloane Avenue, he realized the space was the perfect location for Lakewood's first and only true brewpub.
And that's eventually what it became, albeit 19 months longer than originally planned because of a global pandemic. Immigrant Son, as it is aptly named, opened its doors in October 2021 and has earned award after award for its first-year brews.
"We just won our fourth major award for our beers, and it's a testament to our brewer and it's a testament to the quality of our beers," says Revy. "The goal was to brew excellent beer and have elevated, chef-inspired brewpub fare — a globally inspired menu with accessible items as well to make sure that there's a little bit for everyone there."
Immigrant Son has a 10-barrel system and features 20 taps with 15 to 18 of its own brews on tap. It also has a cider that's brought in, and a cold-brew coffee on tap.
"We strive for consistency and quality, both in the beer and the food," he says. "I think that's one of the reasons people have embraced us and love us: because our food is fantastic. It's approachable and it's great."
Revy points first to langos, a Hungarian fried bread that is not only delicious but a bestseller. "I love a great brewery pretzel and beer cheese, but I wanted to do something a little different," he says.
Served in a few versions, traditional langos comes with garlic butter and garnished with Maldon salt. You also enjoy it loaded with sour cream and fresh cheese curds or wrapped around a Wagyu hot dog. It also serves as the "bun" for a Hungarian Burger.
"We make everything from scratch, and every day we're making our fresh batch of handmade spaetzle and our fantastic chicken paprikash sauce for our signature dish," he says, adding that another great dish is the grilled octopus he created as a nod to his wife's Greek heritage. It has fennel, chorizo, olives and a Romesco sauce. "It's just another dish that exemplifies the global influence on our menu."
As a first-generation child of immigrants, Revy says the name of his establishment is meaningful on several levels: "I was born here, but both my parents emigrated from Hungary. My dad left two weeks before the revolution in 1956. He was in the Army, and he ended up escaping, crossing the border and making his way to the U.S. Then eventually he went back in a period of amnesty and met my mom, and they got married. She came here a few years later. So immigration as a whole is very important to me."
The melding of all the cultures inspires Revy. "The main thing that people bring with their culture is food and their drink. My hope for Immigrant Son is for it to be a great community space — a communal place to come together, enjoy a meal, enjoy a great beer, enjoy friends and family."