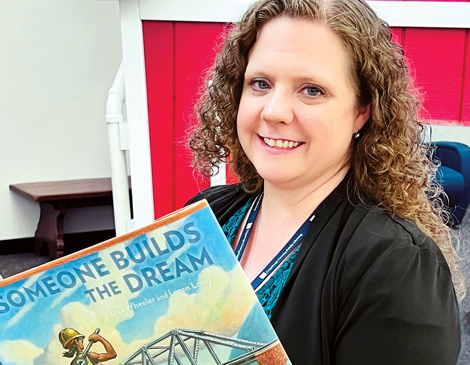 Anna Heinz
Children's Services Supervisor, Cuyahoga County Library North Olmsted Branch
Since Anna Heinz started working with the Cuyahoga County Library, she has been spearheading changes that affect children throughout Greater Cleveland. In her first role as the county's toy librarian, she helped expand the Brooklyn Branch's lending program so that toys could be sent to members throughout the library system's 28 locations.
Heinz also was instrumental in bringing a StoryWalk to the Brooklyn Branch. When she became the children's services supervisor for the North Olmsted Branch, adding one in her own community was a top priority.
"The StoryWalk is a way to connect both exercise and physical activity, but also literacy and having something that families can do together," she says, adding that the StoryWalk will be located at North Olmsted Community Park, beginning at the playground and circling around the top portion of the new walking trail. It will include 18 posts, each of which will contain a page spread from a picture book, as well as questions and activities that help participants engage with the story and trail. Books will rotate on a quarterly basis. For the first book, Heinz chose Someone Builds the Dream.
"It's such a beautiful story about how so many people come together to make this dream a reality, and that's how I've always felt about North Olmsted," Heinz says. "It's a community that comes together to make it the best place possible to live and raise a family."
As the children's services supervisor, Heinz also plays a vital role in the creation and implementation of the branch's variety of programs geared toward youngsters from birth through fifth grade.
"We're trying to promote literacy skills and a lifelong love of learning, as well as community and social skills that will carry children on through adulthood," Heinz says. "All of these skills are essential for anything they'll be pursuing in life."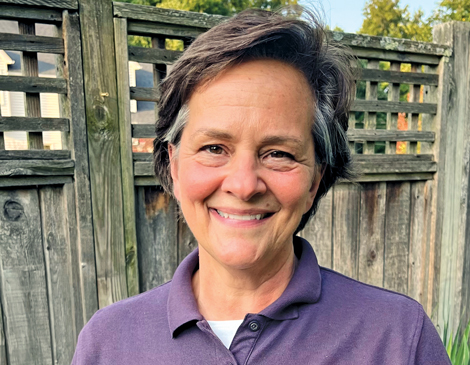 Georgia Wilder
Case Manager, Oxcart Pantry
Today's Oxcart Pantry looks very different from when it started nearly 50 years ago as part of the city's human resources department. Located in the basement of Old Town Hall, it offered a minimal amount of food and didn't have many clients. Now, the pantry serves about 120 people per month, offers a variety of canned and fresh foods and is nestled in a house that has been converted to serve the pantry's needs.
"Now, we can develop very nice relationships with the clients, and I think the environment has a lot to do with that," says Georgia Wilder, the Oxcart Pantry's case manager, noting that the pantry, which serves North Olmsted residents who meet certain income guidelines, also hosts special events, such as mobile produce, fill your backpack and holiday programs, as well as operates a community garden. Although most of the food comes from the Greater Cleveland Food Bank, the pantry also depends on individual and group donations. "Every month, we distribute a flyer letting people know what the pantry is in need of."

Wilder is responsible for running the pantry, which includes stocking and ordering food, making sure products are rotated, assisting clients, making referrals and taking care of administrative duties, such as making sure the pantry is following federal guidelines.
"When this position became available, I thought it was perfect for me because I've always been in social work," she says. "It's just natural for me."
Although she's vital to the pantry's success, she's quick to credit the 30 volunteers who help keep things running smoothly.
"Without them, we couldn't do everything that we do," she says, adding that her favorite aspect of running the food pantry is serving the clients. "When you have something that's such a basic need that might not be being met completely and you can help someone with that, you give that person a little hope. That's the best part."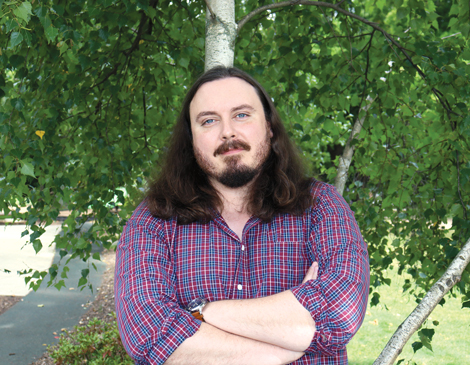 Michael Kovack
Senior Outreach Coordinator, North Olmsted Senior Center
Michael Kovack spent his entire career as a social worker interacting with children and their families. He never considered working with older adults. But last fall, the outreach coordinator position for the North Olmsted Senior Center became available.
"North Olmsted is near and dear to my heart," Kovack says. "At no point in my career was I able to work in a community that felt like home. That was the original driving force."
Ready to try something new, Kovack was excited to take on the challenge. His responsibilities include everything from facilitating programming and health and wellness initiatives to acting as a social worker, helping the six to eight clients who contact the senior center daily.
"Whether someone needs assistance paying their utility bill or help with their lawn care — you name it — my job is to problem solve it and figure it out," Kovack says, adding that he also conducts home visits, performs crisis management and cooks for the center's food program. "I want people to know that they don't have to age alone. If you ever catch yourself being overwhelmed by things like Medicare or Social Security or want to downsize and check out assisted living options, call me. Whether it's a referral or something else, I'm going to help you out."
In addition to assisting older adults with financial needs, activities of daily living and other inquiries, Kovack is dedicated to outreach efforts, including educating the community about the senior center. He's also spearheading a theater group to provide a fun way to engage with the community.
"We made a video, a parody of The Office TV show," he says. "I write the skits myself and had someone from city hall film it and put it on Facebook and Instagram. The feedback was awesome."
Kovack can be reached at 440-716-4264.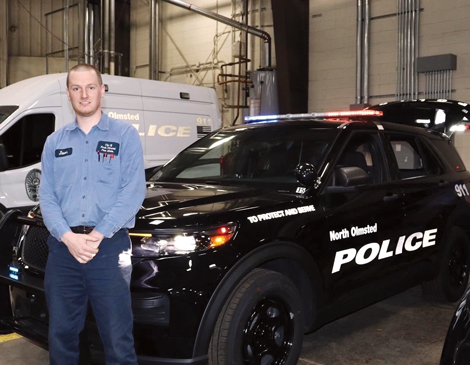 Jason Cooper
Fleet Mechanic, North Olmsted Service Department
Jason Cooper grew up appreciating all that police officers do for the communities they serve. Now, working as a fleet mechanic for the North Olmsted Service Department, he's able to utilize his talents to help ensure the safety of those he's admired since childhood.
"I feel like it was always one of my goals to work in public safety, and I love that I've found my spot," Cooper says. "My boss encourages training and self-improvement. It's an atmosphere where you're encouraged to grow."
Cooper helps build and maintain approximately 140 vehicles and 360 pieces of equipment ranging from plow trucks to police cars.
"We're kind of like family doctors for the city's vehicles," he says, adding that North Olmsted's service department is one of the few that performs all of its maintenance in-house. This allows for a lot of customization, specifically to the city's police cars. Programming for the vehicles is written in-house, and Cooper is constantly researching ways to make them better.
"The cars are built to calm things down and deescalate situations," Cooper says, highlighting features that include automatically turning the siren off when a police vehicle is put into park, a low-frequency siren that allows motorists to feel (rather than simply hear) when a police car is approaching, vehicle-to-vehicle sync capabilities that allow the lights on police cars to flash together using global satellites and a sensor that dims police car lights by 20% when the sun goes down or during overcast days.
"One of the cool things that you probably won't find in a lot of other places is that our police cars are personalized. If the officers need something, they can contact me through the chain of command, and I'll research it and see what I can do," he says. "I try to give the officers something that they can rely on and make their day a little bit easier and safer to give them more peace of mind and help them do their jobs the best they can."