When you think about how you want to spend your golden years, what images come to mind? For many, it's living in a supportive community filled with activities and services that can help them remain active, mentally and physically fit and independent for as long as possible and as their needs change. That's what it means to age in the right place, and it's the key for older adults to live their best, most vibrant lives.
From Rocky River's bustling Senior Center, lively downtown atmosphere, dedicated safety forces, plethora of parks and variety of independent and assisted living communities, Riverites rave about the city's unique ability to support residents through every stage of life. It's a tight-knit town where the same people who lived next door to each other as children are now neighbors in the same retirement community.
"People who are residents at the Normandy, the majority of them have lived [in Rocky River] for most of their lives," says Kim Zdanowicz, marketing director for the Normandy Senior Living Campus. "There are three ladies who live here who all grew up on the same street."
So what makes Rocky River such a desirable destination for older adults? First, it's the dedication of the mayor's office and members of city council, both present and past.
"Everything older adults need that we could possibly provide through a municipality, we do," says Deborah Huff, executive director of the Rocky River Senior Center (RRSC). "Rocky River is very special in that way. Mayors and city council members have always supported senior services and seniors living in Rocky River. They supported older adults when they decided to build a new center from the ground up while other communities used existing buildings."
RRSC is dedicated to creating healthy aging opportunities for older adults through social engagement, physical well-being, civic involvement and lifelong learning. The center offers a variety of services, including one-day and overnight tours, golf leagues, cultural experiences and special events featuring prominent speakers, entertainers and musicians. Those looking to further fill their calendars can participate in a wide range of classes, from art, drama, history, language and fitness to wellness, travel, literature, movies, music and technology.
In addition, the Senior Center provides daily transportation service, as well as a licensed social worker who is equipped to handle any life transitions older adults may face. One of the staff's newest additions is Tanner, a cocker spaniel therapy dog who visits the Senior Center every Tuesday.
"We have one of the only senior acting groups in Ohio," Huff adds, showcasing the center's 300-seat auditorium. "We have seniors who put on productions for the community. It's like a high school musical, except instead of parents coming, it's children and grandchildren."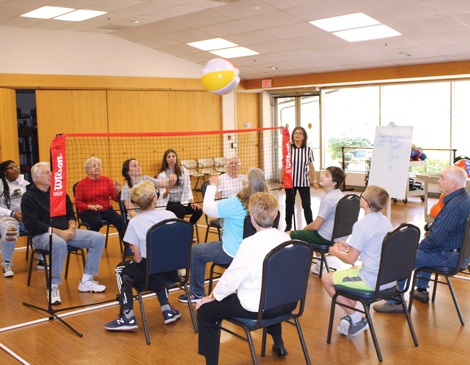 Multigenerational Connections
Forging multigenerational connections is an important component to active aging, and one that is prevalent in Rocky River. Huff boasts of the positive relationship between the Senior Center and school district. While high school students visit the Senior Center to help older adults learn to use tech devices, middle schoolers mingle with them for lunch and afternoon chair volleyball matches. The center's acting group also performs for the students and attends dress rehearsals of middle school and high school plays.
"We've been on a crusade here in Rocky River to reframe aging and change how people are talking about aging and view older adults in the community," Huff says, revealing how people's beliefs on aging influence their health and well-being as they get older.
Built in 1983, RRSC is one of 100 senior centers that are nationally accredited and one of four to receive state accreditation. Recently, the city awarded RRSC with funding to expand and add a 100-seat lecture hall, gymnasium and new restrooms. Plans also are in the works to renovate current restrooms and office spaces.
"When people think of a senior center, they think of a residential center where it's quiet. Ours is more of a rec center — like a college campus," Huff says. "We offer all of the things that are required for healthy aging."
The Welsh Home
As a skilled nursing and rehabilitation facility, The Welsh Home cares for older adults during some of the most frustrating times of their lives. From post-surgery recovery, stroke and neurological disorders to cardiac recovery, orthopedic injuries and joint replacement, The Welsh Home's No. 1 priority is providing residents with the mental and physical enrichment they need to get better and return home. For those with ongoing needs, The Welsh Home also offers a long-term care facility and assisted living units.
"Everyone who lives in Rocky River knows someone who's been at The Welsh Home," says Sheryl Kinser, life enrichment director, adding that The Welsh Home is home to 89 residents. "It warms my heart to sit among groups of men and women and see them belly laugh in their wheelchair. You don't see or hear that often, and to be successful at doing that is really important."
What's the key to making that happen? A lot of personal interaction. The Welsh Home's staff sees every resident every single day.
"We encourage them to get out of their room, which keeps them from getting depressed and also keeps them active and upright, which gives them the motivation to go to therapy and eventually get back home," she says, highlighting activities that include everything from painting and music programs to trivia, card games, bingo and jewelry making.
The facility also hosts special events, such as the upcoming car show on June 10, to keep residents engaged with the community.
Inspiration for the car show was sparked by a gentleman who is close to one of the women who lives at The Welsh Home. She's unable to return home but is very well liked in the neighborhood where she lived. Many in the neighborhood have antique cars, and the gentleman wanted to put on a car show with the neighbors. It's that personalization and dedication to serving the residents' unique needs that Rachel Toth, admissions and marketing coordinator, most appreciates about The Welsh Home.
"We get a lot of freedom to do what the residents are interested in and tailor activities and experiences toward that," she says.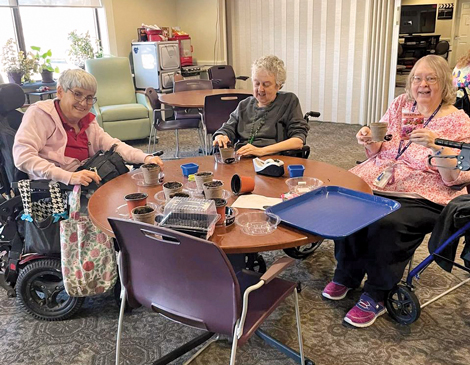 Embassy of Rockport
For Embassy of Rockport, an assisted living facility featuring 118 studio and one-bedroom units, active aging is all about catering to residents' needs. That not only includes assisting them with activities of daily living, such as housekeeping, cooking and bathing, but also encouraging them to stay social and mobile.
"We want residents to be as independent as possible," says Jean Hollenbeck, administrator. "We help them be as active as they can be, regardless of what their limitations are."
That means providing a range of experiences for all abilities, from a gardening program, walking trail and courtyard that provides the backdrop for summer cookouts to festive holiday parties and celebrations. The St. Patrick's Day Carnival, for example, encourages people to dress up, enjoy some entertainment and participate in games to win prizes.
"One resident voluntarily trims our hedges," Hollenbeck says with a smile. "We really tailor this place to our residents' lifestyles so they can make it their own and make it home."
For those who want to go shopping, dining, visit the Senior Center or local library or plan a daytrip to Downtown Cleveland, Embassy's transportation services offer plenty of opportunities for residents to connect to the community. Located on Center Ridge Road, Embassy also is close to Starbucks, Westgate Mall, Fitworks and a variety of dining options.
Overall, Hollenbeck says Rocky River is an ideal destination for older adults.
"Rocky River has a great senior center," Hollenbeck says. "And it's a safe, close-knit community. The police are aware of things, and the crime rate is low, so it's OK for older adults to go out walking, night or day, and feel safe."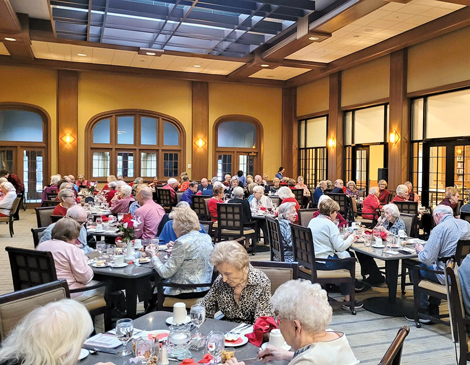 The Normandy Senior Living Campus
Located near Lake Erie on more than 30 acres of beautifully landscaped and wooded grounds, the Normandy Senior Living Campus combines top-notch amenities and connected community lifestyle to provide care for older adults during every stage of the aging process. From Breakwater Independent Living and Lakeside Assisted Living to the Normandy Care Center, the location's three buildings each offer a different level of care.
"Our campus allows people to be as independent as possible," says Kim Zdanowicz, marketing director, adding that each building has its own activities and life enrichment department. "That allows us to cater to the needs of that particular building and serve everyone's needs at different stages."
At Breakwater, residents have access to all the campus has to offer, including a nine-hole golf course, putting green, 24/7 fitness center, game room, pub with weekly live entertainment, walking trails, garden plots, firepits, library and full-service beauty salon. Residents also can participate in various fitness and cultural programming, from seated yoga, balance and bars classes to special guest speakers and Case Western Reserve University classes. Residents also can leave the campus for scheduled or impromptu outings to local entertainment destinations — either on their own or through transportation provided by the Normandy. In the past, excursions have included trips to the Cleveland Cultural Gardens, Playhouse Square, Lake View Cemetery, Severance Hall and Cleveland Art Museum.
"People come and meet with me to learn about how they can remain active. A lot of people I meet are recently widowed or with their spouses and looking to downsize," Zdanowicz says, adding that people choose the Normandy because of the social opportunities that are available.
At Lakeside and Normandy Care Center, activities are geared toward keeping residents as physically and mentally fit as possible. Holistic wellness activities include Opening Minds Through Art (OMA), an intergenerational art program
for people with dementia; intergenerational choir; pet therapy; musical entertainment and exercise programs. Sensory programs also are available to help stimulate and comfort the mind, body and spirit.
"There's something for everyone to enjoy," Zdanowicz says.