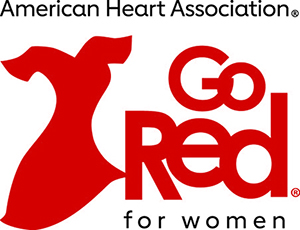 The movement shifts into a virtual format this year while still educating women of all ages about the importance of maintaining heart health.
With American Heart Month upon us, Valerie Hillow Gates, the AHA's executive director, Cathy O'Malley Kearney, its board chair, and Lorraine Dodero, Go Red campaign chair, are more determined than ever to make Go Red accessible and vital to women everywhere.
Gates says she is excited that plans for this year's celebration include a conversation with heart attack survivor and Emmy-winning actress Susan Lucci. "She's chosen Cleveland as one of a select number of cities to receive her star power and important message of survival," says Gates.
The Go Red movement is about all women making a commitment to stand together and take charge of their own heart health as well as the health of those they can't bear to live without. To learn more about this year's programs and how to become involved, including free education.
Why It Matters: One Story
As a 23-year-old attending night classes at Cleveland Marshall College of Law, Kearney felt tired and out of sorts and ultimately contacted her physician.
"My prognosis was not good. I had potentially months to live without a heart transplant and that there was no chance of my having children."
Eight months later she was given a new drug to increase her heart's pumping efficiency.
Today, she holds a prominent position as an executive vice president at KeyBank and is married with children.
She not only credits her commitment to Go Red for Women but also KeyBank's longtime involvement in this program.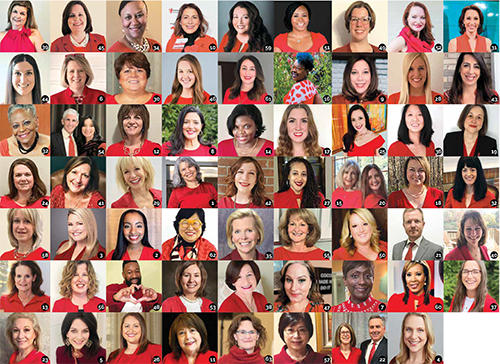 Increasing Involvement
Lorraine Dodero, trustee and executive director of the Sam J. Frankino Foundation and Corinne L. Dodero Foundation to the Arts and Sciences made a commitment to match September and October contributions up to $30,000 in an effort to inspire others to give.
Based on her efforts, the organization has not only exceeded that match, but is on track to surpass all of last year's event fundraising total, with more than $600,000 raised to date!
"COVID-19 is challenging for all organizations this year. The thought that we would not be together for the luncheon event was inconceivable. It's exciting that this year's celebration will be a way for us to generate money and awareness from people who didn't participate in the past."
For more information on Cleveland's Go Red for Women virtual events
Message from Local Presenting Sponsor, University Hospitals Harrington Heart & Vascular Institute
Heart Attacks Are Becoming More Common in Younger Women
While women are more likely to suffer a heart attack after age 55, it can happen at any age. In fact, younger women in the United States are suffering heart attacks at a higher rate today compared to 20 years ago, reports the journal Circulation. Researchers suggest rising rates of risk factors among this population — such as high blood pressure and diabetes — likely play a role.
SCAD: A Frequent Cause of Heart Attacks in Young Women
Spontaneous coronary artery dissection (SCAD) is responsible for about 40 percent of heart attacks in women under age 50, according to the American Heart Association. The average person who has a SCAD heart attack is a woman in her 40s – and generally healthy, with no or few heart disease risk factors.
While typical heart attack is caused by plaque and a blood clot that blocks a heart artery, SCAD starts with a tear or bleed in the wall of a heart artery that blocks blood flow to the heart, causing a heart attack.
Symptoms of SCAD are almost identical to those of typical heart attack:
• Chest pain or discomfort
• Discomfort in one or both arms or shoulders, back, neck/jaw or stomach
• Severe shortness of breath
• Cold sweats, nausea or vomiting
• Dizziness or lightheadedness
To diagnose a heart attack, emergency evaluation includes an electrocardiogram (EKG) and blood work for the cardiac enzyme called troponin, a marker of heart muscle damage. To distinguish SCAD from typical heart attack, a coronary angiogram is performed.
Risk factors for SCAD are different than those of typical heart attack and include an underlying vascular condition called fibromuscular dysplasia (FMD).
Take Care of Your Heart at Every Age
There's a lot you can do to safeguard your heart and avoid cardiovascular disease now — and later.
• Eat a healthy diet. Include foods low in saturated fat, trans-fat and sodium. Eat a diet right in fruits, vegetables, whole grains, nuts and fish. Choose low-fat dairy products.
• Exercise. Aim for at least 150 minutes of moderate-intensity physical activity, like brisk walking, and two days of muscle-strengthening exercises, each week.
• Don't smoke. Quit if you do.
• Get regular wellness exams. Know your numbers, including body mass index, blood pressure, cholesterol, triglycerides and blood sugar.
• Be your own advocate. Learn your family history of cardiovascular disease to understand your risks. If you have unusual symptoms, see your doctor. If you are unsure about recommendations from your provider, ask more questions or seek another opinion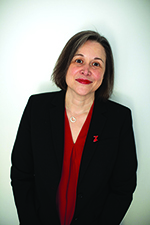 Dr. Heather Gornik is Co-Director, Vascular Center, and Director, Fibromuscular Dysplasia and Arterial Dissection Program, University Hospitals Harrington Heart & Vascular Institute. UHhospitals.org/heart
Go Red for Women is Locally Sponsored by:


Special thanks to Cuyahoga Community College and Shirley Stineman for their continued support of the Go Red for Women campaign in helping fund this content promotion.