While this season may look a little different than in years past, Downtown Cleveland remains an ideal destination for families and friends to connect and get lost in a winter wonderland.
With Cuyahoga County's stay-at-home advisory now in place, Downtown Cleveland Alliance presents this year's Winterfest as a season long celebration of socially distant and virtual experiences. Starting Saturday, November 28, visit the nightly holiday light shows in Public Square along with other reimagined holiday offerings that will bring festive cheer and fun for all.
Add to that more than 135 restaurant and retail options, as well as the Rock & Roll Hall of Fame, Great Lakes Science Center and Greater Cleveland Aquarium. Explore the outdoors with treks along the Towpath Trail, boardwalks at Flats East Bank and lakefront views at North Coast Harbor. Also be sure to check out Winter RiverFest, which will transform Rivergate Park and Merwin's Wharf.
Amid a year filled with uncertainty, the importance of supporting the vitality of downtown is more important now than ever before.
"The impact of the pandemic on downtown has been significant," says Joe Marinucci, president and CEO for Downtown Cleveland Alliance. "We hope that, as a part of everyone's tradition, they see downtown as an opportunity for a family-oriented experience and one that supports not only downtown, but also the whole city of Cleveland and Northeast Ohio."
Two of the city's most iconic destinations showcase the spirit and history of holiday celebrations in Downtown Cleveland.
For generations, people in Cleveland and surrounding suburbs have come downtown to discover the festive lights and decorated windows, sharing the beauty of the city and creating memories that transcend the years.
Central to those traditions are two iconic Public Square landmarks: the Higbee and May Co. buildings.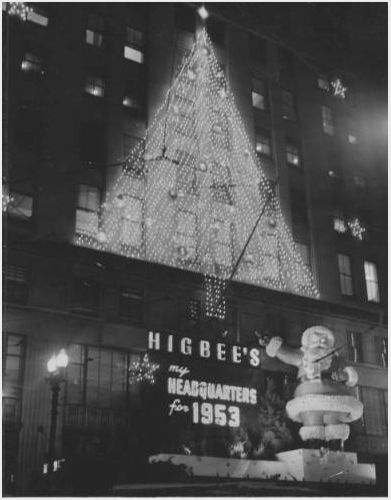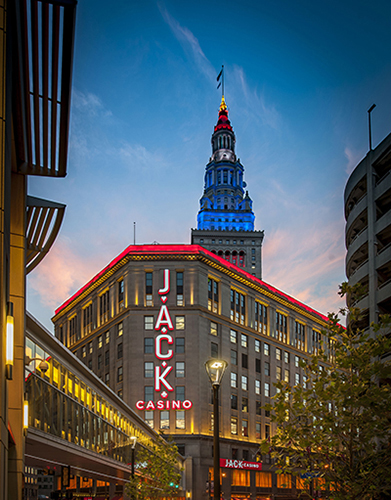 The Higbee Building
The Higbee Building, currently home to JACK Entertainment, opened in 1931 as the flagship Higbee's Department Store. Scott Lokke, JACK Cleveland Casino's senior vice president and general manager, says the group is mindful of the building's importance to the community.
The casino operates on four floors, and the iconic Silver Grille, which Lokke's organization has been eager to restore to its original 1930s art-deco splendor, occupies the 10th floor. Once the Silver Grille is unveiled, people will be able to see that the place they remember from their childhood has been preserved and beautified.
For many Clevelanders, the Higbee Building is synonymous with the holidays in part because of its famous starring role in the classic 1983 film, "A Christmas Story." Add to this history the long legacy of Clevelanders going downtown to enjoy the holidays.
Every year, Lokke says his company works with art institutions and designers to bring the outdoor displays to life. "All of those picture windows are on full display much like they always have been," he says.
Inside, the magic continues with the original Higbee Christmas tree, as well as other holiday decor that hearkens to the building's history.
"Public Square and all of the holiday lights, music and ice skating is a focal point of the holidays," Lokke says. "It's vibrant, well-lit, safe and a great place to be outside and walk through the lighting displays and holiday picture windows." Visit JACK Cleveland Casino jackentertainment.com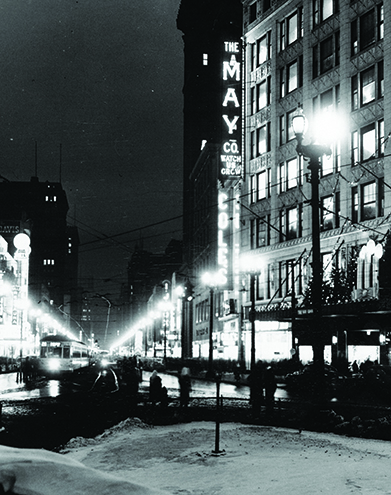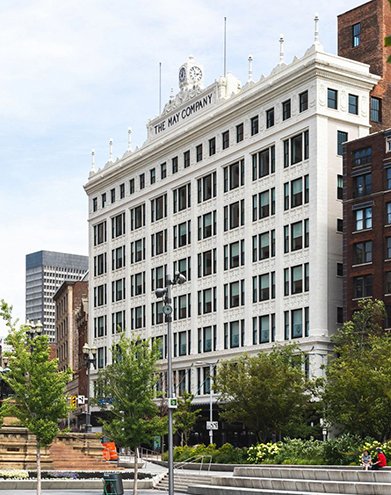 When the May Co. Building opened in 1915, it was thought to be the third-largest store in the nation. Since 1993, it's been sitting vacant, waiting to return to its former glory.
That's finally happened, thanks to Bedrock, Dan Gilbert's full service commercial real estate firm. Now, Clevelanders can celebrate the beauty of this iconic building once more as it's illuminated for the holidays.
The May Co. building has been reimagined as a 307-unit residential space. These studio, one, two and three-bedroom units combine the modern chic of downtown living with the classic architecture of the era in which the structure was built.
"We tried to the extent possible to retain some of the history of the May Co. Building as far as some of the finishes, tones and palettes," says Ken Till, Bedrock's senior vice president of development. "The color scheme is referential of what you might have seen back in the day."
The oversized, etched windows on the building are some of its most notable features, and Till is pleased that those have been maintained.
"The May Co. Building is just such an iconic building and has so many memories for so many residents in Cleveland," Till says. "With the resurgence of downtown, we thought this was a great opportunity to bring this signature asset back to life and back to serving the community." Visit The May at themaycleveland.com
Welcome to Winterfest 2020 and enjoy the holidays with these activities around town For more event information visit: winterfestcle.com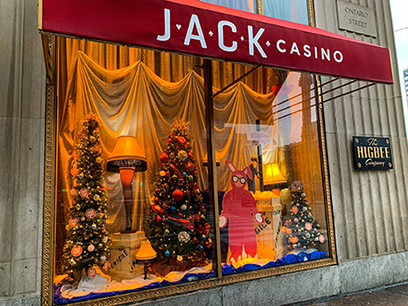 Downtown Cleveland
Each year, JACK Cleveland Casino, housed in the historic Higbee Building, harkens back to the department store days by decorating the display windows that line the sidewalks. The casino brings in designers and even local businesses to help fill these spaces with festive decor. Visit jackentertainment.com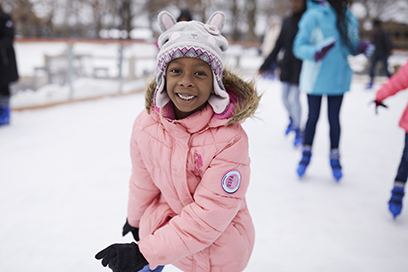 University Circle
Your winter adventure begins on The Rink at Wade Oval, proudly sponsored by PNC. Admission is $2 and skate rentals are $3 ($1 admission and $2 skate rentals for students). For information on open skate hours, special events, and health and safety protocols, visit universitycircle.org/rink.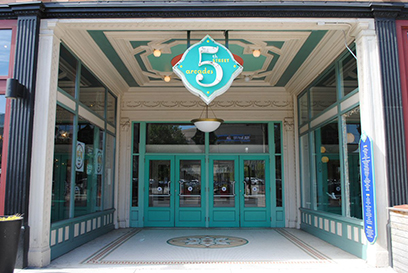 Get your fix of small, locally owned businesses at the 5th Street Arcades. This open, airy historic downtown setting is filled with 45 modern, safe shops that offer gifts, food, clothing and unique services. This year, make a trip to see the old Cleveland tradition of holiday store-front displays reimagined as the shops compete for the best display. Haymarket Cleveland in 5th Street Arcades will have seasonal and holiday home good items. Visit 5thstreetarcades.com.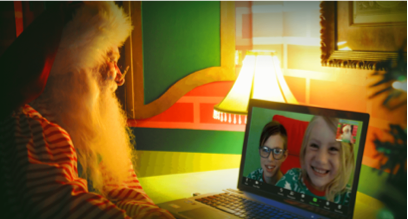 MR. KRINGLE & COMPANY
Direct-To-Home Holiday Experiences With Mr. Kringle
Welcome Christmas magic into your home this season with personalized interactions from Mr. Kringle. Merry moments await in the comforts of your own living space. This is your invitation. He's been waiting all year to make your spirits bright! Visit mrkringle.com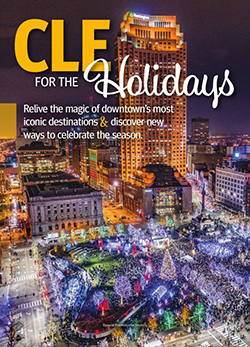 View the digital publication of CLE for the Holidays
here