Sponsored Partner Content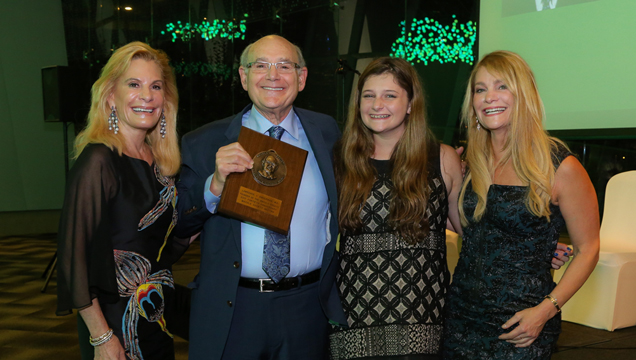 Dr. Singerman with members of his family, at the 40th anniversary meeting where he was presented with his Lawrence J. Singerman award.
Dr. Singerman, the first recipient of The Macula Society Lawrence J. Singerman Medal
At the commemorative 40th anniversary meeting of the Macula Society in Singapore in June, 2017, Dr. Lawrence Singerman of Retina Associates of Cleveland was honored with a once-in-a-lifetime award bearing his name. The Macula Society Lawrence J. Singerman Medal will be awarded each year by the Society's Awards Committee to an outstanding individual chosen for exceptional contributions to retinal clinical trials, which have been Dr. Singerman's passion for 40 years.
Dr. Singerman founded the Macula Society in 1977 and has continued to energetically and selflessly serve as executive secretary for the past 40 years. His commitment over the years to clinical trials to find new treatments and prevent vision loss from retinal diseases prompted the Macula Society membership to honor Dr. Singerman as the first recipient of the Medal now given in his name.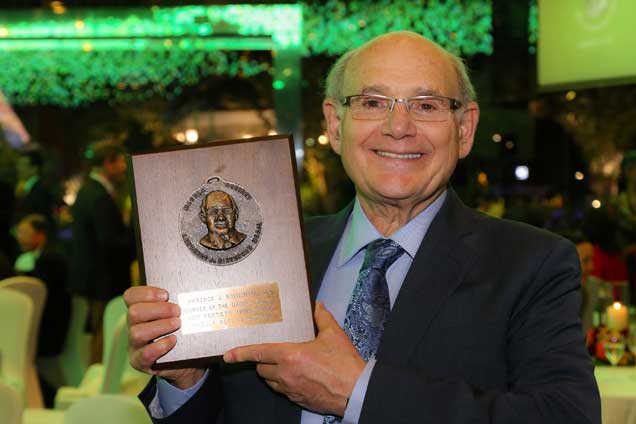 Dr. Singerman was awarded the medal by the Macula Society for his exceptional contributions to retinal clinical trials over the past 40 years.
Dr. Singerman first developed his interest in clinical trials in the early 1970s, when laser treatment of proliferative diabetic retinopathy was a highly controversial topic in the ophthalmological community. Because of his interest, he sought and obtained a retinal fellowship at the Wilmer Eye Institute of Johns Hopkins under the guidance of Dr. Arnall J. Patz, a renowned pioneer in the field of retinal diseases who was a leading participant in a randomized, controlled clinical trial, the NIH-sponsored Diabetic Retinopathy Study (DRS), to study the treatment. It proved that laser treatment reduced the risk of blindness by about 50%, resolving the controversy. It also helped set standards and provided a springboard for the many NIH-sponsored clinical trials that followed, not just in ophthalmology but in all of medicine.
After finishing his fellowship and beginning private practice, Dr. Singerman maintained his commitment to clinical trials. Recognizing the need for an organized venue focused on research in retinal medicine, he founded the Macula Society to provide an opportunity for the best minds in the field to share and discuss new ideas and new research studies in a collaborative environment. At the time, the main focus in management of retinal diseases was retinal detachment surgery, an area well covered by the Retina Society, founded 10 years earlier. The Macula Society provided a forum to promote and guide the continual advancement of patient care in medical retina.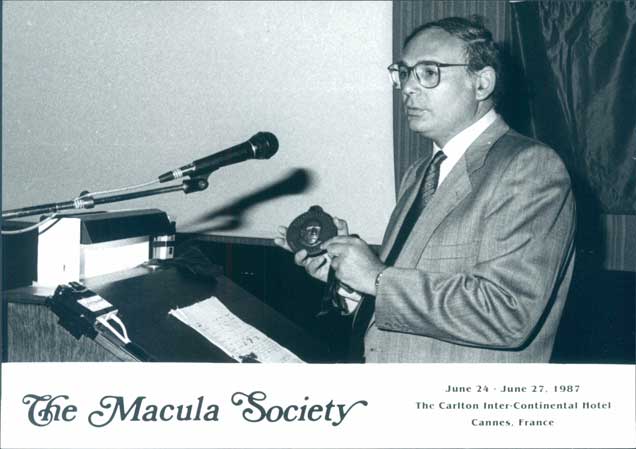 Lawrence J. Singerman introducing the Arnall Patz medal in 1987, at the 10th anniversary meeting of the Macula Society in Cannes, France.
The Macula Society has grown from an exclusive group of 63 charter members from the United States, to 450 members from 25 nations. Its membership is highly selective and impressive: many hold positions as heads of academic research programs at major universities around the world while others head large private practices with extensive clinical research efforts. The exceptional contribution of the Society to the field of medical retina over the years is truly remarkable.
The Macula Society now has six major awards given each year to outstanding members of the Society: the Paul Henkind Memorial Lecture and Award, the W. Richard Green Lecture and Award, the Macula Society Young Investigator Award and Lecture, the Arnall Patz Medal, the J. Donald M. Gass Medal, and the new Lawrence J. Singerman Medal.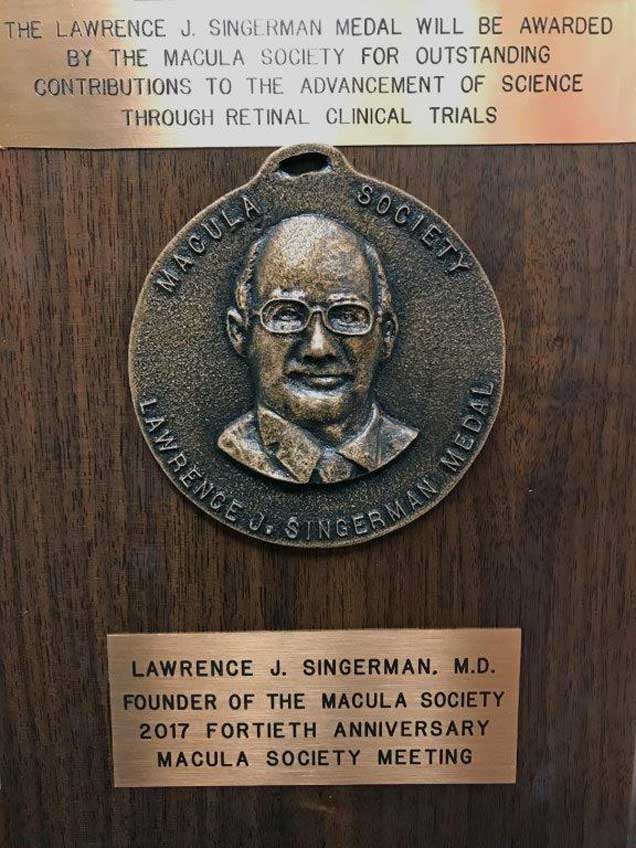 The Macula Society Lawrence J. Singerman medal is now the 6th major medal to be awarded every year to an outstanding member of the Society.
Dr. Singerman said, "To me, the most humbling thing about this award is my inclusion in a medal award analogous to the Dr. Arnall J. Patz Medal and the Dr. J. Donald M. Gass Medal. Their mentorship has inspired me throughout my entire career. I am truly honored that my colleagues in the Macula Society have placed my name alongside those of these esteemed, pioneering retinal physicians."
Lawrence Singerman was born on September 17, 1943, in Cleveland, Ohio. His work ethic began as a youth, when he worked at a freight salvage store stocking shelves. He graduated from Shaker Heights High School in 1961 and is a proud member of its Hall of Fame. He currently resides in the Cleveland area with his wife, Margaret, and is proud of their 2 children, Stacy and Seth, and their 3 grandchildren. His daughter, Stacy, is the Macula Society administrator.
Dr. Singerman founded Retina Associates of Cleveland in 1974, a retina group practice that now includes 9 other retinal specialists and over 130 employees in 9 offices. He has been a principal investigator in more than 120 multicenter clinical research trials, given more than 600 presentations at national and international courses and symposia on macular and retinal vascular disease, and authored over 370 publications.
Dr. Singerman is Clinical Professor of Ophthalmology at Case Western Reserve University School of Medicine and at the Bascom Palmer Eye Institute of the University of Miami School of Medicine. He is a past recipient of the Macula Society's Arnall Patz Medal, the J. Donald M. Gass Medal, and Lifetime Achievement Awards from the American Academy of Ophthalmology and the Diabetes Partnership of Cleveland and was recently selected as a Charter Inductee of the Retina Hall of Fame. Dr. Singerman has been named to the "Best Doctors in America" list every year since 1998.
To contact Dr. Singerman or to schedule an appointment, please call his Beachwood office at (216) 831-5700. You may also visit www.retina-doctors.com to find out more information about protecting your vision, retinal diseases and treatments, clinical trials, and Retina Associates of Cleveland office locations.