The holiday season is in full swing this year! With everything that's gone on in 2020, the holidays' cheer and festiveness is a welcome change and the best time of year to give to those you love and care for. Need some guidance? Here's everything you need to know about gifting diamond jewelry this holiday season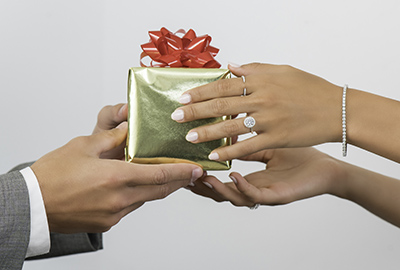 Benefits of Diamond Gifts
Gifting diamonds to someone is an incredible gift that can signify commitment, love, appreciation, and care. It's the perfect gift to demonstrate your strong positive feelings for or toward another person.
The best thing about gifting diamonds is knowing that you've given a gift that will last forever and maintain its beauty. If you're intent on choosing a gift that won't get thrown out for lack of use, then a diamond is the best way to go. Whether it's styling the perfect outfit or wearing the piece for sentimental reasons, a diamond is a gift that keeps on giving.
Who to Gift Diamond Jewelry
Of course, your partner would likely enjoy a new piece of jewelry to add to their collection. That said, there are very few limits to purchasing diamond jewelry. Though diamonds are traditionally thought of as a romantic gesture or gift, there's no reason not to give diamonds to non-romantic partners.
Family members, especially close ones, make for the perfect recipient for shiny gifts. Mothers enjoy diamond bracelets, just as fathers enjoy diamond cufflinks. Close friends and loved ones are also prime candidates for diamond jewelry this year. Gifting diamond jewelry can be done whenever you want to make a loving or appreciative gesture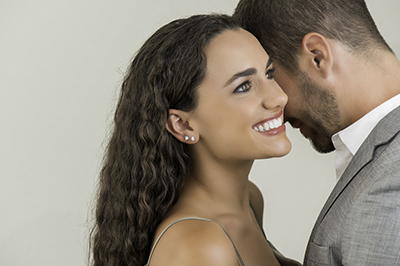 Diamond Stud Earrings
A timeless beauty, diamond stud earrings are some of the most versatile jewelry pieces on the market. They are the perfect complement to pretty much any outfit and hairstyle. Diamond stud earrings are considered a must-have accessory for both men and women.
Not to mention, diamond stud earrings are entirely customizable, and the cut is king. You can go for a classic minimalist look with a round brilliant solitaire in a 3 or 4 prong setting. For those that prefer more eccentric styles, an emerald cut diamond can make for the perfect stud. Oval shaped studs can help maximize the stud's size and draw more attention with their extra brilliance.
Diamond Pendants
Wrapped in gorgeous metal, diamond pendants are the perfect gift for necklace lovers. It's truly a romantic present, but can be given to any loved one. These are also customizable pieces where the diamond shape and cut can make a huge difference in appearance. This holiday season, go for a solitaire round-brilliant paired with white or yellow gold for a gorgeous gift.
Matching the diamond pendant with the perfect necklace chain is essential. For this, you'll have to do some visualization. How low do you imagine the pendant hanging? Will it rest within the suprasternal notch? Or will it hang a bit lower well past the collar bones? Talk to a jeweler about chain length to ensure that you find the best fit for your diamond pendant necklace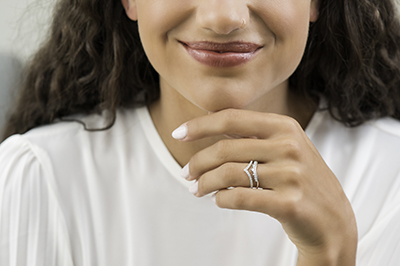 Stackable Bands
There are so many options when it comes to stackable bands! They're versatile pieces that can serve as everyday wear jewelry, regardless of style. Looking for a great stackable band option? Choose a band that features diamonds studded either halfway or all the way around the ring. They're gorgeous, chock-full-of sparkle, and can be worn on their own or in a ring stack.
Conclusion
Why not make this the year of diamonds? Whether it's a pair of diamond studs for your partner or a pair of cufflinks for your father, diamond jewelry makes for a long-lasting present and emotion-filled gift. Happy holidays!