Sometimes you just need a bit of luxury.
Enter Manifest, the Shaker Heights spot where you can get a manicure or pedicure while a mixologist whips up a libation as spectacular as your salon service.
I make my appointment at Manifest, desperate for a little me time. After choosing my gel manicure color, a light frosty blue from OPI named "Can't CTRL Me," I review the seasonal and ever-changing menu. The customer favorite, Eastside cocktail, is made of cucumber vodka, lime, basil and prosecco.
But it's only 11 a.m., so I opt for something a bit fruitier: The Razz, a blend of gin, raspberry, lemon, Chambord and cranberry — all topped with whipped egg whites, providing a fluffy blanket on which to lay a few dried edible flower petals. I easily could have chugged this beverage like juice and gotten a second round in seconds, but I am a lady, so I sipped on it for my whole appointment.
"I look at restaurants and bars in New York and L.A. and see what's new and going on," says Manifest owner Jamie Spaid.
Normally, I choose dark nail colors to match my typical head-to-toe black, but stepping out of my comfort zone yielded beautiful results. My nail stylist carefully painted each nail with my Frozen-esque gel color, and we chatted as if we'd known each other forever, discussing weekend plans, upcoming concerts and the like.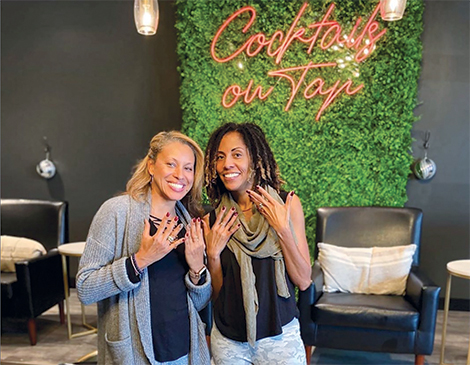 Happily, no one needs a nail appointment to enjoy these craft cocktails and, thanks to the Van Aken District's designated outdoor refreshment area, passersby can also indulge in the cocktail menu.
The Manifest team prides itself on offering experiences that are calming and accessible to everyone. "Women will bring their boyfriends or husbands, and they can order Manhattans or bourbon or beer at the bar," says Spaid."It's a main goal to make men comfortable, too."
It's not often I get the time to sit back, relax and allow myself to be the one receiving care. This small trip across was both needed and fulfilling and left me feeling quite the opposite of blue.
Three Fall Nail Trends to Try
Before you know it, summer days will morph into crisp fall mornings. The muted pinks and glowing golds that adorn nails now will evolve into warm maroons and dark purples. Manifest owner Jamie Spaid gives us the run-down on cool fall trends.
Mismatched Designs
Tune into your creative side with this look. Opt for a mix of speckled and striped nails alongside solid colors.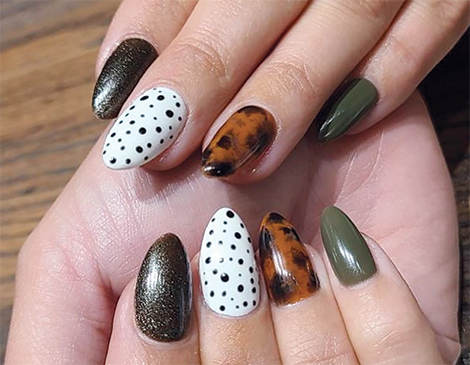 Modern French Tips
Trade in your typical white French tip manicure for this dual black-and-white look –– a refreshing twist on a classic.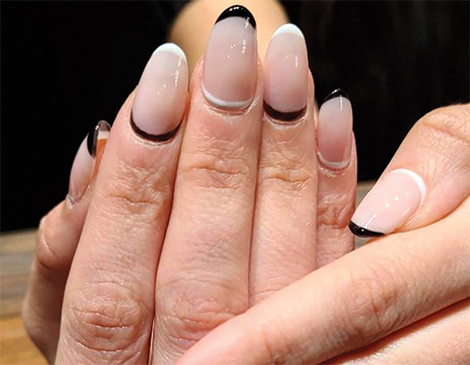 Black Nails
Consider a shiny black set, a matte black look or a mixture of both. Plus, you can easily craft a spider web design for Halloween.
When you go, Manifest 3440 Tuttle Road, Shaker Heights 216-920-2166 manifestcle.com