This is your sign to go for it.
When I had the chance to chat with founder and curator Ashley James regarding her thriving clothing boutique in Broadview Heights, I knew I wanted to discuss the company's origin story. How does one go from zero to a storefront on the tail end of a COVID-19 lockdown?
I had a hunch that social media, particularly Instagram, had a heavy hand to play in formatting the brand's personal aesthetic and boosting its visibility to a wider public, but I was curious to discover how the relationship functions when you start off operating with a one-man team … or in this case, woman.
"Stage one was like, 'what the hell am I doing,'" laughs James who is about to celebrate her shop's second summer in the Cleveland suburb.
"I started Relevant right after COVID. I have four kids, and I was just sick of staying at home, like, it wasn't meant for me. I really wanted something my kids could be proud of me for. Thinking of my background, I have a fashion marketing degree from my time in Chicago and the [boutique] idea was always kind of a pipe dream of mine."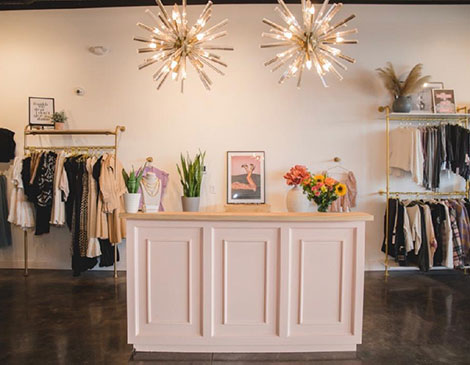 (Photo courtesy KT Rae Photography)

When the pandemic whirlwind began to settle, James knew it was time to start making her dream a reality. "A fire just lit inside of me. I thought, 'This is my time,' and I knew I had to start creating."
One obstacle: there was no brick-and-mortar in place to plug Relevant Boutique into.
For James, this was nothing. Technically, she did have a space. "I got my LLC and ran it out of my house. I did pop-up events for my friends and local businesses while I searched for the perfect location."
In 2021, she found it.
On 1100 West Royalton Road, the 3,700-square foot space became the primary home for her high-quality collections.
"Once I secured the space and opened the store," James says reflecting on her November 2 grand opening, "that's when [Relevant Boutique] went crazy on social media, and I hired a social media team."
When asked about the importance of utilizing social media for the bulk of her marketing, James answers honestly as someone who truly started her boutique from the ground floor. "For me, I kind of just gauged it off of what I loved, and I knew that I found all of my favorite boutiques off of Instagram. I really do love that aspect of social media, and I knew that it had to be my main avenue. Social media is the only way we really drive business. Other than popups, it's my sole promoter, so I heavily prioritized it. With my team, we knew we had to do the best we could with it."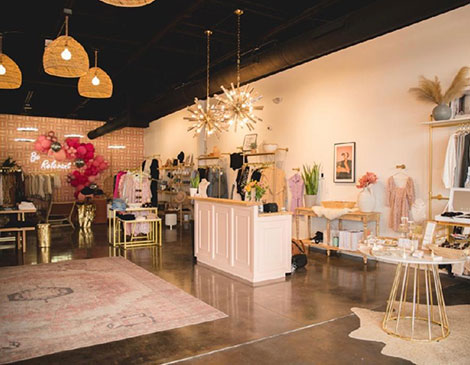 (Photo courtesy KT Rae Photography)


The decision to make digital media the MVP seems to have paid off. Within a second or two of glancing at their social media feeds and website, the boutique puts up a convincing argument for why it should be your first, last, and only when shopping for staple wardrobe items and top trending styles. It's got itself together.
Take its Instagram homepage. Building from a base of neutral palettes and subtle, warm-hued filters, Relevant Boutique, which goes by the handle @relevant_cle, has a confident following of thousands. The posts oscillate between candidly-inspired shoots highlighting beloved labels like Pistola, Lucy Paris, and Matisse, and quirky textbox campaigns that give the brand its unique voice. The majority are playfully cheeky, giving fuel to self-identified shopaholics through humor. One post reads, "me as a wife" over a message bubble that writes, "hey, so I accidentally spent $500." Another mood-booster posted just two weeks ago says, "I am not that friend that discourages you from shopping. I'll tell you to buy it all."
What is "all" for Relevant Boutique? Although the store houses several different aesthetic styles like this year's popular coastal cowgirl theme and minimalistic 90's core, James affirms that the collection as a whole follows the same vein of long-lasting sustainability. Think capsule wardrobe and less fast-fashion.
Capitalizing off of recent trends in quiet luxury (thank you, Sofia Richie Grainge), James bulks up on the basics but doesn't completely veto the fun, event-specific clothing options either. "I'm not gonna lie. I am totally a lover of color and crazy prints, too, but the neutrals are the one thing I will always have. I will stand by this. I will prioritize the neutrals and the basics first because they are more wearable—not just for now, but for always. I want to be a store where you can enter and find outfits for your daily rotation."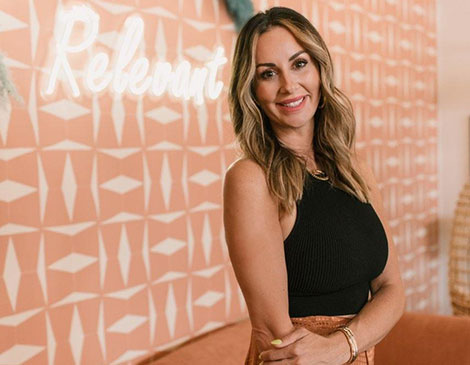 (Photo courtesy Jenn Ochwat)

Sourcing these finds began similarly to her reliance on social media. She looked within and grew from there.
"In the beginning, I knew that I wanted to carry things that I loved because the store was going to be a piece of me. I traveled for a whole year and I went to all kinds of different markets. I went to boutiques everywhere from The Keys to Chicago, Nashville, just tons of different places because I really wanted to solidify what I could give to everyone else back at my store. I wanted to stand out from everyone else," says James.
The tricky task was finding a balance between pieces that she knew she would fall head-over-heels for, and pieces that would be successful to an even wider variety of tastes.
"The biggest complication I had when I started was finding enough curated pieces that everyone would love because although I may love something, it's not going to be everyone's style. I wanted to incorporate a little bit for every person."
Before venturing further down our conversation of niche aesthetics, and predictions of Fashion's future (capital "F") for the remainder of 2023, James interjects with another challenge she had to learn to solve the hard way.
"And not over-ordering!" She exclaims.
"Our store is big, so when we first opened, I had so much inventory, it was crazy! Finding those 'right' pieces that were affordable, yet nice was the hardest part."
Leaning into the motto of quality over quantity kept her from being swallowed up in unused storage. "That was a huge lesson for me, but the best part is I've met so many people through social media, and so many people in the community along this journey. Being able to give back to the community in some form has been awesome, and it really has been a dream come true."
(Photo courtesy Jenn Ochwat)

As our conversation rounded to a close, I felt duty-bound to ask what her current favorite piece in the store was, and her response allowed her the chance to harken back to the catalyst behind the boutique's name.
"Our power suits. I love a good power suit. It helps you walk in somewhere and feel confident. That's one of my philosophies that I built the brand on. I don't feel like you should always have to be 'on trend.' If you feel great, you're gonna look awesome no matter what. That was the thought behind the name Relevant. It doesn't matter what you're wearing exactly, if you feel confident, you'll be relevant."
Although Relevant Boutique is still growing its fan base in Cleveland, James teases the possibility of another storefront opening on the horizon. "I really do want to expand the brand. I don't know if it's gonna be in Cleveland, but I have been on the lookout, so stay tuned for a sister store."
Get ahead of the weekend by signing up for our free weekly "In the CLE" newsletter — your guide to fun throughout The Land. Arriving in your inbox every Wednesday, this weekend to-do list fills you in on everything from concerts to museum exhibits — and more. Click here to subscribe.