Let's start with an outfit check.
Taupe boyfriend blazer, black knit top, dependable Madewell jeans, and a pair of two-band sandal heels inspired by those minimalist Manolo Blahnik slingbacks … heavy on the inspired.
After hours of researching footage from previous elevated fashion shows organized by the entertainment agency Fashion Talks, I selected business casual because it felt "safe."
Little did I know that the Sunday evening event would be as stylishly diverse off The Bogomolny-Kozerefski Grand Foyer floor as it was on. From baseball caps and loafers to three-piece suits and silk gowns, the unspoken guest theme was come as you feel inspired to. As coincidence would have it, this same energy was not far from the concepts of this year's attending creatives.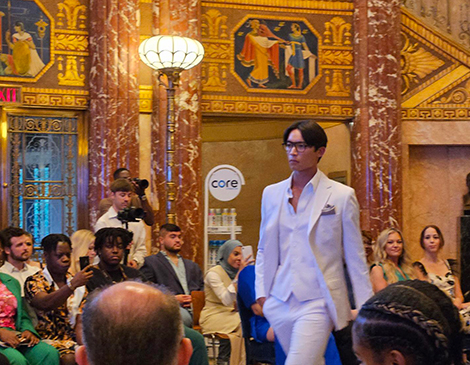 (Photo courtesy Abigail Kussow)

Before the show, I had a chance to mix and mingle with a few of these talented minds, as well as several promoters, photographers and crew. From this, I was able to hear their thoughts — not only on this year's festivities, but also on what fashion means in terms of their individual brands.

Kristina Nehas, Owner Love Nikki Boutique
"This started as kind of an outlet for me. I felt that I had lost my identity after becoming a mom and so I started playing around with fashion, curating pieces and trying to rediscover myself. I named my boutique after my daughter, and here we are, almost two years later."
What she is most excited for:
"I came here specifically, to see all the variety and passion. I truly believe there's no specific institution. Do what you like. I love that people put their own personal touches on style. And there's so much economy there."
What fashion means to her:
"My personal definition comes from the belief that I don't ever want to be boxed into fashion. Variety is the spice of life, and I'm one of those if I see it, and I like it, I'll wear it, people. There's not one specific type of style that I gravitate towards."
(Photo courtesy Abigail Kussow)

Dana Rowan, Owner Back To You Designs
"The collection I have on the runway today is Back to Your Roots. Everything is wearable empowerment for women and it all goes back to who you are. It highlights upcycling whether that be your mother's quilts, your grandmother's coats or even a sweater. How do you bring something back to life that's close to you?"
What fashion means to her:
"You have to be confident. Sometimes I get tired of that word because everybody uses it, but that's truly what it is. If you feel good and confident on the inside, then anything can and will work, and you will rock your day. It all comes from the inside."
Molly Cheraso, Owner & Founder Verbena Free Spirited Shoppe
"I was introduced to Aimon [Ali] through Instagram. She's been putting on these beautiful, very high-end designer runway events, and at events like this, people usually expect to have a drink of some kind. Because Aimon is Muslim, she knew she did not want to serve alcohol but wanted something equivalent in terms of an elevated, beautiful drink to match the style of her events, which is exactly what Verbena does. We serve non-alcoholic, adult drinks. They're just as complex and bitter and beautiful as an alcoholic counterpart, so it was kind of a perfect pairing."
What fashion means to her:
"I recently left a corporate job at KeyBank where I wore lots of black and grey. I was there for 13 years, so I've had to redefine my own personal style. With starting Verbena, I've really been drawn to color, so today, I'm going to say that my own definition of fashion and style revolves around embracing color and femininity which has been such a fun part of my new journey."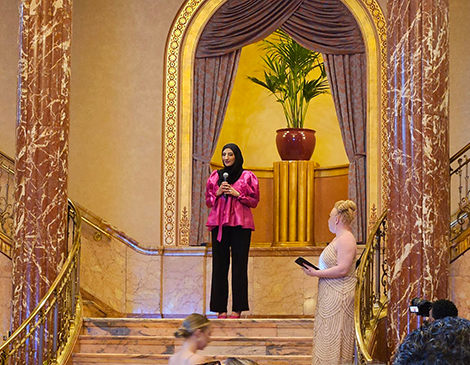 (Photo courtesy Abigail Kussow)
Cole Worley, Co-Founder Cafilia
"We sponsored all of the backstage coffee tonight. We're here to support the lovely event, and also generate awareness for Cafilia, which is a network of quality independent coffee shops, and we sell subscriptions in the form of monthly memberships to all the shops at once."
What he is most excited for:
"My co-founder Aleksandra would be here with me if she wasn't preparing to walk the runway. She is the one who came up with this idea, and having her be one of the models today is exciting."
What fashion means to Cafilia:
"The name of our campaign for tonight is Fashion Fuel. We know that fashion is an expression of creativity, and we're the people behind the scenes of that if you will. Where do you gather for community in fashion? Coffee shops. Life happens in coffee shops and with coffee."
Robert Cobb, CEO INSC Media & Photography
"I love working with Fashion Talks. I think Aimon Ali has done a great job bringing haute couture and elevated fashion to Cleveland. People easily miss it as a fashion city, and her work here is helping to put Cleveland on the map."
What he is most excited for:
"Just the continued growth and elevation of the Fashion Talks brand, and seeing more fashion and more elevated experiences regarding fashion on the come-up. It is definitely on the rise and we have some great talent here to prove it."
Get ahead of the weekend by signing up for our free weekly "In the CLE" newsletter — your guide to fun throughout The Land. Arriving in your inbox every Wednesday, this weekend to-do list fills you in on everything from concerts to museum exhibits — and more. Click here to subscribe.