Thrift shopping or "thrifting" has always been around, but the trend has taken off in the last decade not just as a means for keeping up with the vintage trend, but as a stance on combatting fast fashion and helping the environment.
"Lately at the thrift stores I have been finding so much from Shein, which just shows me that people are just buying something, wearing it once and tossing it away," says Rebecca Maxwell, owner of Two One Thrift.
Fast fashion has made headlines lately due to the industry's environmental impacts. Because of this, many consumers and designers have opted to buy used clothes and some, like Maxwell, have made a living from remaking them into something more.
"People find a lot more joy in it and it's something to look forward to," says Maxwell. "Shopping gives you instant serotonin and the aspect of spending less on that and having to search for it is such a different concept. Honestly, I'm addicted to it."
Ready to find your next fashion treasure? These 14 Greater Cleveland shops and brands can help you find everything you never knew you needed.
The Bomb Shelter
Why we love it: This Akron-based business brings hundreds of vintage finds arranged into vignettes offering furniture, clothes and records, home decor, and more that owner Kevin Royer says you have to experience for yourself. "We're trying to give things new life that may not have any if they were in the wrong environment," he says. Check this out: Vintage items that might have made an appearance on the silver screen, as Royer has lent out inventory for local movie productions on occasion. 923 Bank St., Akron, 330-258-0088, thebombshelterstore.com

Cache Resale Shop
Why we love it: Shop for a cause: Hosted weekly on Tuesdays at the Church of the Covenant, this volunteer-run pop-up offers home and clothing that have been donated and proceeds support church programs. Check this out: How often do you get the chance to help out where you shop? You can volunteer at Cache by assisting customers, sorting donations and checking out customer purchases. 11205 Euclid Ave., Cleveland, 216-421-0482, covenantweb.org

Cleveland Furniture Bank
Why we love it: Shop for the cause of "furnishing hope" at this store, where the proceeds help displaced families and donations help make the houses of once-homeless individuals into a place that is comfortable and ready to call home. Check this out: Beyond the furniture, there's a great clothing selection, packed with vintage finds. 13360 Smith Road, Middleburg Heights, 216-220-8789, clevelandfurniturebank.org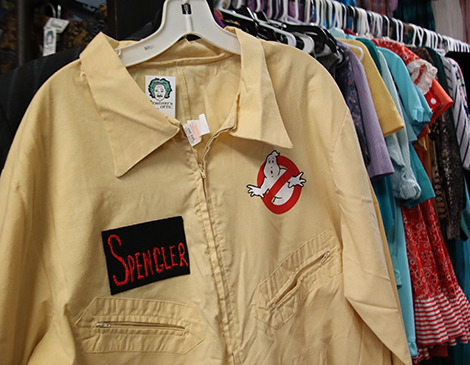 Einstein's Attic
Why we love it: Every thrift shop has an eclectic mixture of goods that were spared from being tossed, but this Kent storefront has a collection suited for all shoppers with funky pottery, colorful kitchen needs and vintage finds. Check this out: In the market for a wacky costume? Look no further than this quirky collection. 1677 E. Main St., Kent,
330-346-0673, facebook.com/einsteinsattickent
FriskMeGood
Why we love it: The sustainability-focused brand was born in Cleveland through CEO Cierra Boyd. "My focus at this point is circularity; making sure those items never end up in the landfill." Check this out: Her sneaker corsets, seen on celebrities like Cardi B and a contestant on RuPaul's Drag
Race. friskmegood.com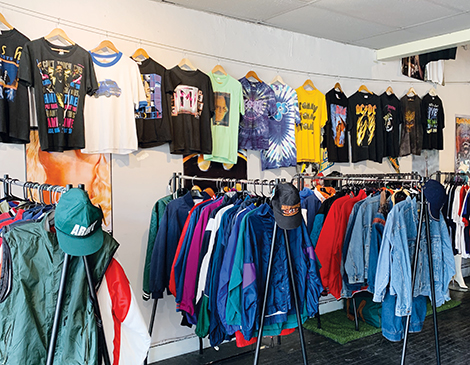 Highland Throwbacks
Why we love it: This spot never offers the same thing twice; hats, sweaters and shirts that are pre-loved and boast your favorite pop culture references. Check this out: Find college apparel for institutions both in the Land and across the pond including jerseys, tees, crewnecks and windbreakers. Various locations, highlandthrowbacks.com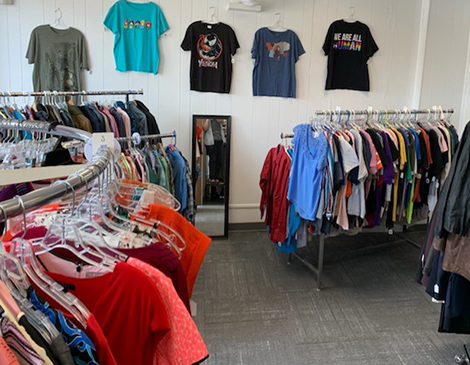 Margie's Closet
Why we love it: This not-for-profit shop uses its sales of 100% donated goods to support Margie's Hope, an organization dedicated to bettering the lives of LGBTQ+ community members. Check this out: This ultra-inclusive store makes sure the needs of all shoppers are met, providing those who qualify with Margie's Closet vouchers for monetary assistance. 1384 W. 177 St., Lakewood, 440-857-0706, margieshope.org
Old's Cool Vintage and Thrift
Why we love it: New isn't always better, and Nicole Hennicke believes it so much that she is making a name for herself with her brand. "It's all about being smart with the environment and using items over and making them cool again," says Hennicke. "I'd rather have things that are going to stand out versus something everybody else has." Check this out: The business started as a means of flipping home decor, and those are some of the most popular pieces. Hennicke turns vintage plates into comedic kitchen pieces she dubs "Punny Plates." Located inside City Goods, 1442 W. 28 St., Cleveland, facebook.com/oldscoolvintagethrift
Rad Olive
Why we love it: Jodie Bromberg crafts bleach-dyed flannels combined with cut-up T-shirts to make new styles perfect for sports fans, music junkies and comic book readers. Check this out: "I have the flannels bleached, and then people can pick their own instead of hoping they find one in their size," says Bromberg. Located inside City Goods; 1442 W. 28 St., Cleveland, facebook.com/radoliveclothing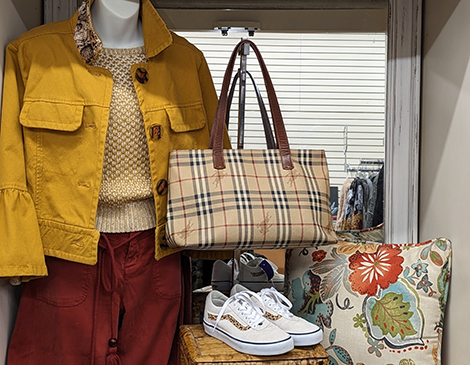 River Trading Company
Why we love it: Clean out your closet and get cash in return at this shop, accepting high quality fashion pieces. Those who sell items to the store can save a little on their next purchase. Check this out: Keep tabs on the website for which items the store is in need of, giving you a better chance to sell those pieces and get them out of your closet. 19347 Detroit Road, Rocky River, 440-356-4747, rockyrivertradingcompany.com
Reclamation
Why we love it: Know you'll get the best from this hand-picked lineup of furniture, clothing, home decor and more. The selection is available at the Shaker Heights location and also its pop-up spots. Check this out: Vintage, oversize crewnecks are all the rage. 16704 Chagrin Blvd., Shaker Heights, 216-999-7508, facebook.com/shop.reclamation16704
Seconds City
Why we love it: Shopping here is a bargain every time. The prices on every item drop daily by 1%, leading to some major markdowns. Shoppers have even been known to leave with their items for free. Check this out: Giving back to this Parma Heights secondhand staple is versatile; consign your items for cash or donate and receive a tax deduction. Moving? Consign your entire house instead of an estate sale! 6530 Pearl Road, Parma Heights, 440-845-3000, secondscity.com
Sweet Lorain
Why we love it: This funky, lime-green local stop in Ohio City has been in operation for nearly 30 years. The store has even been voted among the top five vintage stores in America in Detail magazine for its retro mix of furniture, kitchenware, hats, clothes and more. Check this out: Trying to modernize or clean out your house? Sell vintage items to the shop for them to be a part of the displays that cover more than 8,000 square feet of space. 7105 Lorain Ave., Cleveland, 216-281-1959, sweetlorain.com
Two One Thrift
Why we love it: Known across the city for "turning one fan's trash into another fan's treasure," Euclid-native Rebecca Maxwell makes unique gear for not just fans of the Cleveland Cavaliers, Guardians and Browns, but for professional teams across the nation. She also documents her creative process and small business journey on TikTok and Twitter. Check this out: "Recently I've been doing fringe jackets and I have become obsessed with them," she says. "I feel like it's the most transformation of a piece I've gotten." twoonethrift.shop
Get ahead of the weekend by signing up for our free weekly "In the CLE" newsletter — your guide to fun throughout The Land. Arriving in your inbox every Wednesday, this weekend to-do list fills you in on everything from concerts to museum exhibits — and more. Click here to subscribe.