As the Cleveland Cavaliers in-house announcer for the last 15 seasons, Nicole Marcellino has become an expert in creating a comfy-meets-cool look — think sporty tees with on-trend jeans and fun accessories.
So many fans asked her about her fresh looks each game night, that Marcellino started Bleu Chic Boutique as an online store in 2017.
Business boomed until soon, her growing inventory of women's clothing and accessories started taking over the first floor of her Strongsville home. Eventually her husband, Michael, suggested Marcellino look for a brick-and-mortar space. She opened the doors to a 1,000-square-foot space in Strongsville in November 2019.
"I have these customers that I feel like I know and truthfully, for three years, I only knew them online," she says. "So now when they come into the store, they have literally become like an extension of my family."
The shop has a modern vibe, with a sitting area complete with inviting blue, plush chairs, classic Sputnik chandeliers and fluffy, faux-sheepskin ottomans.
Tables are stocked with rotating finds such as leopard print booties by Qupid ($58), lacy bralettes ($28) and colorful stud earrings by Dixie Bliss ($10). Racks display cozy sweaters by Hailey & Co ($40), a line of elevated T-shirts by Another Love ($34.50) and high-rise jeans by Flying Monkey ($74.50), which you'll often find Marcellino wearing on-court during Cavs games.
"It's great clothing for busy women on-the-go," says Marcellino. "We like to provide stuff that you can wear going to Target or going on a date night: comfy-casual, but on-trend."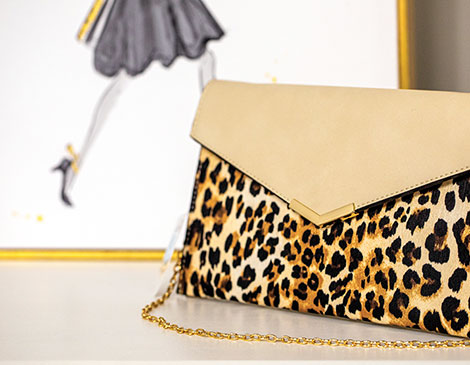 Get Catty: You don't have to look like a cheetah to try out the animal print trend, says Nicole Marcellino. "Start slowly," she advises. "Start off with an accessory paired with a simple black V-neck tee." Once you're comfortable, you can go bigger, like a leopard-print dress.

Color Theory: Elevate a monochromatic black outfit by adding a pop of color with a cute necklace, belt or shoes. "Sticking to the trending colors of the season is a great way to update that black look," says Marcellino
When You Go: Bleu Chic Boutique, 11115 Prospect Road, Strongsville, 440-638-4000, bleu-chic.com

Nearby Find: Shop for stylish art, jewelry and artisan-made gifts at Architectural Justice Gallery and Cafe. 13593 Pearl Road, Strongsville, 440-268-8646, architecturaljustice.com