It's hard to believe that Meg Ratner hasn't done this before.
The first-time business owner's clothing boutique for children and teens, Double Rainbow, is so chic even moms want in on its style. "A lot of my teen clothing has ended up in the hands of moms," Ratner laughs.
The shop's aesthetic — Paris meets Hong Kong meets New York — feels fresh and trendy.
"I try to have a blend of really special pieces that are from Europe mixed in with a little funk from New York, and then I like the quirkiness of Japanese fashion and accessories," she says of the store, which opened in September in the new Van Aken District in Shaker Heights.
Drawing inspiration from the different personalities and styles of her three daughters, Ratner stocks the store with a variety of fashions for newborns through teens (mostly pieces for girls, although a small selection of newborn boy attire is available). Many of the brands are hard-to-find European labels as unique in the states as the store's namesake.
"I wanted to carry brands you couldn't find anywhere else," she says.
The lineup includes T-shirts proclaiming "Brave Like Malala" ($32) to racks of special occasion wear such as gold lame pleated skirts ($66) and jumpsuits featuring sequined shooting stars ($114).
Behind the sales counter is a customer favorite: a heat press used to decorate finds with an assortment of trendy patches, including sequin hearts and embroidered pineapples ($2-$6 per patch). The store even hosts "denim events," essentially parties where kids can adorn their jackets and jeans.
"I wanted to have something in the store that was more of a hands-on experience and a way for people to be a little creative," Ratner says.
Item We Love: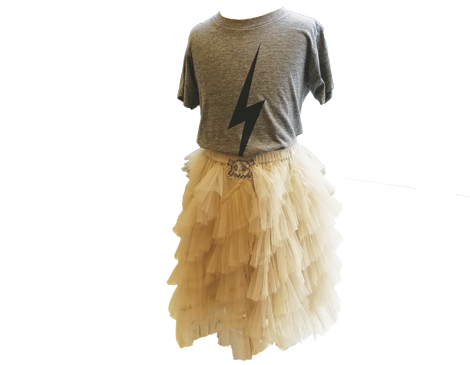 A pink, tulle tutu by Australian line Tutu Du Monde ($88), emblazoned with a sequined and beaded skull and crossbones, is the perfect juxtaposition of sweet and edgy. Meg Ratner suggests pairing it with a T-shirt to tone down the formality.

When You Go: Double Rainbow 3425 Tuttle Road, Shaker Heights, 216-912-8404, shopdoublerainbow.com