With soothing pastel yellow walls and a sparkly crystal chandelier, Willoughby's A Bit of Skirt feels like you've entered your dream closet. Accented with large Persian rugs and dainty metal tables that gleam with jewelry, the 800-square-foot space invites you to stay and try on everything.
Former fashion designer and Mentor native Amber Justice opened the stylish boutique in June 2013 after spending the majority of her career on the West Coast. The 33-year-old fell in love with the effortless fashion around her and brings a similar vibe to the neat racks of flowy and versatile bohemian chic pieces that fill the store.
"California is ahead of the fashion curve. It's everyday style," she says of the labels she handpicks solely from the West Coast. "It's a mix between '60s and '70s with a new age twist."
Take the Aphrodite wide leg denim pants ($48-$63). Pair the jeans with a tucked-in loose top for an easy, yet put-together look. Or sport chunky knit sweaters from Fate or POL ($40-$75), often with an open-back detail, arm slits or side-zippered accents to amp up the staple piece.
Justice loves that these breezy styles works for all ages. "When I opened the store, I had my mom, grandma and sister come," she says. "All three of them walked through to see if they could find things they could wear."
When you do find something you want here, don't pass it up. Chances are you won't get another opportunity to snag the Lovestitch bell-sleeved top ($59) or comfy, thick flannel ($27-$35) again.
"We only sell six of each item, so if we carry it once — never again," Justice explains. "Customers fall in love with it, and they know they're one of the only ones with it."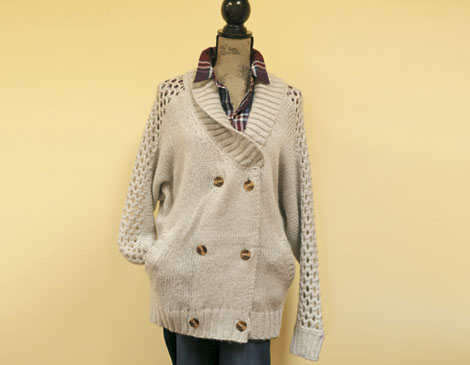 Sales Call: During the Jan. 28 Clear My Closet sale, you'll find clothes that have small or tiny defects for up to 80 percent off. "I've been saving these clothes for 2 1/2 years," says Justice. "It's any piece that I have refused to put on the floor. It could have a tiny black dot or a little snag. Most of the stuff you could fix really easily or no one would even notice."
Cover Girl: Don't be afraid to layer up this winter. You can pair a thinner sweater over a flannel for a bulk-free look. Just add dark denim or thick leggings with boots. "No woman wants to look three times their size," Justice explains.
When You Go: A Bit of Skirt 38038 Second St., Willoughby, 586-567-5478
Nearby Find: Rock a "Cleveland That I Love" T-shirt from GV Art and Design to the next Cavs home game. 38038 Second St., Willoughby, 440-525-5240, gvartwork.com