Most customers at aware marketplace start out by oohing and aahing over the delicate accessories and gifts nestled into the tiny Arcade boutique. But once they really look at the items, they notice there's something special happening here.
For 25-year-old owner Rachel Kayza, it's all about offering Clevelanders cruelty-free, organic and vegan products.
"Once I started learning more about how food and beauty products are made, I tried to make healthier choices," she says.
But she soon realized that shopping for safe products was half the battle. "I sat back and thought, I can't find these high quality things unless I'm online searching through a bunch of different stores," Kayza says.
Her 600-square-foot storefront eliminates that stress by curating a selection of beauty items, men's and women's clothing, baby products and even home decor that all meet her quality and safety standards.
Floating white shelves house products such as Habit nail polishes ($18). Made with myrrh extract, the natural, nail-strengthening formula is a PETA-certified vegan product that leaves out harsh chemicals such as formaldehyde and epoxy resin found in most nail polishes. Customers can also find treasures such as Groceries Apparel's Vail Long Sleeve ($78) made with organic cotton.
"Everything I carry has a purpose and I know every item's backstory," she says. "That just adds to the experience of helping people realize the benefits of being cruelty-free."

An Item We Love
These rustic flags ($85), ripped and sewn by hand by a company in Austin, Texas, add some CLE pride to any room. Made with all-natural cotton utility duck canvas, these are both durable and visually appealing.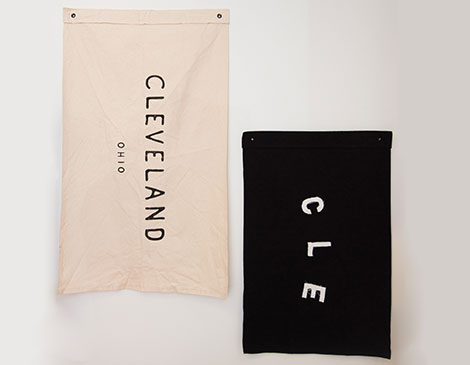 When You Go: 420 Superior Ave. E, Suite 159, Cleveland, awaremarketplace.com

Nearby Find: Find gifts such as Steiff Teddy Bears at Daydreams & Tea Through the Looking Glass. 401 Euclid Ave., Cleveland, 330-571-5828, daydreamsandteathroughthelookingglass.com