In 2015, Shelley Turk and Adam Taseff were rolling along with Cuyahoga Collective, their shop-on-wheels, selling prints of vintage maps and T-shirts with cool subtle nods to Cleveland pride that they created along with items from other artists they love.

With success at local festivals and events such as the Cleveland Flea and Lakewood Arts Festival, the duo decided to open a brick-and-mortar space last year that extended their idea of featuring designers and companies that make simple and modern home decor products, apparel and accessories.
"The idea of the collective is that we don't create everything," says Taseff. "People can grab a bag made by someone from down the street, and they can pair it with one of our shirts or one of our prints and they can have a collective work."
Inside the 900-square-foot store, treasure seekers can discover an array of goodies such as Michigan-based Cellar Door Bath Supply Co. candles ($18) and soaps ($9) in fall scents, knotted leather state bracelets from Freedom Crafters and Grand Trunk hammocks ($74.99-$79.99).
Artfully displayed throughout the shop are Cuyahoga Collective's minimalist prints and apparel such as the best-selling Great Lakes map ($44.99), just one of many made in-house with archival ink that won't fade, or the Cuyahoga Valley National Park T-shirt ($25) with a classic, uncluttered design of deer antlers and the words "Cuyahoga Valley National Park."

"Everything is simple, clean and people can connect to the words," says Taseff.
From T-shirts touting a love of fish fries ($25) to a vintage-inspired Ohio Flag hat ($25), Turk and Taseff's love for where they live clearly inspires their work.
"We are pro-Ohio and we are pro-Cleveland," says Taseff, "but we are not in-your-face Cleveland."


An Item We Love: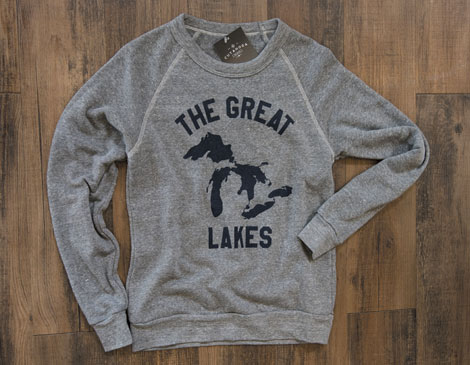 Get cozy in this Great Lakes sweatshirt ($40) with long raglan sleeves. It will quickly become a wardrobe staple: Wear it alone or layer with a flannel. "It represents where we are from without being over the top," Taseff says.
When You Go: 15701 Madison Ave., Lakewood, 216-801-4506, cuyahogacollective.com

Nearby Find: Go green at the Lakewood Plant Co., where you'll find everything from cacti to an Areca palm tree. 15612 Detroit Ave., Lakewood, 216-860-4020, lakewoodplantcompany.com