Everything gets a second chance at Trunk Collective.
From the hip price tags made of denim swatches and the register counter built from a simple workbench and pallets to the secondhand men's and women's clothes, the Gordon Square Arts District shop feels as sustainable as it does authentically cool. Driftwood tables with neatly folded T-shirts and walls of gray, black and reclaimed wood dress up the rad factor.
Trunk is even a refresh for owner Jason Estremera, who studied fashion and merchandising at Northern Illinois University before working in finance and business development.
"It was a dream come true," he says of opening the store in fall 2015. "But like 13 years later."
Along one wall, men's and women's jeans from places such as Express or Banana Republic ($11.99) casually hang on a thick nautical-looking rope with capri pants ($9.99). Across the store, find hipster-favorite houndstooth blazers (around $12.99) that pair neatly with the funky ties nearby ($7.99), and a rack of brightly colored women's tank tops ($14.99) and dresses ($11-$13).
Estremera has partnered with Kira Heely, who ran online-only secondhand shop CLEThreads, to buff up Trunk's women's offerings by bringing in new wholesale items for limited runs. This winter, Estremera sold T-shirts, joggers, hoodies, button-downs and jackets from Quicksilver. The casual pieces made great complements to some of Trunk's wilder offerings.
"I'm just putting the clothes into the store," Estremera says. "It's really you coming in and making it a great outfit."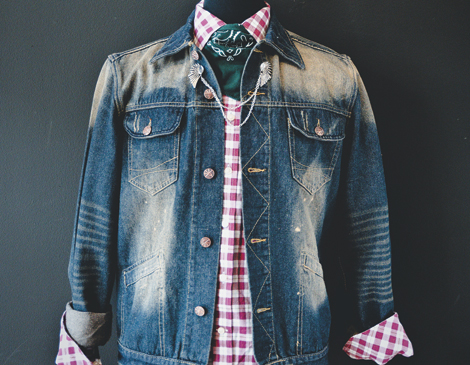 While secondhand clothes may make you squeamish, Trunk Collective's threads are all washed and ironed before being sold in the store. Estremera says it's also important to try on anything that catches your eye, because it may have been altered in the past. "Sizing through the ages is so weird," he says. "When the '90s come around, you saw vanity sizing coming in where a small might be more of a medium."

Nearby find: Discover vintage and modern gifts from soaps and lighting to plants and home decor at Land of Plenty. 6511 Detroit Ave., Cleveland, 216-350-6488, landofplentyshop.com
When You Go: Trunk Collective 6515 Detroit Ave., Cleveland, 216-586-4749, trunkcleveland.com