While most of her friends are hitting the mall, posting selfies on social media or binging on Grey's Anatomy, 15-year-old Gwendolyn Carson can usually be found in her Hudson boutique, Gwendolyn Elizabeth, brainstorming ideas for new scents of lotions, soaps, body mists, scrubs and candles with her parents.
"I try to be here as much as I can," says Carson. "It's fun to just be able to make anything, have these ideas and make them come to life."
Last summer, the Hathaway Brown School student noticed there wasn't a bath and body product store in her hometown. Her parents offered to help and made an investment in their daughter's vision, opening the 1,800-square-foot store in November. The space is lined with glass bottles from floor to ceiling making it feel like you've stepped into an old apothecary.
Rows of handcrafted pillar candles in various sizes, shapes and scents such as Grandpa Gus's Fireplace (small $14.95) and Farmhouse Apple Pie (wide $21.50) are nestled away in one room. The lotion room is filled with hand and body moisturizers in fragrant options such as Cherry Blossom ($12.95) and the more luxurious body whips such as Grapefruit Distraction ($15.95). The soap room shows off Carson's playful side with fun takes such as Doughnut Soaps ($12.95) and the Cheesecake Soap ($11.95) — a 5-ounce creation served on a glass plate.
"You have to sit there and keep turning the soap over and over," Carson says of the process. "[But] it's fun to make something like soap look so real."
The teenager also lets customers get in on the action with a soap, lotion and perfume bar where guests can make their own creation for $30.
"There are so many possible flavors," she says. "When you do-it-yourself, you can make it however you want, and it makes it more special to you." 126 W. Streetsboro St., Suite 5, Hudson, 330-342-9137, gwendolynelizabeth.com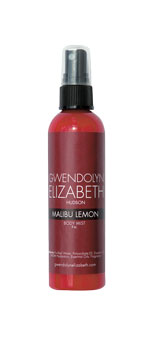 Bright Side
Carson swears by the Malibu Lemon Body Mist ($10.95) and uses it every day. Spray on some of this bright scent before you leave the house for a fragrance that lasts all day.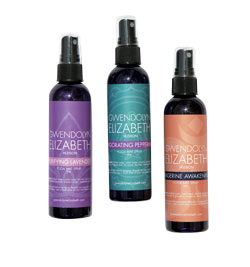 Perk Up
Spritz the Yoga Spray ($11.95) over your mat after a long session. Not only will its antibacterial properties help kill germs, the sweet fragrance of peppermint, grapefruit, lavender and lemon will keep your gym bag fresh.