Sandy Buffie finds beauty in everything. Refusing to let anything go to waste, the 57-year-old artist and jewelry-maker crafts whimsical pieces from recycled materials such as hubcaps, spark plugs, contact lens cases and other objects the average person wouldn't think twice about throwing out.
"I don't want it to look like it's recycled materials," says Buffie. "I love when someone picks something up that they're attracted to, and I get to tell them what it is."
Her 5,000-square-foot showroom and studio space in 5th Street Arcades is filled with her creations from oil and ink paintings to sculptures of LeBron James and Donald Trump made of lint.
But the real draw is Buffie's collection of more than 650 pieces of wearable art — many made with copper from throughout the country. Grandad's Suspenders ($140), a large statement necklace, uses tarnished copper from a junkyard in California and a piece of her grandfather's old leather suspenders, while her signature cuffs ($125-$150) are woven with scraps of wallpaper samples and 80-year-old weathered copper from Northeast Pennsylvania.
Copper triangle earrings ($40) feature Buffie's favorite version of the metal — the kind found in Cleveland. Because of the city's harsh winters, the patina boasts a color unlike any other region. "It's such a vibrant green from the salt, wind and cold," she says. "You just can't find it anywhere else."
The back of Buffie's shop, set up with tool stations and drawers filled with scrap metal, beads and knickknacks, plays host to her Girl's Night Out events ($50 per person) where groups of three or more are invited to hone their own skills in basic jewelry-making or painting techniques.
"None of the activities require artistic ability," Buffie says. "It's really about fun, conversation and getting women to relax and inspired to do something with their hands."
530 Euclid Ave., Suite 43, Cleveland, 704-953-7287, sandybuffie.com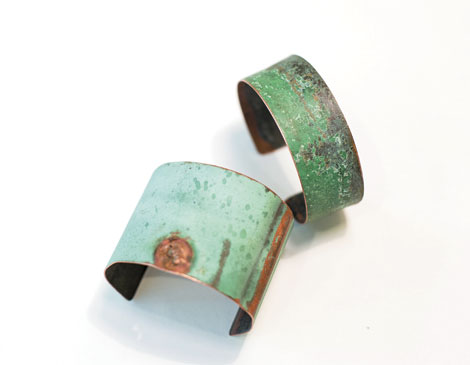 Perfect Patina: This Church Cuff ($60) from Pennsylvania has a bright and beautiful green hue due to intense climate changes, rain and snow.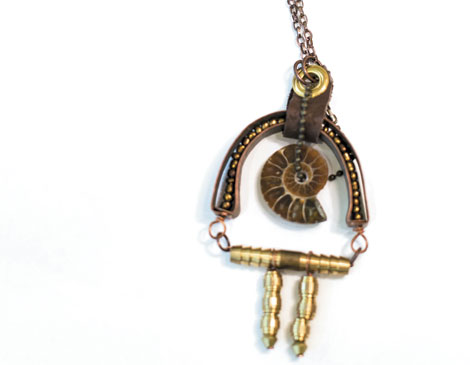 Family Fossil: Buffie scooped up this 30 million-year-old ammonite ($240) in Sedona, Arizona. She modeled the statement piece as a shrine, surrounding the shell with pieces from her grandfather's toolshed and beads from her grandmother's jewelry.