The local shopping scene is alive and well in Northeast Ohio, but in Medina, some might argue it's the lifestyle of the city. Now, thanks to the inception of The Common Ground, that way of life continues to grow.
Located inside the old Smucker's Pickle plant on State Road, the space is home to 52 makers who take up permanent residence and sell a variety of goods, thanks to owner Kylie Brock and her business partner.
"We have a good diversity of everything," says Brock. "A lot of them are small business handmade makers. We have a lot of vintage and antique sellers, a handful of local artists and painters, a few boutique shops for clothing and accessories and décor."
In addition, there is a refill shop, where Brock says she sees people coming back to each weekend to get the things they need.
"That's what we envisioned when we started this," she says. "Having people come every weekend to stock up on a product, or flowers or anything that could need weekly is what we're trying to fill the space with, but also a place to come and browse and find gifts or that special something for yourself.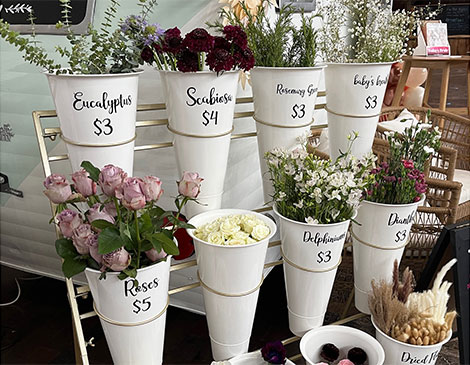 Bringing the local shopping scene to other parts of the city sparked the idea: spreading the love of purchasing local goods beyond the square into the rest of Medina.
"Instead of putting another industrial plant in, we wanted to see if we could do something more with it. It needed a lot of love," says Brock. "We saw a great vision and thought it'd be awesome to be able to turn this space into a community for small business, to be able to support, shop and network."
The desire to enhance small business and help them thrive is almost an innate need for Brock, having come from a family full of makers and entrepreneurs.
"We are essentially a small business helping small businesses," she says. "We definitely wanted to keep that realm the same throughout the whole building and thought it would be a great addition to Medina."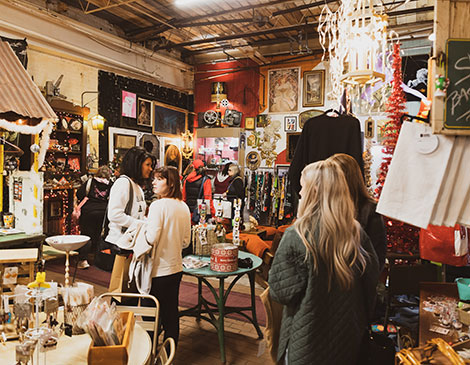 Monthly pop-up markets invite makers to set up a table in the space, making the repurposed factory a place where creativity is always in bloom.
The next opportunity to check out a pop-up is for the Galentine's Gala on Feb. 11, featuring around 50 shopping opportunities from local vendors along with the permanent storefronts, Valentine's Day treats and the grand opening of the on-site market bar where customers can grab a drink to sip while they browse.
Also set to return is the summer Flea Fest that has been hosted for the last few years in the parking lot and brought in makers from all over the area. Many of those early Flea Fest makers now have a permanent storefront in The Common Ground.
The space is only growing from its January 6 opening, and Brock plans to make it a place people can stay in all day. Currently, the remade plant hosts a permanent coffee shop along with the vendors, but future plans include inserting a rock-climbing center, axe throwing and creating a space to host concerts.
"It's a really tight knit community," says Brock. "Medina is a great community for people wanting to support those small businesses. The atmosphere is exciting."