While working at a contemporary art museum in Colorado seven years ago, Leah Darling realized she needed a change. She quit her job but wasn't sure what to do next. A Craigslist ad seeking an experienced upholsterer piqued her interest. While she had dabbled in sewing and made her own prom dress out of black velvet and champagne pink ostrich feathers, she had never reupholstered furniture. She responded to the ad and asked for an apprenticeship. After three years, she moved back to Chardon, where she launched her boutique upholstery shop Beving & Dall in 2014. "What inspires me a lot about this industry is the craft behind it and how there's different Old World techniques that you can apply," she says.

Full Frame: Darling prides herself on being able to bring even the most deteriorated pieces back to life. Having been trained to rebuild from the frame out, there's not much she can't fix. "A client of mine brought in her grandfather's chair — it was in total disrepair," Darling says. "We stripped it all the way down to the frame, repaired the frame and re-glued the joints and then built it back."

Work It: When Darling first began reupholstering, she would often pick pieces from flea markets and antique stores to rebuild and sell. But after realizing there were few places offering reupholstering services, she transitioned to client and commercial work only. "I probably had maybe five clients in my first year," she says. "Now I rarely have downtime between projects."

Tick Tock: An average upholsterer can fix a chair in a day or two, but Darling takes her time. Redoing anything she can, Darling makes sure springs and webbing are sturdy and historically accurate if it is an antique or an heirloom. "To totally rebuild a chair takes me around four days," Darling says. "I really take the time to get to know the client and the story behind the piece."

Travel Bug: Darling likes to pull inspiration from some of her travel destinations for items such as her leather sheepskin pillows ($129-$170). The browns and grays with white poufs at the ends look like the colors of the Colorado mountains. "They are more neutral pieces," she says. "But they still have that one-of-a-kind feel."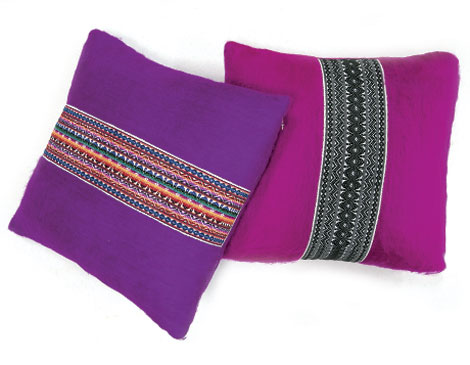 Using alpaca fur that's been dyed with fresh fruits to produce vibrant colors such as magenta and orange, these alpaca pillows ($69) were inspired by Darling's travels to Guatemala.