Rachel Vadaj has never shied away from the spotlight. From her first days as a varsity cheerleader to getting a chance to train with the Radio City Rockettes in New York City for three years, her eye has always been on center stage. That's why years later, it was only a natural step for her to find an equal love for a job in broadcasting.
"It was one of the first days of school as an eighth grader and I saw the freshman class get to do the morning announcements," she says. "That was a moment when I said, 'That's something I know I can do.'"
Now, Vadaj finds joy while speaking on the air as Cleveland 19 News traffic reporter about all things Cleveland, whether it's updating drivers about their commute or filming commercial segments for Cleveland Now.
"When I'm on TV, it gives me the same feeling as when I was dancing on stage," she says. We talked to Vadaj about maintaining a style that exudes and strengthens confidence while making sure she shines in the spotlight.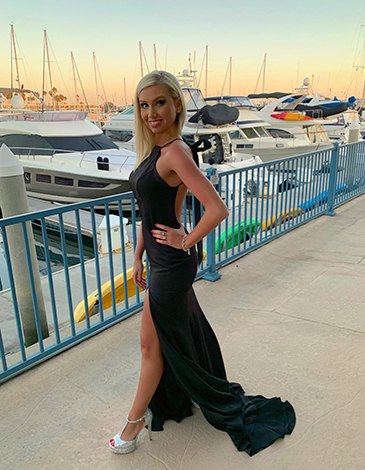 Timeless Trends
When describing her own style, Vadaj turns to some of her inspirations, starting with Coco Chanel's wise words. "My favorite quote from her is 'A girl has to be two things: classy and fabulous,'" says Vadaj. She applies that philosophy by making trends new and old work for her. If you look in Vadaj's closet, it is full of classic pieces that can easily work with something more of the moment. That's the "trendy but timeless" motto Vadaj goes by when putting together an outfit, such as a little black dress that stays in her closet, a monogram bag that always is on her shoulder or a simple black ballgown with a slit that she's excited to wear again when formal events return. It's easy to pull looks together so that no matter the season or the occasion an item can be switched out with accessories like a pair of wedge heels some over-the-knee-boots when the temperature goes down.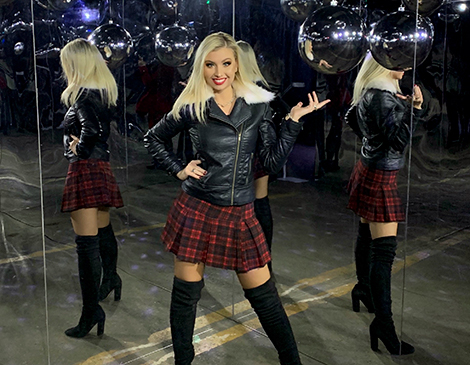 Style Role Models
Vadaj's favorite accessory to add to each outfit is a dose of confidence, which she partly learned from her mother who worked in the fashion industry as a visual merchandiser for May Co. and Higbee's. "She was the person who taught me everything I know about what you put on your body to get across the message that you want to feel the way that you want to," she says. Vadaj builds on this philosophy by turning to structured dresses and solid colors as an on-air reporter, as well as pulling style inspiration from other confident style makers such as Kate Middleton and Princess Diana when pulling together feminine, yet fierce looks for work.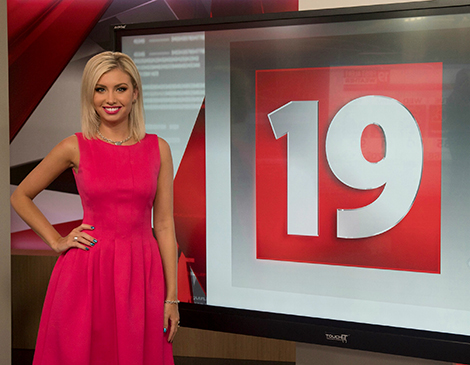 Pink Is Powerful
For her first day on the air at Cleveland 19 News, Vadaj wore a bright pink Calvin Klein dress. While most of us might opt for a neutral style for the first day of work, Vadaj's goal with her daily looks is not only comfort but also making a strong statement that makes her feel like her truest self. Pulling once again from her mother's fashion philosophy, she still reminds herself that personal style can be both feminine and fierce, which in the winter translates into a pair of leather boots for a night out, or a rotation of skirts and dresses during the summer. "When you know that you are wearing something that makes you feel good, those feelings are going to glow around and radiate confidence," says Vadaj.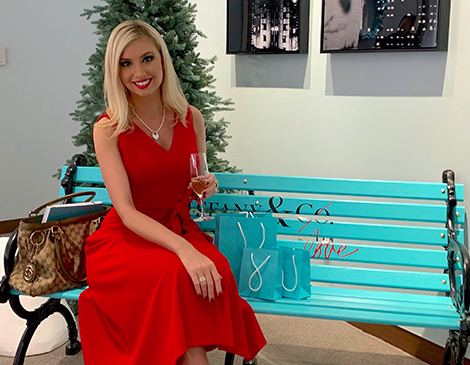 Breakfast At Rachel's
Vadaj's bling of choice is Tiffany & Co. jewelry. Not only do the pieces reflect her classic-inspired looks — her favorites being from the Return to Tiffany Heart collection — each piece signifies an important moment in her life, such as a matching set she got after dancing at Radio City for the first time. As for every day pieces today, she opts for a simple necklace, bracelet, earrings and a ring from the same collection, which she gets recognized for wearing all the time, even with a mask on. "My mom taught me how it's the quality over quantity and finding something that you may have to invest in a little more at that time," she says. "You will surely get your money's worth because that quality is going to go over into the quantity of how many times you can wear it and still look beautiful."
Local Love
Vadaj discovered Angie Hemly's shop Blank Boutique in Concord Township after researching how different boutiques in Cleveland are reacting to the pandemic. Along with purchasing Blank Boutique's shirts and dresses that have a cowl neck that doubles as a face mask, Vadaj continues to return to the shop for more everyday outfit ideas. "[The owner] has helped me find pieces that I could wear both on-air and going out," she says. "It's fun, because I get to take a little more risk than what you would see in the traditional Calvin Klein cuts and prints."