Emily Roggenburk scans the racks at the Savers thrift store in Rocky River. She hones in on a denim jacket with an off-white sherpa lining.
"That's cute," she says, plucking it from the rack. "I'm definitely going to have to get that."
A few days later, the jacket — now with "Cleveland Baby" printed on the back — appears on her website as a new addition to her One of a Kind apparel line. It won't be there long though — the line of revamped secondhand clothing boasting slogans such as "The Land" and "Cleveland AF" sells out fast thanks to her devoted social media followers, who snap things up as soon as she posts them.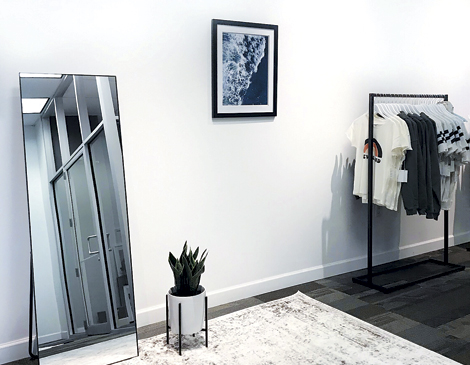 But it wasn't her knack for thrifting that garnered attention. In 2016, the Indiana native was working in product development at American Greetings after graduating from Indiana University, where she studied apparel merchandising. She took up photography as a hobby, teaching herself to take portraits for friends and family.
Stuck at work during the 2016 Cavs championship parade, she ditched the office on a whim, booked a helicopter and snapped some aerial shots of the crowds downtown. She posted prints of her photos for sale online and immediately sold so many that she decided to quit her job. "I wanted to be doing something with just a little bit more creativity that I could take some ownership over," she says.
Soon, she added Cleveland-themed apparel she designed that paid homage to her love of The Land. The clothes sold well, but Roggenburk wanted to offer something different, drawing on her love of hunting for wallet-friendly finds at thrift stores.
She headed to local resale shops, digging through racks to unearth items that caught her eye. She put her own spin on them by moving pockets or printing slogans on the back. Last spring, the One of a Kind apparel line was born. With business booming online and at local pop-up shops, she opened a retail store and photo gallery in Crocker Park in December.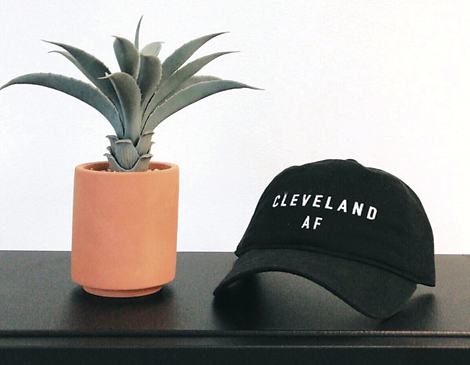 With the One of a Kind apparel line, it's not just each item's uniqueness that appeals to her: Shopping secondhand is good for the planet. "I studied fashion and know how impactful it is to reuse things versus always buying new, fast fashion," she says. "It can get so terrible for the environment."
In fact, the Environmental Protection Agency reports more than 15 million tons of textile waste is created each year in the U.S. alone, a figure Roggenburk raises awareness about on her site and social media accounts.
The line consists mainly of denim jackets, cozy sweaters and color-blocked tees, often in brown and orange or navy and red. Roggenburk hand-selects each piece during a weekly thrifting trip, choosing around five new items to add to the line. She cleans them, adds patches and prints, and posts them to her website, usually on the same day as she buys them.
The response has been overwhelming, she says, and not just in sales. Her fans have been inspired to take up thrift shopping, too.
"People see that I'm trying to help the environment by doing this," she says. "And they say, 'Oh, we're alike. Why wouldn't I also go thrift?' "

Get Lucky: Emily Roggenburk shares some tips for finding a needle in the secondhand haystack.
Have a Plan.
If you've been wanting a denim jacket, have that in mind so you can go right there," advises Roggenburk. "It narrows it down a little bit." But be flexible, she adds. "Sometimes you find something that maybe you didn't plan on buying but you can't pass up."
Ignore Sizing.
"Don't pay super-close attention to size," says Roggenburk. "Sizes typically vary by brand and have a tendency to change over time. I would look at the piece first, try it on and see how the fit is versus looking at the size."
Choose Carefully.
"If you wouldn't buy it full price, don't buy it just because it's $4 at the thrift store," she says. "You don't want to overcrowd your closet and be unhappy with what's there."