Susan Hazel Rich believes there is nothing more beautiful than a pen hitting paper. Growing up, she often anticipated creating the thank-you note more than receiving the present. In 2015, Rich used that inner doodlebug to create Hazelmade, a collection of home and paper goods that includes postcards, thank-you notes, tea towels, coasters and more, all embellished with her sketches and patterns. "I like to create functional artwork," Rich says. "Things that can be used but also be beautiful at the same time."

Root Cause: Rich, who likes to let ideas come to her naturally, scribbles on everything from restaurant napkins to the sketchbook she keeps on her coffee table. Take her artichoke and olive tea towel ($16). Inspiration hit when she saw the undervalued beauty in the shape of the vegetables. "I rarely start by thinking about creating a product," Rich says. "I let the artwork just flow for me and that tells me what product it would be best as."

Color Girl: Recent trips to Morocco and Portugal have encouraged the 35-year-old to use more light peaches, dusty oranges, emerald greens and red oranges. "The color palettes there were all new to me," she says. "Traveling or at home, I take these inspirations, combine them with others and create something unique to my own work."

Family Ties: Rich and her husband never knew what to cook for dinner. Her solution? The Kitchen Utensil Notepad ($10). Each of the 50 sheets contains a weekly calendar with space to write what's for dinner and a shopping list. "I made that for us," she says. "It helps us have better communication, and I wanted to share that with others because it's something simple that has so much purpose to it."

Flower Child: Her home garden, full of peonies and roses, plants the seeds for new items. The blooms have generated products such as her purple, navy and mint thank-you card ($4) covered in light blue and purple daisies. "If my hand was just going and my brain wasn't thinking, I'd be drawing flowers and leaves," she says. "I just love those flowing, organic lines."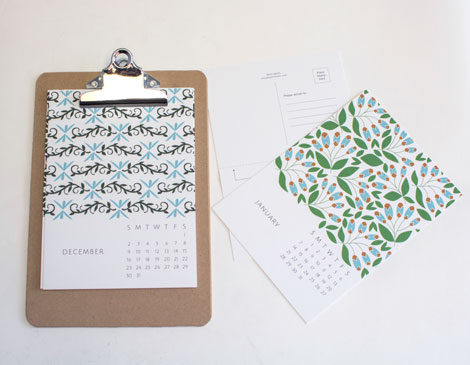 Keep in touch with your faraway friend with this postcard calendar ($18). Quirky, fun designs such as June's red and blue abstract florals are displayed above the dates. But at the end of the month, all you have to do is cut the page in half, write a message and put it in the mail.
Find It: Buy Hazelmade at Appletree Books, Banyan Tree, Cuyahoga Collective, Fount, Merchant's Mrkt and Urban Orchid.