What makes a Cleveland brand? It could be a lot of things — the material, the logo, the location. For Legend Headwear, it's their roots, which trace back to the Terminal Tower in the 1980s. The hat company came from owner Jacob Miller's parents, Abe and Barb, who started a newspaper and tobacco stand in 1984. That eventually led to them buying a sewing machine to start an embroidery and monogramming business. "And then they saw that there was really a market for a nice, USA-made baseball cap," says Miller.

In 2017, Miller decided he wanted to create something of his own within the family business that had the same attention to detail, but that would speak to the city in a fresh way. Today, the headwear company makes between 7,000 to 8,000 hats a week in a variety of styles and colors, with many sporting the company's history through various funky embroidered patches. "My goal is that 50 years from now when someone sees 'Legend 1984,' they'll be like, Whoa, they really stuck around that long," says Miller.
At Long Last: When first starting out, Miller's goal was for the design and logos to be refined and recognizable, but also subtle. Thus, the name "Legend" was born with an outdoors-inspired look that is reflected in each hat, whether it's an embroidered mountain logo or a patch reflecting a forest skyline. "It's not necessarily about putting Cleveland on every cap," says Miller. "But you know, having a brand that people knew was made in Cleveland and just be proud of that."
Hats Off: Miller finds his biggest motivation in the people who find something special in each cap. After launching the business, he was eager to try different designs and put them out into the world for people to see. "Early on, I was wearing one walking down East Fourth. A guy approached me, asked me where I got it and said he needed it," Miller says. "And I actually gave it to him right off my head."
Detail Orientated: Mastering the science of hat-making has been threaded through the company's values since Miller's father first started making caps himself. Every style — whether it's a classic snapback, a casual dad cap or a foam trucker hat — is constructed of five or six panels, which are cut and stitched together seamlessly for the best fit. "Throughout the day, while the hats are being made, it can be touched by 10 different people doing different operations," says Miller.
Color Scheming: The versatility not only comes in the style of the hats, but the small details within the anatomy of each piece. "It's just fun to be able to create stuff and just see what happens," Miller says, "and adding in little details to the undervisor or the inner lining and the different kinds of closures to add little pops of color that are unique that might catch the eye."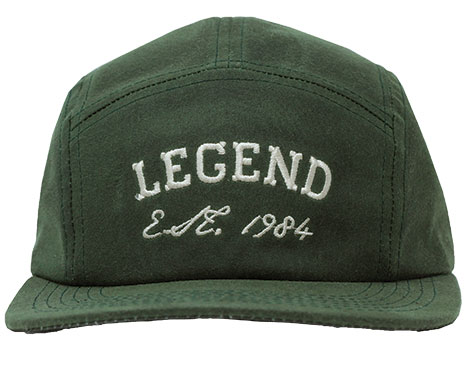 Item We Love: An ode to the start of the family company in the '80s, this vintage-style Wax Camper hat ($34) showcases a unique typeface and a simple design that comes in field tan and hunter green.