Karen Bender's dad loves road trips. So for Christmas last year, she made him a string-art version of an RV. Inspired by the wire train that decorated her childhood living room, the string art novice wanted to try something similar for his annual homemade gift. "I wanted to remake that but update it for him," she says. "I enjoyed it so much even though that first [RV] piece was kind of a train wreck." Since then she's honed her new craft, and only a year later, she's selling images of UFOs, cactuses and outlines of Ohio under her business High Strung, a homemade string art company. Crafted from colorful string and mounted on wood, Bender sells her string art and dream catchers at the Cleveland Flea and through Instagram at @high_strung_cle. "They're a playful approach to a grown-up piece of art," she says.

Striking a Cord: Each of Bender's works begin with a piece of wood she cuts and stains before applying a clear protective poly coating. She hammers the nails into place and winds crochet thread around them to form the designs, leaving plenty of room for improvisation. "From there, you just kind of have to figure out how to layer everything so it makes sense," she says.

Retro Rewind: Born in the '70s, Bender cites growing up with that era's handmade decor, such as macrame and wire art, as a catalyst for her interest in string art. "So many of those things are coming back," she says. "I started doing dinosaurs and anything I could think of that was fun for a modern twist on something old-fashioned."

High Notes: Bender spent a lot of time listening to her dad's record collection as a child, inspiring a lifelong love of music that prompted her to incorporate iconography from some of her favorite acts into her work, such the flower pot-shaped "Whip It" hat and band logos. "I thought, What if I take something like Devo or [punk band] The Germs, and make a grandma string art piece," she says.

Southwestern Spark: A native Clevelander, Bender spent seven years living in Phoenix before moving back, an influence obvious in the Native American motifs in her art. "Being in the Southwest became a huge source of inspiration in the beauty of the design and the color palettes," she says.

Material Girl: Bender tries to keep sustainability in mind while creating, wasting as little material as possible and even recycling fabric from shredded pillow cases purchased at thrift stores for her dream catchers. "I try to use things that are friendly to animals and the planet and make sure I'm repurposing materials," she says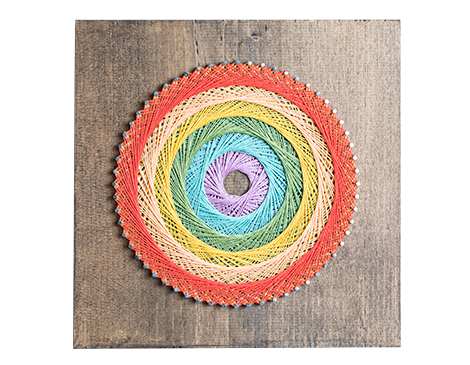 Item We Love: Measuring 5 1/2 to 9 inches and coming in a rainbow of bright colors, the circle string art ($25-$35) pieces, with their intricate layers, are fan favorites.