As former models, Ivy Mitcham-Evans and Jamie Alexandra Murphy have worn their share of makeup in front of the camera. So when the best friends decided to launch a business together in 2013, they thought about the one beauty product they couldn't live without — lip gloss. "I'm not leaving the house without some sort of lip product," says Mitcham-Evans. "I know for the sake of all girls, that's pretty true." The duo worked with a chemist in New Jersey to create Ice + Jam, a line of 10 lipsticks and a lip plumper. The playful colors mean women can experiment with hues based on their mood. "For me, it's like wearing a different pair of shoes with a different outfit," says Murphy. "I find myself saying that every single shade is my favorite."

Brazil Nut: Each of the 10 lipsticks are made with cupuacu — a fruit found in southern Brazil. The ingredient allows each lipstick to be long-lasting and moisturizing, often a cosmetic contradiction. "We were looking for something fresh to set ourselves apart," says Mitcham-Evans. "[Cupuacu] products are hitting the market, so it shows we made the right decision."

Magic Act: The duo wanted a concoction to make everyone's pout look youthful and pink. "We went into our lab saying, 'We want a magic potion,' " says Murphy. "They were like, 'You guys are crazy.' " The result — a top-secret formula made from a natural irritant — became the Ice Lip Plumper ($23.50). "It cools lips and matches your pH," says Murphy. "So it brings out different colors of pink on everybody."

Inspiration Vacation: The saturated orange-red "StartedAtTheBottomNowWeHere" lipstick was influenced by a bright sunset Murphy experienced on a trip to Tel Aviv, Israel. "The oranges of the sunset radiated warmth and happiness," says Mitcham-Evans.

Name Game: With names such as "LesBeHonest" and "Motherflocker," deciding what to call their lipsticks has been a humorous task. The creation of their popular "Who'sTheDaddy" shade happened when mica mineral shimmer fell into the formula, leading to speculation behind its creator. "It's a lot of inside jokes, something easy to roll off the tongue and make somebody laugh," says Mitcham-Evans.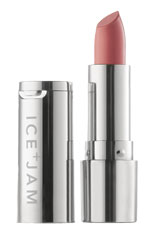 OuchOuchYou'reOnMyHair, $23.50
As the company's top-selling color, this '70s-inspired pastel pink is neutral and classy — making it easy for everyday wear.

More info: iceandjam.com