Mimi May started looking into the kinds of chemicals that were in her beauty and skin care products while she was pregnant with her first child in 2013. She discovered that companies don't have to report the use of unsafe chemicals to consumers. So she threw away all her makeup, skin care items, soaps and perfumes, and started making her own out of natural ingredients. Today, her company Maeve's All Natural Skin Care has more than 25 products, including facial cleansers, healing aid salves and body lotions. "I always identified with the healer — someone who tries to help people," May says. "I felt that this was my mission to help educate about the toxins in their everyday living and what they can do about it."

PASSION PROJECT: Resigning from her job at Pulsar Products in 2015 to pursue Maeve's full time was hard. "I enjoyed my work," she says. "But there was a calling that I just didn't want to silence inside of me." May took three months to pore herself into aromatherapy classes, read more than 15 books on natural skin care and try out different formulas for products.

TEST SUBJECT: One of the first items she created was the Contour Boosting Miracle Cream ($39), which is full of natural anti-aging ingredients such as sea buckthorn, aloe vera and tamanu oil. "My mother-in-law tried it five years ago and has been using it ever since," May says.

MINDFUL MATTERS: Since her first yoga class 11 years ago, May has made meditation a daily ritual that has business benefits. "Maeve is actually the goddess of the plant kingdom and aromatherapy," she says. "So when I meditate, I try to connect with her and ask for her guidance."

PURE INTENTIONS: May checks her ingredients on the Environmental Working Group website, which rates them on potential concerns for humans. "If you look at our ingredients, a lot of them are just natural ingredients like flower water, shea butter and grapeseed oil," May says. "We use natural botanical oils and natural nut butters to make the products feel wonderful on your skin."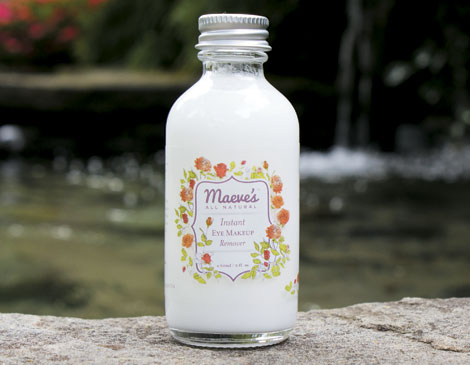 Removing that smoky eye can be a hassle, but Maeve's All Natural Instant Eye Makeup Remover ($12) makes it simple and refreshing. Made with aloe vera gel, rosewater, coconut oil and witch hazel, it soothes and rehydrates skin.