Sarah Sampsell settles into her seat at a Lakewood coffee shop. With her long hair braided over her right shoulder, she lets out nervous giggles here and there. "It's kind of an unromantic story, actually," she says about starting her candle company Sweet Dish & Darling nearly nine years ago. "My big sister was opening up a store, and I wanted to create a line that met her aesthetic: cute and safe." Sampsell graduated from Baldwin Wallace University with a degree in fine arts and business in 2009 and set out crafting soy candles free of carcinogens often found in paraffin candles. Now, Sampsell crafts several types of candles from travel tins to wax melts in more than 25 scents. "I thought this was for my sister, but it ended up being totally for me," she smiles. "It's invigorating to get to do what you love and to see how happy your little products make people."

Tree House: What most of us remember playing in as kids is what Sampsell called home base for the first three years of her business. A structure in her mother's backyard is where she began making candles and sewing the pouches that they come in. "It had electricity, and I couldn't make candles in my bedroom so I moved it all out there," she laughs. "It was probably about an 8-by-8-foot structure, but since I still lived at home I didn't have too many options."

Clean and Clear: Sampsell prides herself in using soy wax, lead-free cotton wicks, phthalate-free fragrances and essential oils. All of these things help reduce the risks to lung health when burning and leave less soot on the walls. But her goal is for people to reuse the containers that the candles come in. She even has a Camping Candle line ($28 each) that comes in a mug to use by the fire. "The environment is important to me, so I want to give people something they can repurpose," she says. "That's actually kind of the reason for our name: I want to give people a sweet dish and a darling candle."

Lone Ranger: Even after almost nine years, Sampsell still makes each and every candle herself. She hopes to get help one day, but for now her formulas are easily executed by her experienced hand. "Making candles is actually a lot of math and measuring and remembering to turn the burner off," she says. "I'd like to get some help, but there's also something satisfying about being able to make sure each and every candle is perfect."

Flash Back: You're not going to see any basic scents on Sampsell's list. Deep, complex aromas such as Tomato Leaf & Thyme ($5-$20) and Sweet Orange Lavender ($5-$20) are just some of our faves. But she is drawn to ones she created from precious memories. "My Orange Blossom Cedar candle is what I remember my sister's cedar chest smelling like that I would steal her clothes out of," Sampsell says. "I just try to remember things that have made my life special and translate it into a scent."


While Sarah Sampsell has updated her packaging, we still love the homey feel of the Celestial Ginger Burlap Candle ($17).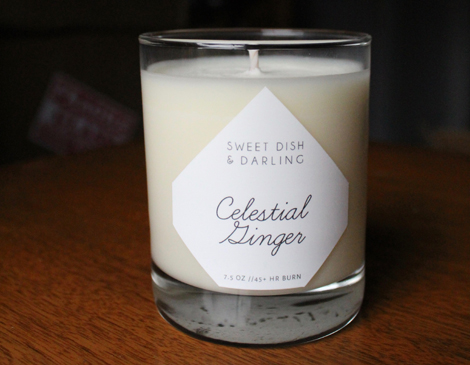 The notes of white orchid, teak, sea salt, honey and spicy ginger tea are crisp and refreshing, but the hand-sewn burlap bag with a button and a bow that hold the candle is just as nice.