To Maria Ianiro, the Italian word mamina is more than the name of her hobby-turned-business. It's the endearing name her family and friends have always called her mother. So when the 31-year-old Highland Heights native was looking for a therapeutic outlet in 2011, she chose knitting and looked to her mamina to teach her. Three years later, Ianiro couldn't get enough of the craft and turned to the needles and yarn full time to sell her knitwear accessories such as gloves, hats, scarves, purses and wall hangings. Mamina Handmade has also helped knit a stronger bond between the two Ianiro women: Maria works as the designer and creative mastermind while her mother lends an extra hand knitting items. "She is my right hand woman," Ianiro says. "We work together, and it has definitely brought us closer."

Made with Care: Ianiro gets inspiration from her personal style when creating items — hoping other people will connect with them. "I would never sell something that I wouldn't wear," she says. The designer also spends hours making sure each piece is exactly the way she wants it. "It can come down to a single stitch," she explains. "If it doesn't feel or look right, I'll take the whole thing apart and redo it." Clutch Play: Her popular clutches, such as the khaki-colored Sabbia ($70), blend leather and yarn. She knits a rectangular handbag and marries it with a half moon-shaped leather flap that she cuts and dyes by hand. The tedious four-hour process results in a sleek carryall. "For fall, it's cute with skinny jeans, booties, a knit sweater or flannel." Hang Around: When Ianiro needs a mental and creative break, she turns to her loom, scrap yarn and Lake Erie driftwood to create her one-of-a-kind wall hangings ($32-$60). The funky mini wall tapestries are full of frills, pompoms and loops. "I'm sitting surrounded by balls and balls of yarn, and I just pick a color theme," she explains. "I put my music on and I just create." Netflix and Knit: Ianiro is constantly knitting year-round. In the summer months, you can catch her poolside knitting a pompom hat ($34-$40) or cowl scarf ($45-$70) to prepare for her busiest seasons: fall and winter. But once the temperature drops, she cozies up with a TV show and keeps on knitting. "In the winter, I go from the couch to my bed to the couch," she laughs. "Last winter, I confess, I rewatched 10 seasons of Grey's Anatomy for two months straight." maminahandmade.com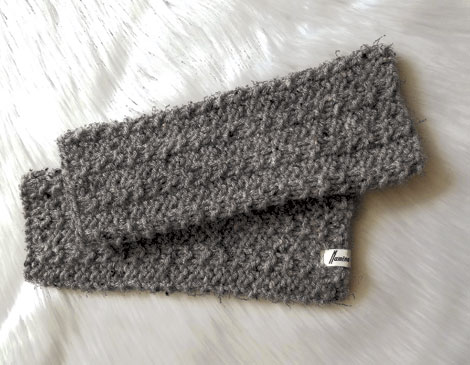 Keep your hands warm this winter with these fingerless gloves ($28-$30). As Mamina's most popular item, they're available in 18 colors and come in an acrylic blend or 100 percent wool.