Little Rose Tavern owner Roseanna Safos describes her West Park spot as a young person's old man bar. Opened in June of 2019, the wood-panel dive slings vegan grub and cheap beer to weekday regulars and punk rockers during weekend shows. Slow day experiments and the hipster urge to disdain created the bar's famous Fireclaw shot ($6).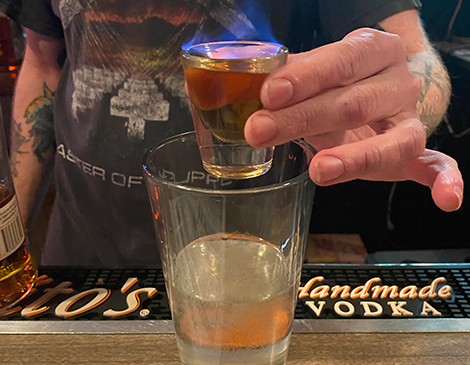 Safos sets aflame a Fireball shot topped with a floater of Wild Turkey 101. Drop that into a glass of watermelon or grapefruit White Claw and chug. Singed eyebrows? Don't worry about it. "You can rub it off," says Safos. "One time a guy had his finger on fire and didn't even know it."14206 Lorain Ave, Cleveland, 216-331-1441, instagram.com/the_little_rose_tavern
Fireclaw Ingredients:
-1 ounce of Fireball
-splash of Wild Turkey 101
-8 ounces White Claw
Click here to learn more about 50 of Cleveland's best bars, drinks and bartenders.