Since 1978, the Rite-Aid Cleveland Marathon has been the goal and pinnacle of achievement for many local runners. The event is going virtual this month and hopes to be in-person this fall, but that shouldn't stop you from hitting the pavement. Whether you are training for a marathon, just starting to run or looking for a course to walk, there is a path for you. These courses range from residential to city to flora-and-fauna filled. Whether you try one or try them all, it's the perfect time to get out there and get active.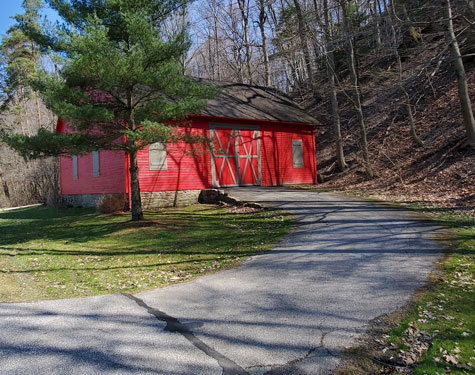 Mark Brinich, president of Cleveland West Road Runners Club
Favorite Run: Metroparks Meet
After running 20 marathons in his lifetime, the president of Cleveland's oldest running club has a lot of miles under his shoes. But his most cherished route remains the Cleveland Metroparks' Scenic Park in Rocky River. "It certainly is something that's almost burned into my memory," he says. "It's just someplace I've always done. I have memories back from when I was probably six years old, so that's what makes it special for me." He starts running at the entrance of the Metroparks off of Detroit Road in Lakewood and follows the path for about 6 miles to the Nature Center. The Metroparks trails allow the runner to modify his or her workout, so there is something for every runner, walker, or biker.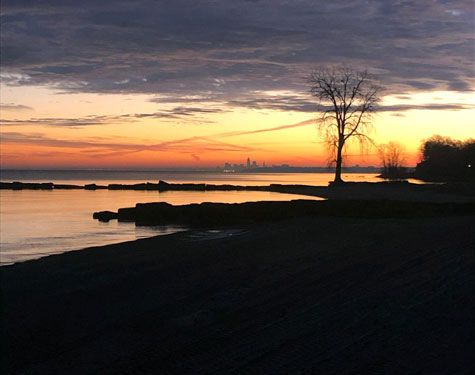 Sarah Horbol, 2018 Cleveland Marathon Winner
Favorite Run: Lake Road
Sarah Horbol, winner of the 2018 Cleveland Marathon and qualifier for the Olympic Marathon Trials, gives this route a gold medal. Starting in Bay Village at Huntington Beach and ending at Bradstreet's Landing in Rocky River, this 3.5-mile point-to-point path offers suburban charm with stunning views of the Lake. "I like Huntington Beach," she says. "I find myself going down the steps and onto the beach to be close to the water. There's a view of downtown Cleveland's skyline in the distance, and it's pretty, especially early in the morning when the sun is rising."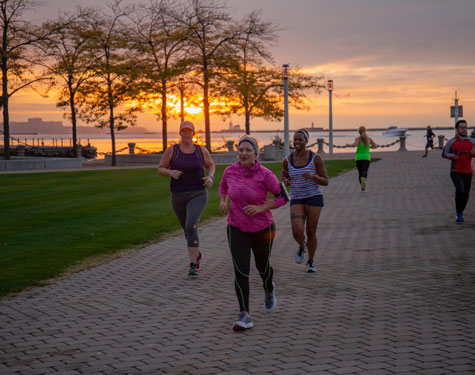 Liz Stark, co-manager of Run Wild CLE
Favorite Run: The Downtown Dash
This 1-mile loop run in the heart of downtown Cleveland is a favorite of the Run Wild CLE running group. After a warm-up, the pack takes off from the Rock and Roll Hall of Fame toward Voinovich Park and loops around back toward the Rock Hall to hit a secret path underneath the museum toward the Great Lakes Science Center. Rain, snow or shine, this loop is perfect for the beginner who wants to start slow or the seasoned sprinter looking to beat their previous time. "Cleveland has a bunch of great spots that make you want to get outside, and make you want to move, regardless of the weather," says Stark.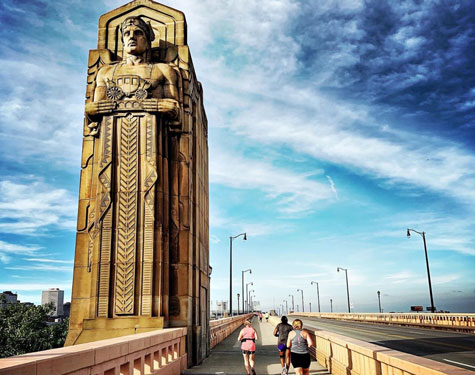 Drake Sulzer, marketing director of Fleet Feet Cleveland
Favorite Run: Scenic Lorain Avenue Jog
The Cleveland running group's monthly Ohio City and Downtown "Pub Runs" often take off east from Platform Beer Co. along on Lorain Avenue, pass the Westside Market, go over the Hope Memorial Bridge and end at Progressive Field. With these stunning views, you'll want to take a walking break to snap some pics from the bridge. "I think bridges are fun because there's a big bike path/sidewalk area," Sulzer says. "It's a nice area where people can run more as a group versus single file, and you get a beautiful scene of the skyline of the city."