Looking for some holiday cheer in Greater Cleveland? There is plenty of festive fun; here are a few events to check out this season:
Playhouse Square:
In addition to the return engagement of the Broadway smash Hamilton, running Dec. 6-Jan. 15 at the KeyBank State Theatre, a variety of holiday-themed musical and theater productions remain in Playhouse Square's theaters this season.
Famed a cappella band Straight, No Chaser plays the Connor Palace on Dec. 6 and Dave Koz's 25th anniversary Christmas tour stops at Connor Palace on Dec. 11.
Of course, what's Christmas without A Christmas Carol? There's a variation on the classic Charles Dickens tale for everyone, including several movie versions and takes for younger children by the Muppets and Mickey Mouse. The Great Lakes Theater has been presenting the play since 1989, and it remains its most popular production. It runs through Dec. 23 at the Mimi Ohio Theater. greatlakestheater.org
Another Christmastime staple is The Nutcracker. The classic Russian work by Pyotr Ilyich Tchaikovsky will be presented by Cleveland Ballet in seven shows Dec. 15-18.
Even if you don't attend one of the shows at Playhouse Square, the lobby of the Allen Theatre will be home to the Cleveland Playhouse Festival of Trees. Open to the public Dec. 3-22, the festival features dozens of Christmas trees, decorated by local artists and designers. clevelandplayhouse.com/visit/festival-of-trees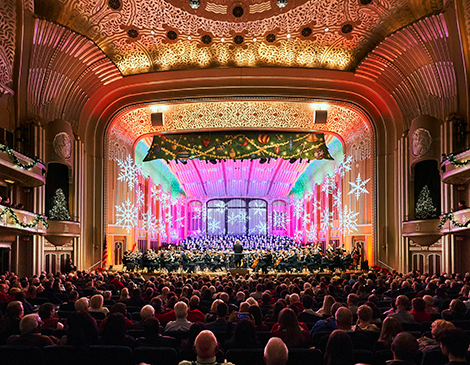 (Photo courtesy Cleveland Orchestra)
Cleveland Orchestra Holiday Concerts:
From Dec. 8-18, Severance Music Center will again host the holiday sounds of the Cleveland Orchestra, with a variety of contemporary and traditional songs, and some special guests. Matinee performances will be preceded by a Holiday Brunch with Santa (reservations are required). clevelandorchestra.com
Trans-Siberian Orchestra at Rocket Mortgage FieldHouse:
It wouldn't be Christmas without TSO, touring this winter with its electrifying Ghosts of Christmas Eve show. The group's stop at Cleveland will feature two shows on Dec. 30. rocketmortgagefieldhouse.com/events
See Mr. Jingeling:
To Clevelanders of a certain age, Mr. Jingeling was Christmas. He was the keeper of the keys to Santa's workshop and a fixture for years at Halle's department store downtown. After a lull, Mr. Jingeling made a full slate of appearances last winter and is on track to do more. "We're so excited to carry on the tradition," says Jimmy Langa, Mr. Jingeling's manager. mrkringle.com/mrjingeling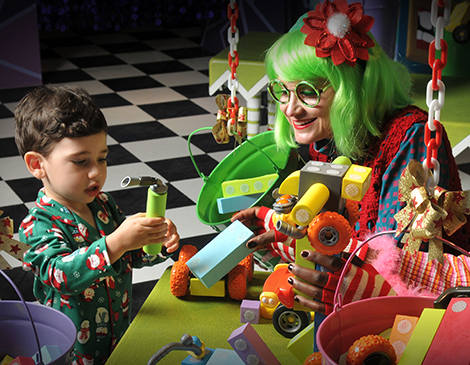 (Photo courtesy Mr. Kringle)
Mr. Kringle's Inventionasium:
After a two-year layoff due to COVID-19, the inventionasium returns to Tower City. The Immersive, theatrical, STEM-accredited educational event allows kids to design and build a toy. Expect a few surprises, too. mrkringle.com/kringles-inventionasium
See the lights at Nela Park:
Heralded as the first industrial park ever, Nela Park on Noble Road in East Cleveland has gained fame for its holiday light display, fitting, since it became known as the "University of Light" for its light bulb factory. The tradition — approaching its 100th year — includes more than a million holiday lights.
Deck the Hall, Stan Hywet, Akron:
The inscription above the Akron estate's front door, "Non Nobis Solum," (Not For Us Alone) shows that the home was always intended for public display, and it's never more evident during the holiday season. The 65-room Tudor revival home, first owned by Akron rubber magnate F.A. Seiberling (the co-founder of Goodyear), is decorated to the hilt for the holidays, with this year's theme being "Gracious Gatherings." And more than one million lights will be displayed on the estate's 70-acre grounds. stanhywet.org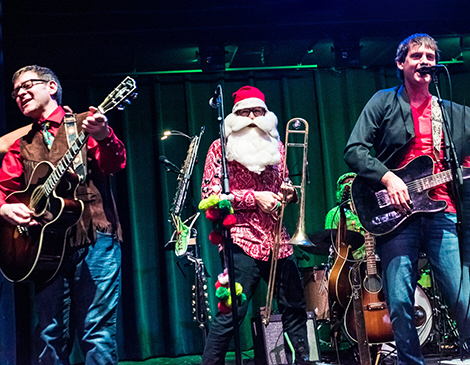 (Photo courtesy The Ohio City Singers)
Watch the Ohio City Singers:
With "White Cleveland Christmas" a staple of holiday radio, the Ohio City Singers have become a new tradition since its forming at what members called a raucous 2008 holiday party. A mix of country and rock sensibilities, the band will release a new album in 2023. In the meantime, you can catch them around the area, including at the Rock Hall on Dec. 17. ohiocitysingers.com
Memories of Christmas Past, Arms Family Museum, Youngstown:
For 14 years, visitors at the Arms Museum, a Craftsman-style home in Youngstown that's become one of the city's main history museums, have toured seven themed rooms decorated for the holidays. The famous crystal Christmas tree returns, joined by a midcentury room, the Holly Jolly Christmas room and a peacock-themed tree in the dining room. "It's a one-of-a-kind exhibit," says Anthony Worrellia, who designs the exhibit. "You'll see pieces your grandmother had, and maybe things from when you were a kid." mahoninghistory.org/mcp
Winterland, Cleveland Public Square:
Formerly known as Winterfest, Winterland marks its 37th year with a festive display in Public Square, featuring thousands of lights and an ice rink (open until Feb. 21). winterlandcle.com
(Photo courtesy Around the Corner)
Visit a holiday-themed pop-up bar:
Much like people put up their own seasonal decorations, a lot of bars pop up for the holidays temporarily, from the Flats to Ohio City to downtown, where a pop-up bar returns to Jack Casino's third floor. Sleigh will include seasonal drinks, a sleigh for photos and a five-foot gingerbread house. jackentertainment.com/cleveland/restaurants
The most venerable option is the Christmas Corner Bar in Lakewood. Started in 2017, the pop-up in one of Around the Corner Café's party rooms features music, decorations and lots of festive fun. "People have so much joy during the season, and we want people to walk in and feel magical about the place," says Ryan Krivosh, general manager of both bars, as well as Vosh, a nearby bar and events center. facebook.com/TheChristmasCornerBar
Twinkle in the 216, Cleveland Botanical Garden:
A reworking of previous years' Glow, Twinkle in the 216 features special horticultural displays celebrating Cleveland's historical and cultural landmarks, plus light displays and gingerbread houses. Also returning this year is Breakfast With Santa and the monster-filled Krampus Night. holdenfg.org
See Jim Brickman in concert:
A Shaker Heights native, Brickman is a regular on the adult contemporary chart. The Grammy-
nominated singer and pianist has worked with a variety of well known gospel and country artists. His A Very Merry Christmas tour arrives at Playhouse Square for three shows Dec. 17-18. jimbrickman.com
Get ahead of the weekend by signing up for our free weekly "In the CLE" newsletter — your guide to fun throughout The Land. Arriving in your inbox every Wednesday, this weekend's to-do list fills you in on everything from concerts to museum exhibits — and more. Click here to subscribe.