Karen Gall's Confetti Fridays Instagram page lives up to its too-cute name. The DIY master and mother of one (with one more on the way) has been dreaming up different colorful crafts that will brighten up any weekend while you're stuck at home. What started out as a fun, creative hobby to do with her kid, led to her donating some of her creations to parents who are struggling financially due to COVID-19, and eventually opening up her own online store. "It's just a way to be creative and spark that creativity in kids," she says. "Also, I think especially for toddlers, encouraging pretend and imagination is really important right now." Gall, whose specialty is making little felt pillow trinkets like cactuses, flowers and magic wands for her Etsy shop, shares some tips on how to make your own wand with the kids without breaking the bank or a sweat.

Step 1: Get Materials
Gall's craft store of choice is Michael's, which offers curbside pickup, for its variety of colors of thread and felt. She also suggests Family Dollar as a viable alternative, as it has the cheapest prices for any craft materials you might need.

What you'll need:

- 9-by-12-inch sheets of felt
- Small wooden dowel or popsicle stick
- Sequins
- Embroidery floss
- Pillow stuffing
- Elmer's Glue or hot glue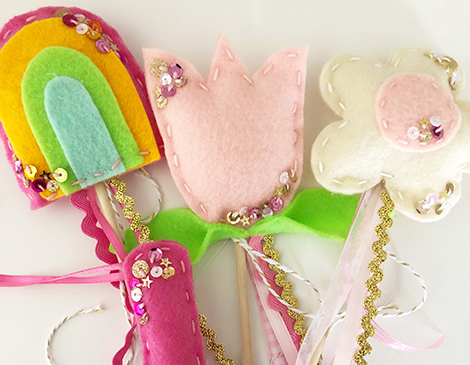 Step 2: Create your shape
Sure, drawing may not be everyone's strong suit, but that's why a lot of Gall's wands and felt creations are easy shapes that don't need to be perfect. Or you can find a template for them online. Draw out the shape on a piece of paper, then place two pieces of felt over it and cut it out. "And then I just layered that felt like two pieces on top of each other," Gall says. "I've cut them out together so they're exactly the same shape." In addition, keep in mind to make the shapes big enough that it can fit stuffing into it, but not so big that it will weigh too much for the stick.

Step 3: Add some fun detailing
Whether you're making a magical mermaid wand for the kids or a cactus to put in a planter, Gall says the real fun comes in adding the details. For a shell wand, she suggests adding tiny sequins around the shell to add a little pizazz (depending on your mermaid at home, they might want to cover the whole shell with sparkles). Gall says the sequins can either be glued or stitched on, whatever your preference — it'll hold. Add another embellishment by using the embroidery thread to stitch a couple lines or textures on the outside.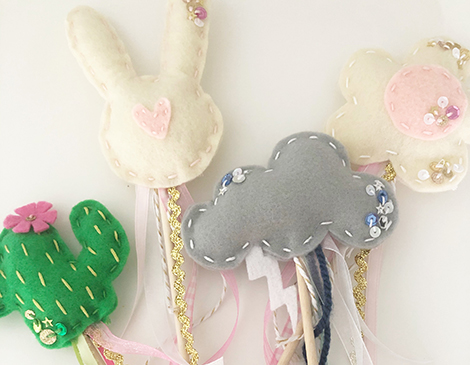 Step 4: Stitch together and add stuffing
Whether you're gluing or stitching the two pieces together, make sure the two sides are neatly connecting together and that the edges are clean and even. "Just make sure it's not fully closed because you still have to stuff it," Gall says. "So stitch it around most of the outside leaving most of the bottom open." Next, she recommends using the tiniest bit of pillow stuffing to fill it so that it becomes more dimensional.

Step 5: Add some ribbons
No magical wand is complete without a stream of magic coming from the end of it. Let your kids get creative by finding old hair ties, ribbons or scarves to use as a final touch. "At first I used whatever I had around the house, but now I've been buying some other fun ones that would correlate with whatever I'm making," Gall says. "Basically, you just tie them around the wood dowel, or I even hot glue them to the top of the wood dowel."