In a recent study, WalletHub ranked Cleveland the ninth best city for St. Patrick's Day celebrations. But here in Cleveland, we know the truth — our favorite March holiday is pure end-of-the-rainbow gold. From church gatherings to live music, family parties to beers for breakfast, this nearly 200-year-old city celebration means something different, and equally special, for every Irish and Irish-for-the-day Clevelander.

So, whether you want to sip a Guinness at a traditional Irish pub or get lucky with our guide to snagging a coveted Slyman's Tavern corned beef, we've rounded up your complete guide to a great Cleveland St. Paddy's Day.



Is The Parade Still Happening?
No. While the Committee said the parade would go on as planned as recently as March 10, a March 11 morning announcement confirmed the city would follow the likes of Dublin, Denver and Boston in canceling its celebration. The committee released the following statement: "Regretfully, the Cleveland St. Patrick's Day Parade, scheduled on Tuesday, March 17th has been CANCELLED. The United Irish Societies, in collaboration with city officials and public health officials have made this decision as a precautionary measure in the best interest of and for the public health and safety of our community. Our priority is to help prevent new cases."

How Do I Get Downtown?
We don't suggest driving yourself downtown — especially if you're planning on having a pint or three. Luckily, there are plenty of great options. The RTA offers a $5.50 day pass to use its trains and buses. Uber and Lyft often offer deals with local partners, though with surge pricing often reaching more than 400% the normal prices, you may want to look into cab companies such as AmeriCab and Ace Taxi Service. Great Lakes Brewing Co. also offers a free shuttle downtown.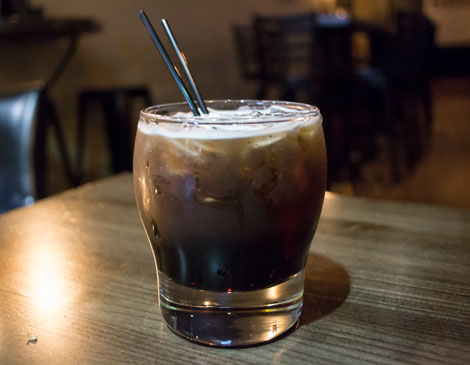 Where Are The Irish Pubs?
Did you know Cleveland has the 10th most Irish pubs in the country? If you'd rather have a perfectly poured Guinness than a green beer (count us in that group), these authentic local pubs will make you feel like you're in Dublin.
Flannery's Pub
With offerings like the Dublin Coddle ($6 cup or $9 bowl) and Irish stew ($6 cup or $9 bowl), Flannery's is as Irish as its name suggests. Plus, located on East Fourth Street and featuring a performance from The Boys From County Hell, this pub is a great place to enjoy the bustling madness of the city's busiest street each holiday.
323 Prospect Ave E., Cleveland, 216-781-7782, flanneryscle.com

Flat Iron Cafe
More than 100 St. Patrick's Day celebrations have been hosted at this homey pub in the Flats since it opened in 1910. This year's festivities include face-painting and live music from Irish musician Donal O'Shaughnessy. No need to grab an Uber — the Flat Iron shuttle will bring you roundtrip.
1114 Center St., Cleveland, 216-696-6968, flatironcafe.com
The Harp
For 20 years, this Detroit Avenue pub with a gorgeous view of the Lake has been a go-to for families on St. Patrick's Day, partially thanks to its late-night performance by The Boys From County Hell and its Irish menu with classics such as Shepherd's Pie.
4408 Detroit Ave., Cleveland, 216-939-0200, the-harp.com

Mullarkey's Irish Pub

The only bar in Cleveland with a "Guinness Gold" certification, this East Side pub provides an authentically Irish experience. On St. Patrick's Day, Dan McCoy and Mad Macs will play music between 10 a.m. and closing.
Find out how to pour the perfect pint yourself by reading this 2019 article or watching the video below.
4110 Erie St., Willoughby, 440-478-8078, mullarkeys.com



The Old Angle Tavern

A staple for local soccer fans, this Ohio City tavern opened on St. Patrick's Day 16 years ago in the place of a burned-down former hardware store. Celebrate this pub's birthday for Irish-themed meals such as "The Craic Head" ($10) and a wide selection of Irish whiskeys.
1848 W. 25th St., Cleveland, 216-861-5643, oldangle.com
Parnell's Irish Pub
Established in 1997, this simple brick-walled pubs, filled with photos and trinkets from Irish-born owner Declan Synott's homeland, feature a classic list of craft and draft beers, whiskey, bourbon, scotch and cocktails. Make sure to get there early — the first 19 people in line for the pub's 7 a.m. opening get a free Parnell's beanie.
12425 Cedar Road, Cleveland Heights, 216-321-3469; 1415 Euclid Ave., Cleveland, 216-321-3469, facebook.com/parnellspub
PJ McIntyre's Irish Pub
Kamm Corner and West Park, aka "The Green Mile," is famous for its St. Patrick's Day partying. But even though its famous bar crawl comes the Saturday before St. Patrick's Day this year, the authentic Irish bar, dubbed the "Ohio's Most Authentic Irish Pub," features Irish music, food and a bric-a-brac that displays Irish music, literature, sports, and history.
17119 Lorain Ave., Cleveland, 216- 941-9311, pjmcintyres.com

Stone Mad Pub
Features such as the hand-blown glass chandeliers, intricate woodwork and a stone patio belong in an old Irish castle instead of this well-decorated in a Gordon Square home. But that doesn't mean the place is stuffy. The pub's laid-back atmosphere, Irish menu and bocce court are ample fun for St. Patrick's Day celebrations.
1306 W. 65th St., Cleveland, 216-281-6500, stonemadpub.com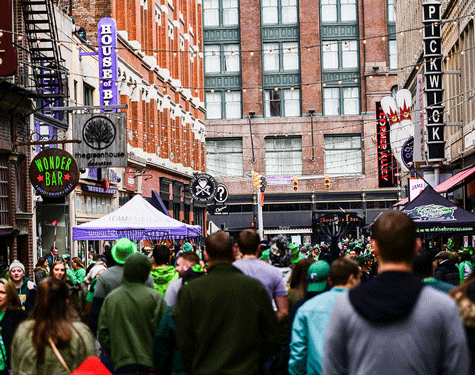 What Else Should I Do?
Besides just stumbling into any downtown bar screaming, "Kiss me I'm Irish!," here are a few St. Patrick's Day events you shouldn't miss.
Tour The Athlon at the Cleveland Athletic Club
Stop in for the tours of the newly opened downtown apartments. But stick around for the beer, corned beef and bagpipes.
1118 Euclid Ave., Cleveland, 216-785-8111, theathloncac.com
Party At Great Lakes Brewing Co.
Between Conway's Irish Ale, live music and food specials, you'll be sure to do an Irish jig. Don't forget about the Fatty Wagon shuttle, offering free round-trip rides downtown.
2516 Market Ave., Cleveland, 216-771-4404, great-lakesbrewing.com
Get A Selfie-Topped Guinness At Heinen's
Get in the spirit of St. Patrick's Day a few days early by getting your photo — we're opting for pics of our pets — imprinted in the foam on a pint of Guinness a la latte art. The glass is yours to keep. Check the website for exact dates.
Various locations, heinens.com

Rock Out At House of Blues

The party starts at 9 a.m. with no cover charge, pints and all-day entertainment from bands such as the Boys From the County Hell, Billy Likes Soda and more.
308 Euclid Ave., Cleveland, 216-523-2583, houseofblues.com
Have A Pint At Forest City Brewery
Have a shamrockin' time drinking Furbelly's Irish Stout and listening to live music from artists such as bagpiper Kyle Corrigan and the Irish Dancers.
2135 Columbus Road, Cleveland, 216-228-9116, forestcitybrewery.com
Down A Guinness Ice Cream Float At Pinstripes

Have a bit o' fun with bowling and bocce at this Pinecrest spot, but be sure to try the green beer or Guinness floats made with one scoop of vanilla gelato and everyone's favorite Irish stout.
Pinecrest, 111 Park Ave., Orange Village, 216-415-8010, pinstripes.com/cleveland

Live It Up At Sober Seventeenth
An Irish costume contest, live music and dance, a potato bar and a Silent Disco are just a few of the alcohol-free, family-friendly festivities designed to honor Irish culture without all the booze.
Akron Civic Theatre, 182 S. Main St., Akron, 330-762-3500, sober17.org
Get Glittery At Terrestrial Brewing Co.
Stop in as early as 7 a.m. at this Battery Park brewery for its Pot o' Gold Glitter Beer, corned beef hash and eggs (food served 8:30 a.m.-5 p.m.) and $5 shots of Jameson Irish Whiskey.
7524 Father Frascati, Cleveland, 216-465-9999, facebook.com/terrestrialbrewing

Fine Dine With Whiskey And Cigars At Touch Supper Club

Before winding down, hit Touch Supper Club's traditional St. Patrick's Day dinner, featuring a Tullamore D.E.W. whiskey tasting followed by cigars from nearby Cigar Cigars. But get your reservations in now, the $50 dinner could sell out fast
. 2710 Lorain Ave., Cleveland, 216-631-5100, touchsupperclub.com

Party Hard At Wild Eagle Saloon

Early risers get a free breakfast at this hoppin' downtown bar, which opens at 8 a.m. and features live music from Old Skool and Match City, and all-day drink specials such as $3 green beer, $3 Tullamore D.E.W. shots and $4 Irish Car Bombs.
921 Huron Road E, Cleveland, 216-465-3225, wildeagle.com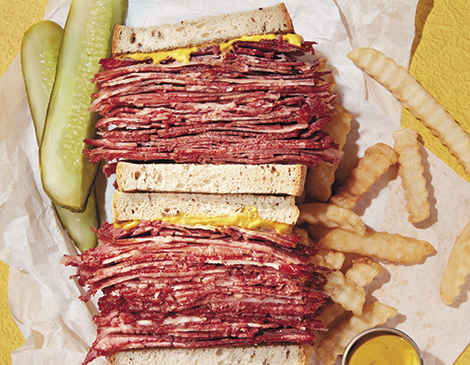 What Should I Eat?
The corned beef sandwich reigns supreme on St. Patrick's Day. The holy grail is the one from Slyman's Tavern. It can be tough to get, especially if you're not willing to wait. So, we consulted co-owner Freddie Slyman on how to acquire this behemoth of a holiday snack. And if you can't get your hands on the OG, these five Northeast Ohio corned beef sandwiches stack up very well. Meanwhile, if you really can't find a spot that's not sold out of sandwiches, Masthead Brewing Co. offers a reuben pizza, something you really didn't know you needed in your life until you try it. If the reuben isn't your thing, here's a list of five great Cleveland spots for shepherd's pie, a traditional meat pie with mashed potatoes. Those of us practicing social distancing this year can also enjoy corned beef at home with our handy guide.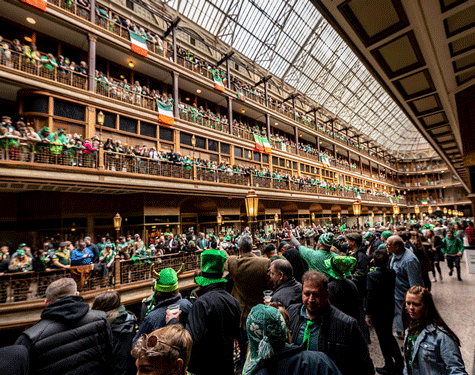 What Are Some Other Great Cleveland Traditions?
St. Patrick's Day is a holy day, remember? Start your Irish holiday, whether you're Catholic or not, with the annual traditional mass at St. Colman's Church on West 65th Street, where kilted dancers, drum marchers and tin whistle players kick off the 10 a.m. service. Take a stroll — because that's likely as fast as you'll be able to walk through the crowd — down East Fourth Street to the Arcade (pictured above) where revelers and hotel guests gather with green, white and orange flags draped over the old-school Cleveland architecture. Then, find some live Irish music at The Harp, The Treehouse, Mullarky's Irish Pub or Flannery's and practice your best Irish jig.

Read More: To get a taste of what St. Patrick's Day means to Clevelanders, revisit our conversation with Roger S. Weist, host of WRUW FM 91.1's weekly Irish radio show Beyond the Pale for 14 years and a former parade grand marshal before passing away last year.

Update: This article has been updated to include the information about the parade's cancellation.