Who says cracking open a cold one isn't community service?
In fact, there's no better time than St. Patrick's Day to support local businesses while catching a buzz on your favorite limited-run ales. And it's no secret that Clevelanders love their beer — craft breweries like Southern Tier and Great Lakes Brewing Co. pockmark Northeast Ohio — and neighborhoods like Ohio City boast a long, rich history of brewing. With the big day right around the corner, it's time to pull out your favorite green shirt and coordinate your upcoming pub crawl.

Below are three local brews perfect for your green evening out on the town.
Fat Head's Irish Red Ale.
Previously only available in their brewhouse on draft, Fat Head's is releasing this beer in cans for the first time this year. The move is being done thanks to the company's 2018 relocation to an expanded brewery in Middleburg Heights, which allows it to make the more-limited options available in stores for at-home consumption.
"We've had people say, 'Hey, I'd really love to have this, I'd really like to be able to take this home, I'd really like to be able to, you know, enjoy it all sorts of other places,'" says head brewer Will Kmetz. "So, for us it's exciting to give you a chance to get what they asked for."

The first sip of this holiday brew will hit your taste buds with hints of toffee, caramel and a toasted biscuit flavor, attributed to the blend of sweet malts Fat Head's focused on for this brew. Unlike the average American red ale, which trends toward a slight bitterness and focuses on hop character, the residual sweetness and low alcohol content — 4.8% alcohol by volume — make the Irish Red Ale an easy drink for your holiday. It's on shelves now at all major grocery and liquor stores until supplies run out.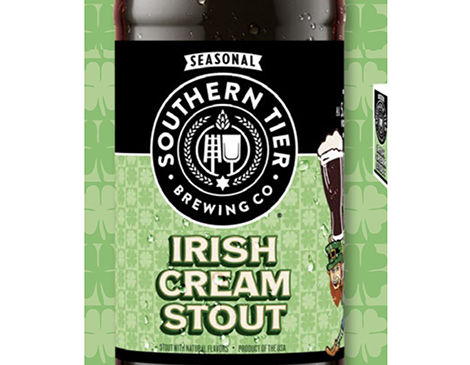 Southern Tier Brewery Irish Cream Stout.
For a truly one-of-a-kind brew, Southern Tier recreated the flavors of an Irish cocktail. Featuring milk, sugar and Irish cream, paired with notes of vanilla, coffee and Irish whiskey, this beer nearly tricks you into thinking you've got a glass of Baileys in hand. According to Rob Rainier, senior market manager for Southern Tier, the Irish Cream Stout moves fast, so get it while you can. While six-packs can be found on the shelves of all major grocery stores, or wherever you get your cold ones, it is unlikely that stock will last to the end of April. Rainier hints that Winking Lizard Tavern provides the safest bet for snagging the limited-run stout.
For Rainier, this limited-run brew is the perfect example of Cleveland's craft beer culture.

"I feel like Cleveland specifically has as good of a beer scene as anywhere in the U.S.," says Rainier. "Putting our taproom in Cleveland shows our commitment to the city."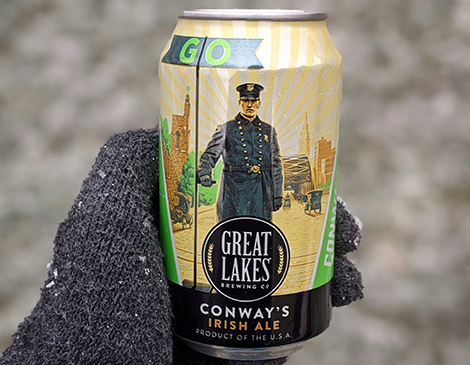 Great Lakes Brewing Co.'s Conway Irish Ale.
Cleveland's first and oldest brewery, Great Lakes Brewing Co. provides a seasonal beer packed with sweet malt flavor, hints of toasted bread and decades of history. The bottle itself references the company's long relationship with the city, featuring an image of Pat "Pa" Conway — the grandfather of current owners Patrick and Dan Conway — standing in front of St. Malachi Parish on West 25th Street directing traffic as he did decades ago.

"For us in the Brewery District here in Ohio City, we have such a rich heritage," says Williams. "Brewing in Cleveland was pretty much founded by German and Irish immigrants. I think with so many different aspects of St. Patrick's Day, a lot of what that day is about is preserving that connection to the past and honoring our ancestors who got us here and laid the foundation for what we do today."

Williams warns that the end of the Conway's limited run is the week of St. Patty's Day, so snag some bottles — or the new canned option — now or hold your peace until next January. The Conway Irish Ale can be found in all major grocery and liquor stores while supplies last.